Roberto Pereyra: Watford star shaped by relegation at River Plate
Pereyra's Watford face Fulham on Saturday, live on Sky Sports
Last Updated: 22/09/18 11:27am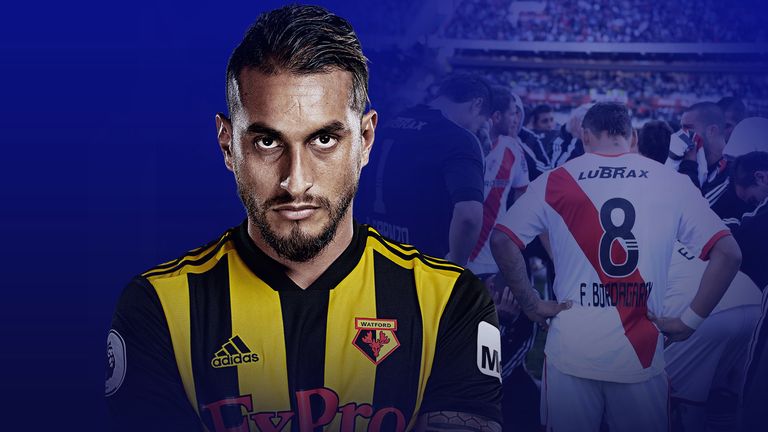 Roberto Pereyra played in a Champions League final for Juventus and has been one of the stars of the Premier League season for Watford, but his career began with an infamous relegation at River Plate in Argentina. Nick Wright recalls the "catastrophe" and how it shaped him.
Roberto Pereyra was 17 years old when he joined River Plate. For a young player from a family of River supporters, it was a dream move. Pereyra linked up with his idol, Ariel Ortega, who was in his third spell there, and made his debut within a year. He was still only 19 when he started his first Superclásico against Boca Juniors in November 2010.
River ran out 1-0 winners that day at Estadio Monumental, with Pereyra playing over an hour alongside Ortega in midfield. But little did they know that just seven months later, the famous old stadium would be the scene of a traumatic relegation. River, Argentina's most successful club, would drop into the second tier for the first time in their 110-year history.
Pereyra played that day, too, only this time instead of celebrations there were tears. Belgrano had beaten them 2-0 in the first leg of their relegation play-off, and a 1-1 draw back at the Monumental sealed their fate. As Pereyra and his team-mates cried on the pitch, violence erupted in the stands. Riot police used a water cannon to disperse angry crowds.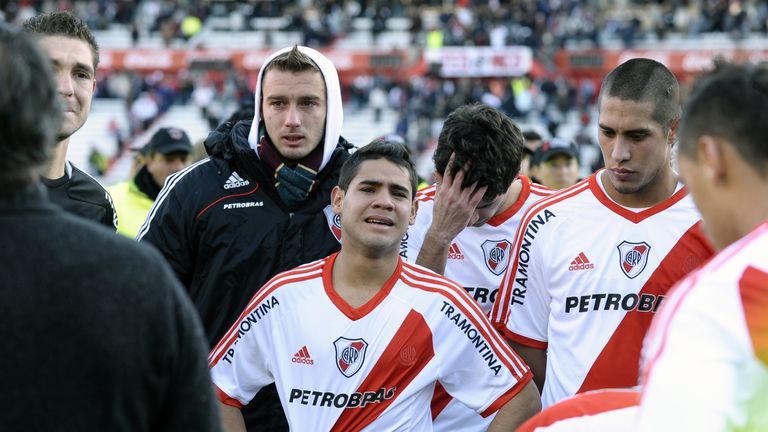 River's players were bombarded by missiles as they left the pitch ringed by security guards, but the unrest soon spread onto the streets surrounding the stadium. Shop-fronts and homes were smashed amid clouds of tear gas. Scores were injured and dozens more arrested. According to Argentina's Federal Police, two officers were left in serious condition.
"It was a black day for everyone connected to River," Gabriel Casazza, an Argentine journalist and River fan, tells Sky Sports. "It was a day that nobody even imagined - not just River fans but fans of football in general. It was difficult to digest. You thought this could not be happening, that something was going to change this reality."
River's relegation was a consequence of years of mismanagement. Daniel Passarella, the country's World Cup-winning captain in 1978, had inherited huge debts when he took the club presidency from Jose Maria Aguilar in December 2009. The situation had shown little sign of improvement in the intervening years.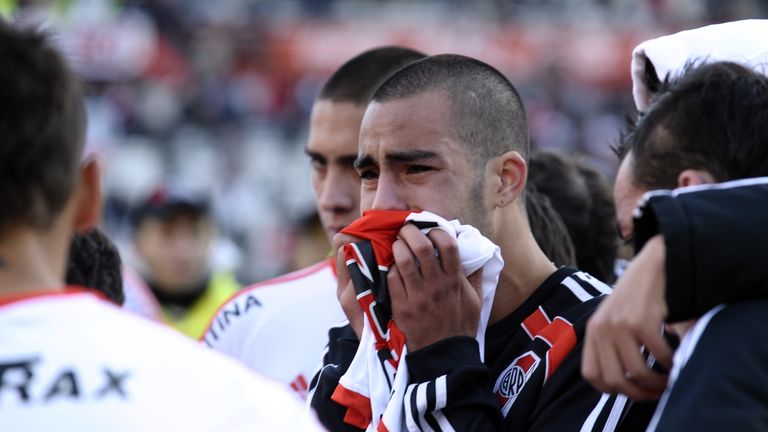 With no transfer funds to bring in new players, River were forced to rely on loan signings and youth team graduates. There was talent there, with Pereyra and Erik Lamela among six members of the squad who would go on to represent Argentina at the U20 World Cup in Colombia that summer, but the circumstances were tough and the lack of experience was costly.
Tensions boiled over when River fell behind during the first leg of the fateful relegation play-off at Belgrano's El Gigante de Alberdi stadium in Cordoba, with masked supporters running onto the pitch and threatening their own players. Federico Peretti, a River season-ticket holder who worked as a photographer at the game, remembers how it impacted Pereyra.
"Robeto was not playing well - much like the rest of the team," he tells Sky Sports. "When the barra bravas [hooligans] got onto the pitch, the River manager, JJ Lopez, asked Roberto how he was. He told him that he couldn't play anymore, so when the game resumed, he was taken off. It made a big impression on me because, to my mind, it showed a big lack of character."
"Unfortunately Pereyra played with fear," adds Casazza. "Not only during the second leg but during the first leg, too. Given his inexperience and the circumstances, he wasn't able to perform at his best. He was unable to do basic things that would have been easy for him normally. His performances were weak and without personality. He was consumed by the context."
Sympathy was in short supply for Pereyra, who described the whole experience as a "catastrophe" in an interview with The Times earlier this season. "It was a very hard moment, a very sad moment," he said. "But we were a very young team, and weren't really aware of how serious it was. There was a lot of shame playing for such a big club as River Plate to have such a result."
Pereyra was still reeling from the ignominy of the experience when he joined Udinese in Italy that summer. He describes his first year in Europe as a "black period" dominated by homesickness and a lack of playing time, but on this occasion he showed perseverance to overcome the adversity, nailing down a starting spot in his second season.
There were more obstacles to follow - not least the injuries which blighted his second season at Juventus, who he joined from Udinese in 2014, and his first two at Watford - but the trauma he experienced at River Plate had served to toughen him up.
"That negative experience helped him grow, above all in terms of his personality," says Casazza. "It was very difficult for him but it forged a different character, which is what has helped him become one of the Premier League's standout players. Today you can see a complete midfielder with leadership, clarity and goal scoring ability."
It's the goals which have propelled him into the limelight with Watford - there have been seven of them in 17 games since the start of February - but at Vicarage Road he is cherished just as much for his work-rate. A player once accused of lacking character and playing "without personality" in Argentina now sets the tone for Watford's fierce pressing under Javi Gracia.
The statistics show that only three outfield players have made more ball recoveries than Pereyra this season, and his hard work is not lost on his manager - who has lauded his attitude - or his team-mates. Troy Deeney described his ability as "frightening" on this week's Monday Night Football, but it was telling that he was also eager to reference his character.
"It's the hard work that he does," said Deeney. "People don't see it. He is getting back, he is in our own box helping out, he is doing all sorts."
It is, in part, a result of the experience which helped to shape him back in Argentina. River Plate's relegation on that infamous day at the Monumental was a trauma that nobody connected to the club will ever forget. Seven years on, though, and Pereyra is stronger for it.
Watch Fulham v Watford live on Sky Sports Premier League HD from 11.30am on Saturday.
If you're reading on skysports.com comment below to get involved in the debate, but please adhere to our House Rules. If you wish to report any comment, simply click on the down arrow next to the offending comment and click 'Report'.