Mainz and Freiburg players were hauled back to the pitch after the referee had blown for half-time when a penalty was belatedly awarded via VAR.
The players had already gone to their changing rooms for the interval with the score at 0-0 when referee Guido Winkmann stopped his own descent down the tunnel after a message in his ear.
Play had been allowed to continue after Mainz's Daniel Brosinski struck a shot that hit Freiburg defender Marc Oliver Kempf on the hand, but Winkmann watched the incident again pitchside after being notified by video referee Bibiana Steinhaus.
After confused faces resurfaced from the tunnel, Mainz's Pablo De Blasis duly converted the spot-kick to give the hosts a surprising 1-0 lead when they went back in for the break - again.
Freiburg coach Christian Streich, who was recently sent off for dissent in another Bundesliga game, was pictured on the sidelines smiling and shaking his head in disbelief, after being told to bring his players back out.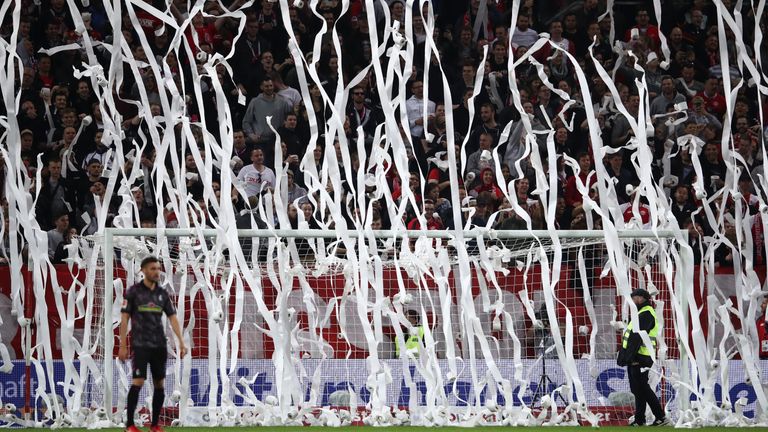 Freiburg sporting director Jochen Saier told Eurosport at half-time: "We thought that, when the whistle goes for half-time, the first 45 minutes are ticked off.
"That wasn't the case in this scene. We have to accept that with heavy hearts. Things are getting stranger."
Mainz ended up beating their relegation rivals 2-0, although the players were forced to wait again for the second half after Mainz fans threw hundreds of rolls of toilet paper onto the pitch in protest against Monday-night games.
Defeat meant Freiburg dropped behind Mainz into the relegation zone due to an inferior goal-difference, with four games of the season remaining.
The VAR system, which has been used in the Bundesliga all season, has caused numerous controversies during testing in the FA Cup in England this season.The Premier League recently voted against introducing it for the 2018/19 season.