Bayern Munich and Borussia Dortmund show best and worst sides ahead of Tuesday's Klassiker - Bundesliga Hits and Misses
Follow live coverage of Borussia Dortmund vs Bayern Munich on skysports.com on Tuesday night; Kick-off at 5.30pm
Last Updated: 25/05/20 4:03pm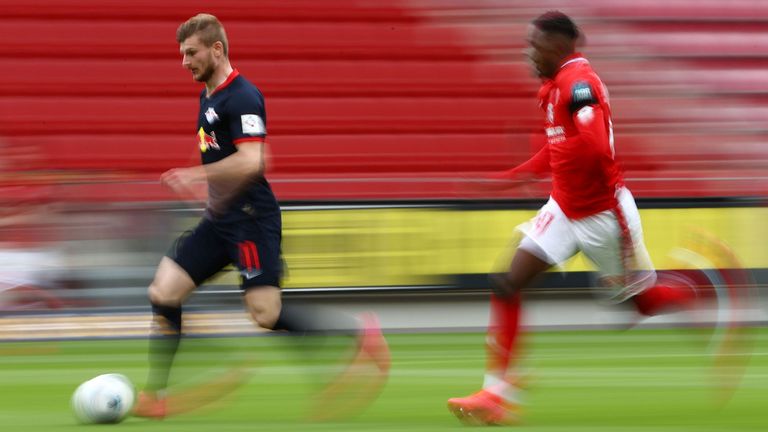 From another emphatic Timo Werner-inspired RB Leipzig performance, to the two faces of Bayern Munich and Borussia Dortmund and the many cut-out ones at Borussia Moenchengladbach, week two of the Bundesliga's return in review.
Trebles all round for Timo
Mainz must be sick of the sight of Timo Werner.
The 24-year-old Germany international was the architect of their heaviest Bundesliga defeat when he scored a hat-trick and had a hand in three more goals in an 8-0 thrashing in November.
Wind the clock forward seven months and Werner was at it again. Leipzig were at it again.
It took 11 minutes for the visitors to break the deadlock through an instinctive Werner finish and, after being involved in everything Julian Nagelsmann's side did well, he became the first Bundesliga player in over 20 years to score back-to-back hat-tricks against the same opponent in a single season.
The only criticism from an otherwise exemplary performance was that he didn't score more, such were the quality of chances that fell his way at the Opel Arena.
But to finish the game having taken his goals tally for the season to 30 in all competitions, Werner's ever-growing list of suitors will be queuing round the block for his services, if they weren't already.
Jack Wilkinson
Red-hot RB Leipzig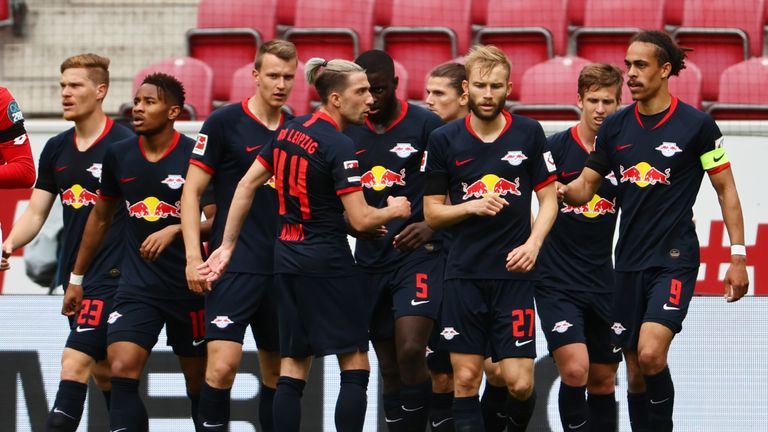 Julian Nagelsmann underlined his enigmatic character in the build-up to RB Leipzig's trip to Mainz but likening his stuttering side to a bonfire that needed "a bit more headwind to blaze brighter".
After a debilitating run of three consecutive draws had jeopardised their hopes of qualifying for Europe, he was after a bonfire-like performance, but what he got resembled an inferno.
The pace and precision with which Leipzig set about their task at the Opel Arena was frightening. Mainz looked to have got social distancing down to a tee, such was their inability to deal with the fluidity of Leipzig's attacking play.
Inconsistency has hampered Leipzig chances of winning the Bundesliga this season, but this latest vindication of the Nagelsmann's unique brand of football further underlined their credentials in the coming years. If that's too far in the future, there's always the Champions League this season.
Jack Wilkinson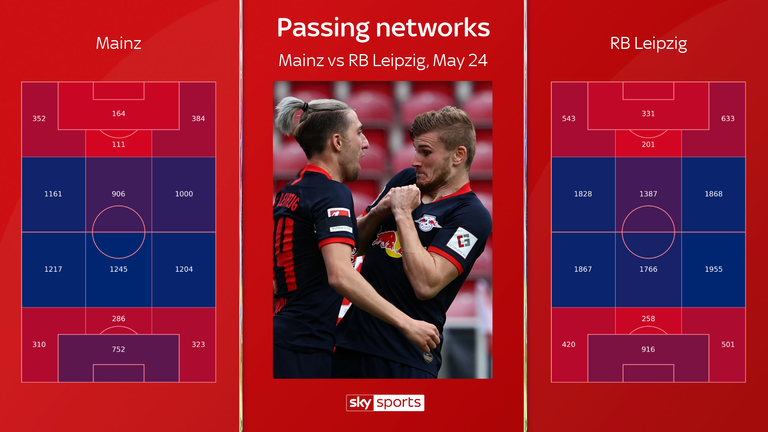 'Cardboard companions' - inspiration for the Premier League?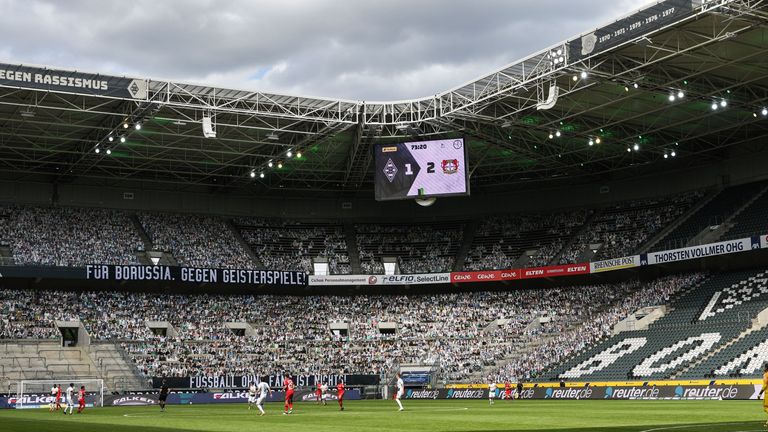 Football ohne Fans ist nichts.
Football without fans is nothing.
There were banners draped at Borussia Moenchengladbach's stadium in protest at a second weekend of 'ghost games' but 13,000 new cardboard fans were a striking addition to hitherto empty stands at Borussia Park. Behind the goal, by the corner flag, there were scarves and smiling faces, even if their owners were mute and the atmosphere still, well, flat.
Kai Havertz was the face that left the biggest impression, the 20-year-old scoring twice in a 3-1 win for visiting Bayer Leverkusen, but though the Pappkameraden - the cardboard companions - failed to inspire his side to victory, Gladbach boss Marco Rose welcomed the initiative - one that will see some of the 19 euro cost per supporter given to charity.
"The cardboard cutouts are not quite the same as having real fans there. But we all think it's a really cool idea."
Sunday Supplement guest Shaun Curtis reckoned the cut-outs "enhanced" a "standoffish" experience, where "the brilliance of scoring a goal or the consequences of conceding one is not as dramatic".
Fellow panellist Alyson Rudd admitted anything to distract from the absence of fan noise was welcome. "Have people in the room with you, doing something completely different... once you get the ambience right and make it less peculiar, you can really enjoy it."
Football without fans is nothing - but here at least, in a world of unfamiliarity and unknowns, was an attempt to innovate and engage.
"The Bundesliga gives the Premier League an opportunity to watch these games as visual spectacles as well as football matches," Jason Burt told the Supplement. "How can we do it better? It's not the same but we have a chance to try something different."
Kate Burlaga
Download the Sunday Supplement podcast on: Spotify | Apple | Castbox | Spreaker
Dortmund are more than just Haaland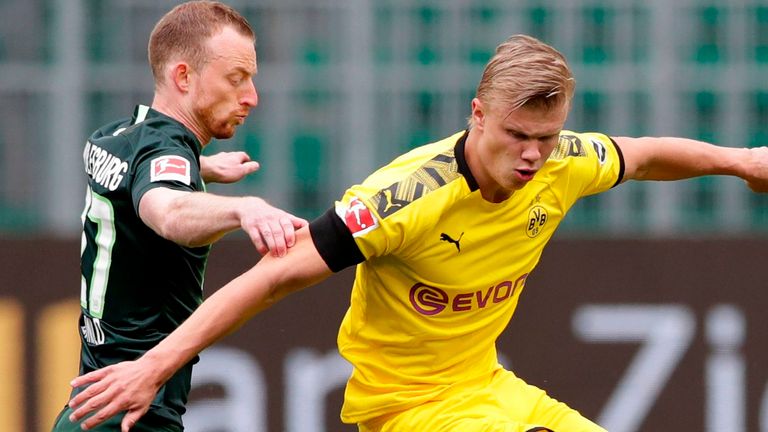 You'll probably be surprised to hear that Erling Haaland had a quiet game against Wolfsburg. Yes, he made the runs and you could not fault his work rate, but for someone who has set the Bundesliga alight with 10 goals and three assists since January, he did not live up to his own billing on Saturday.
But this gave Dortmund the chance to prove they are more than just their 19-year-old superstar and other players were able to show what they can contribute.
Achraf Hakimi, Thorgan Hazard and Julian Brandt linked up superbly well, especially in the first half. It was the trio that strung a mesmerising series of passes together to help set up the first goal for Raphael Guerreiro, who also used his own skills and tricks to impress.
The trio linked up again just before the break when it appeared Dortmund would nab a quick second, but Hazard couldn't quite get his finish right. He did come away with an assist for the first goal though, and enjoyed a good day's work nonetheless. Real Madrid loanee Hakimi also deserved his goal - assisted by substitute Jadon Sancho - with a thunderous strike into the bottom corner.
Of course, it must be pointed out that Haaland was in and around both goals - uncharacteristically slipping over in the middle for the first and waiting on the left-hand side for the second after a brilliant supporting run - but it was his team-mates who shone at the Volkswagen Arena and proved that football really is a team sport.
Charlotte Marsh
Bayern show lethal touch
Last weekend's Bundesliga return saw Bayern Munich rack up their 50th goal of Hans Flick's short tenure in just his 16th game at the helm. That was already the fastest that milestone has been reached under any head coach in Bundesliga history, and the league leaders continued their charge towards 100 goals with another five against Frankfurt on Saturday.
True, few backlines will be so generous to tee-up Alphonso Davies for an open goal, and even begin scoring for Bayern by the end of the 90 minutes. Realistically though, it could have been eight or nine for the relentless hosts, who now only need to score nine goals in their final seven games to better their tally from last season - and you'd bet your house they will.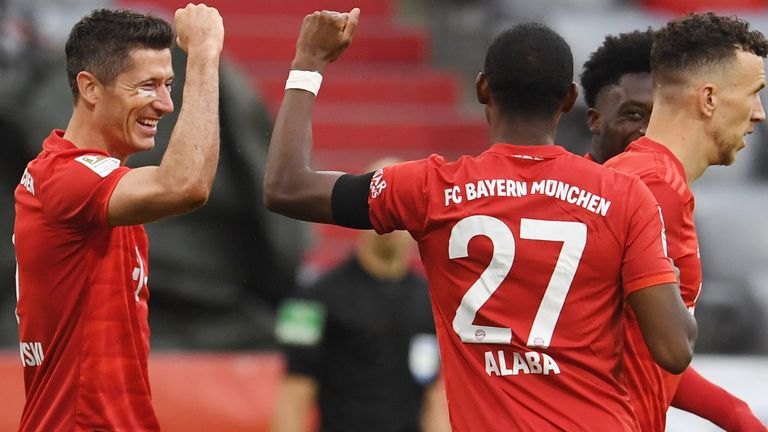 The fact five different scorers found their way onto the scoresheet too, albeit one of them Frankfurt defender Martin Hinteregger, will please Flick no end. His star striker Robert Lewandowski moved level with Ciro Immobile as the top scorer across Europe's top-five leagues with his goal against Frankfurt, but having scorers across the pitch puts Bayern in an enviable position ahead of Tuesday's Klassiker.
Ron Walker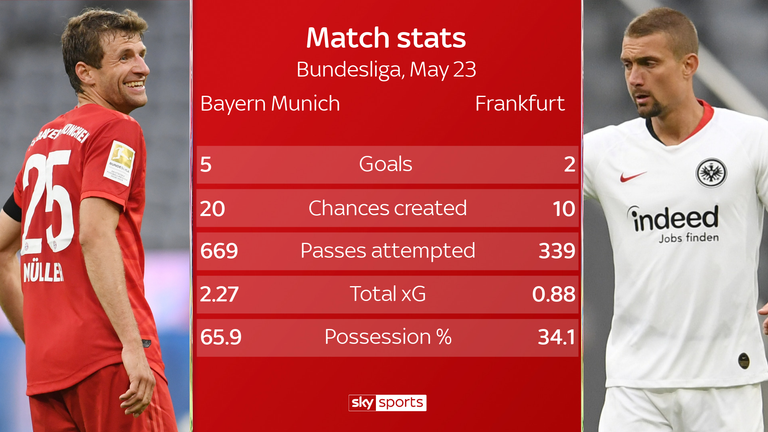 Dortmund must be better for Bayern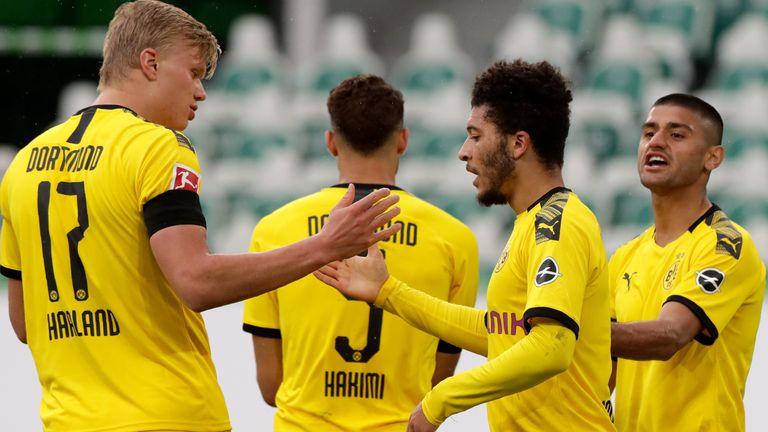 Dortmund face a much sterner test on Tuesday evening when they host league leaders Bayern - and they will need to put in a far better performance than the one against Wolfsburg.
Despite winning 2-0 against 10 men, it was anything but a cruising performance, particularly in the second half. For the first half an hour after the restart, Dortmund barely had a look in and were only saved by some poor Wolfsburg finishing and a sensational save from Roman Burki.
A lot of their problems came down to the substitution of Mats Hummels at half-time, possibly to keep him fresh for Bayern in midweek. Dortmund missed the experienced defender almost immediately as Renato Steffen blazed over from close range and their defence looked to be struggling without his leadership.
They soon steadied the ship and went on to win the game with another goal, but it's no disrespect to say Bayern will give Dortmund many more problems than Wolfsburg did. Lucien Favre's team need to put in their best performance and barely got out of third gear at the weekend. They will want to avoid another 4-0 Bundesliga thrashing if they have any realistic chance of beating Bayern to the title this season.
Charlotte Marsh
...And Bayern must be better for Dortmund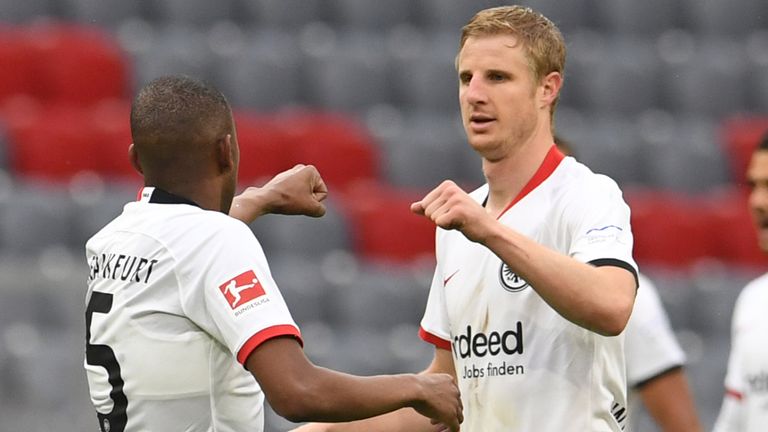 For about 85 minutes, Bayern were scintillating against Frankfurt. They did not let up, they did not take their foot off the gas. But for the five minutes they did, they were nearly embarrassed.
Hinteregger's two goals in four minutes, both from dreadfully defended corners, threatened to derail Bayern's return to a four-point lead at the top of the Bundesliga, and what will annoy Flick more than anything else is how eminently avoidable both were.
Bayern cannot afford similar lapses in concentration against a Dortmund side far superior to Frankfurt, who had already lost their previous four games before Saturday. But if anything, Flick and his side may now be better prepared having seen a weakness highlighted so starkly by Frankfurt's towering centre-back.
Ron Walker