Bundesliga matches are to be limited to 50% attendance and a maximum of 15,000 fans due to reintroduced Covid restrictions in Germany.
Outgoing Chancellor Angela Merkel and her successor Olaf Scholz agreed a number of measures with the leaders of the country's 16 states, including the reduction of fans at outdoor and indoor sports events.
Bundesliga stadiums, which had mostly been operating on near-full capacity this season, must now reduce their crowds to minimise the risk of infection.


"A temporary limit on the number of fans in the stadium is understandable," German Football League chief Christian Seifert said.
"The DFL hopes that this decision by the federal government and the states leads to an improvement of the pandemic situation."
German authorities fear a fourth wave of Covid risks overwhelming intensive care units: more than 73,000 new infections and 388 deaths were recorded on Thursday.
Klinsmann: Dortmund vs Bayern deserves 80,000 fans
The announcement means Saturday's top-of-the-table clash between Borussia Dortmund and Bayern Munich, live on Sky Sports Football, will only see 15,000 fans in attendance.
And although it's something German legend Jurgen Klinsmann appreciates is a necessity due to rising Covid cases in the country, it may just give visitors Bayern a psychological edge.
"It's a pity that Covid is giving us trouble again because a game like that deserves 80,000 people," Jurgen Klinsmann told Sky Sports News.
"It should be packed; it should be emotional and exciting as the fans live this game with all their emotions and energy.
"I still think it will be an exciting game - but when you normally face the 'Yellow Wall' (Dortmund home support) it does intimidate you, whoever you are.
"When you see this massive stand, it does have a bit of an influence because you respect it so it definitely has an impact."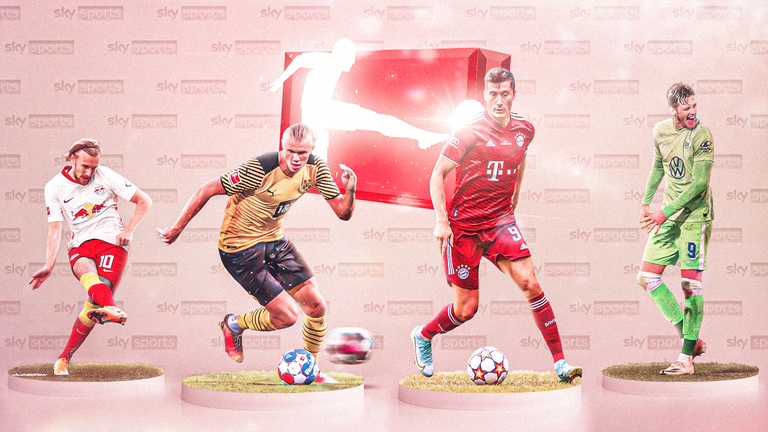 No fans for Bayern vs Barca in CL
On Friday, the governor of the German state of Bavaria announced no supporters will be allowed in the stadium when Bayern host Barcelona in the Champions League next week.
Despite the maximum attendance limit of 15,000, individual states are allowed to set stricter rules if they wish and Markus Sder confirmed Bavaria will bar fans from sports events from Saturday.
Bayern have already qualified for the knockout stages but Barcelona will be eliminated if from the competition if they fail to win and Benfica beat Dynamo Kyiv.
Sky Sports has become the new home of the Bundesliga in the UK and Ireland after winning exclusive rights for the next four seasons.
As the home of German top-flight football in the UK and the Republic of Ireland, football fans will be able to tune in to Sky Sports to watch the likes of Erling Haaland, Jude Bellingham and Robert Lewandowski, while 30-time Bundesliga champions Bayern Munich look to hold off their rivals to claim another title.
The premium fixture of each weekend will be shown live every Saturday at 5.30pm on Sky Sports Football, with further matches broadcast via Sky Sports' linear or digital channels including Sky Sports YouTube.