Bundesliga: Borussia Dortmund midfielder Ilkay Gundogan returns to training
Last Updated: 11/09/14 10:23am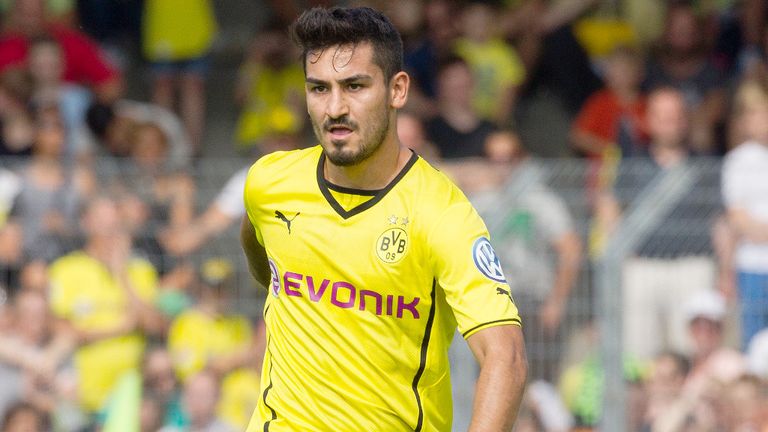 Borussia Dortmund and Germany midfielder Ilkay Gundogan has set his sights on returning to action in just over a fortnight after resuming full training.
The 23-year-old has spent 13 months on the sidelines with a troublesome back injury which caused confusion even among his own club's doctors.
Several methods of treatment were tried, but there were never any signs of improvement - until recently.
Finally, Gundogan can see some light at the end of the tunnel.
"I have no fear at all and am able to go into tackles like I always did, without holding myself back," he told Bild.
"I know I have not yet reached my goal because I cannot claim to be in the form I was before my injury, but if everything goes well and the coach picks me, then I presume that I can play against Anderlecht (in the Champions League) at the start of October.
"That is the first game I will be ready for."
Gundogan admits his year on the sidelines was difficult, particularly midway through when he saw no signs of progress, and realised he was not going to be fit for the World Cup.
"I felt really rubbish after the winter break," he said.
"I really wanted to get back in action, but it is then that I realised things were getting worse rather than better.
"I just wasn't getting anywhere. That was the first time that I thought I would maybe miss the World Cup."
The whole experience has changed Gundogan's outlook, especially when it comes to injuries.
His Dortmund team-mate Marco Reus was this week ruled out for a month after hurting his ankle in Germany's victory over Scotland.
"I'm more relaxed about it now," he said.
"Take Marco Reus, for example. Four weeks may sound like a lot, and they are annoying, but given my history, that's practically nothing.
"I would have given anything to have been out for only four to six weeks.
"I had to learn to live with injury and that is just part of the game."