Timo Werner, Sandro Wagner, Mario Gomez: Who'll be Germany's No 9?
By James Walker-Roberts
Last Updated: 21/03/18 10:40pm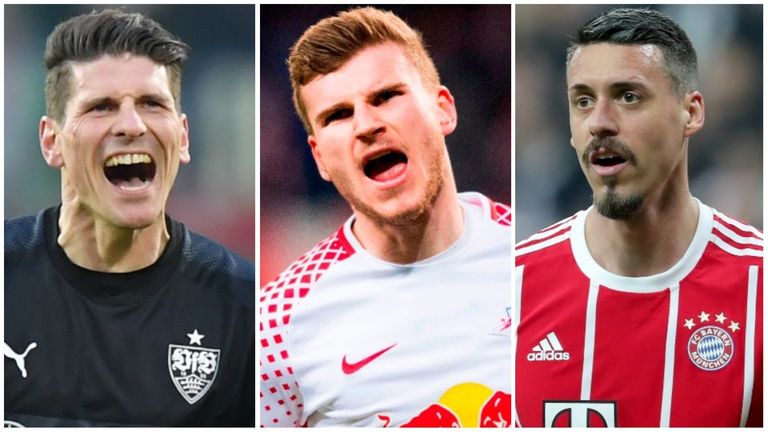 Germany might be the favourites to win the World Cup this summer, but who is going to score the goals to help them lift the trophy? James Walker-Roberts assesses the options at Joachim Low's disposal...
Three players, one place. That looks to be the equation for Germany's strikers at the World Cup.
Timo Werner, Mario Gomez and Sandro Wagner look to be the three players, having been named as the only out-and-out strikers in Joachim Low's latest squad to face Spain and Brazil. But who will get the one starting place in Russia?
The leading contender at the moment appears to be Werner, who is enjoying another strong season with RB Leipzig. Although he might not match his 21 Bundesliga goals from last year, he has scored 18 in all competitions, including six in Europe - three in the Champions League and three in the Europa League, where Leipzig are into the quarter-finals.
At just 22, Werner recently became the youngest player to make 150 Bundesliga appearances. Over half of those appearances came with Stuttgart, but his career has really taken off since joining Leipzig in 2016.
Werner v Gomez v Wagner
| | | | | |
| --- | --- | --- | --- | --- |
| | 2017/18 Bundesliga minutes | Goals | Germany caps | Goals |
| Werner | 1895 | 11 | 10 | 7 |
| Gomez | 1799 | 7 | 71 | 31 |
| Wagner | 1242 | 8 | 7 | 5 |
Former Germany forward Gerald Asamoah recently told kicker magazine: "You have to ask yourself, what happened to the boy in Leipzig? Before he was relatively good in Stuttgart, but not a complete scorer - how he has since developed at Leipzig is sensational."
Playing among a creative cast at Leipzig, featuring Liverpool-bound Naby Keita and Emil Forsberg among others, Werner has excelled, with Asamoah saying of his qualities: "He's a strong finisher, very fast, can get in behind defences and create spaces in deep-lying positions; Timo Werner is just very, very good."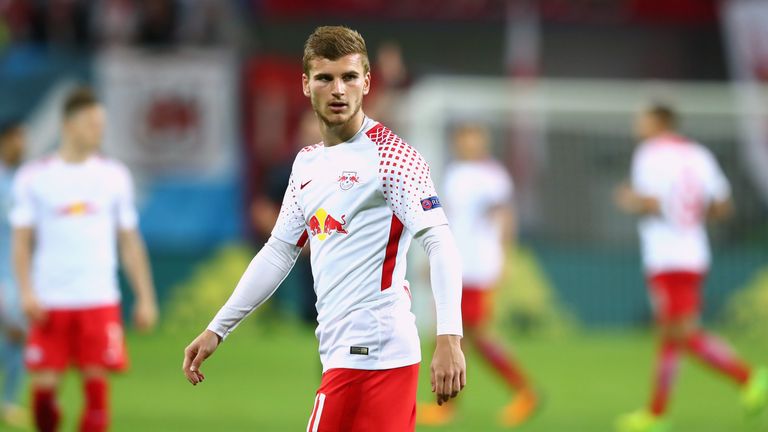 If Werner is "very, very good", what is Gomez?
It says much about his longevity that he used to be something of an idol for Werner. "When I was 11, 12, I used to have posters of Mario on my wall," said the Leipzig striker in a recent interview.
Certainly, if Lowe is looking for experience then Gomez wins hands down over Werner and Wagner.
The 32-year-old has already been involved in two World Cup squads, although he did not play a single minute in Brazil and only made four substitute appearances in South Africa. At the Euros, he finished as joint-top scorer in Poland and Ukraine in 2012 and netted twice in four appearances at France 2016. In total, he has made 71 international appearances and scored 31 goals. Werner and Wagner have 17 caps and 12 goals between them.
He's a strong finisher, very fast, can get in behind defences and create spaces in deep-lying positions; Timo Werner is just very, very good
Former Germany forward Gerald Asamoah on Timo Werner
At the time of the last World Cup, Gomez was playing for Fiorentina, but he has since been to Besiktas, Wolfsburg and now Stuttgart, where he first started out as a professional. He returned to Stuttgart in January and scored twice against Freiburg on Friday to take his tally to six goals in his last 10 appearances.
"I'm playing well, hopefully I'll be going to the World Cup," said Gomez after the win.
Gomez last played for his country almost a year ago, but Sky Germany's Torben Hoffmann says: "He is on the right track. He has a lot of confidence and scores a lot of goals at the moment."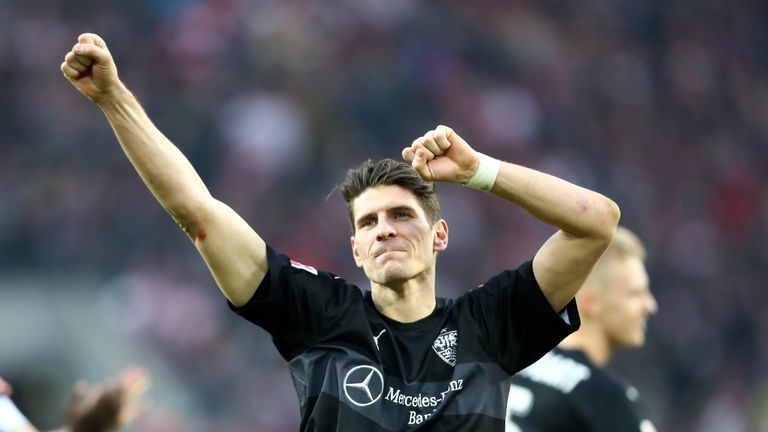 Former Germany international Guido Buchwald thinks Gomez gives Low a different option. "I'd definitely pick him," he told SWR Sport. "He's a different guy than most strikers, and at a World Cup where you might need the crowbar, you need a real nine, and that's Mario Gomez."
If Werner is the leading contender and Gomez the "crowbar", what does that make Wagner?
Despite having scored the fewest goals of the trio this season - 11 in all competitions for Hoffenheim and Bayern Munich - Wagner threw his hat firmly into the ring earlier this month when he declared himself as the best forward at Low's disposal.
"I have scored goals in every club - for Darmstadt in the relegation battle, at Hoffenheim, in the Europa League and now for Bayern," he said. "That's why I think I deserve it. I'm feeling good. In my eyes, I'm the best German striker, I've said that a thousand times. That will not change either."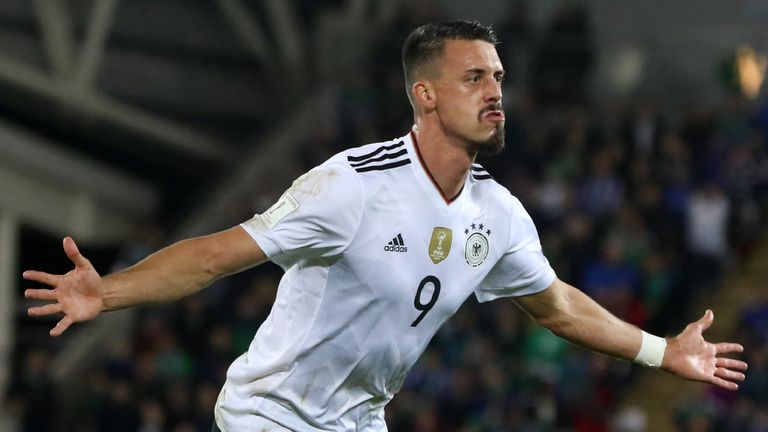 His comments came in the wake of suggestions from Gomez that, playing for Stuttgart, he is under less pressure than Wagner is at Bayern Munich, who he joined in January.
"I don't think it matters very much for the national coach whether I score five or 10 goals," said Gomez. "He knows that he can count on me. If I was playing for Bayern, people would naturally expect goals. If you don't score, you'd have to worry."
But are goals essential for Low's first-choice striker? Or does he want a striker to hold the ball up and feed a talented and energetic attacking line-up that could include Thomas Muller, Leroy Sane, Mesut Ozil, Marco Reus and Mario Gotze?
"Gomez and Wagner have the same quality and mentality," says Sky Germany's Hoffmann. "They are big strikers, good in the air, and want to play in the box and win balls. It will be hard for Low."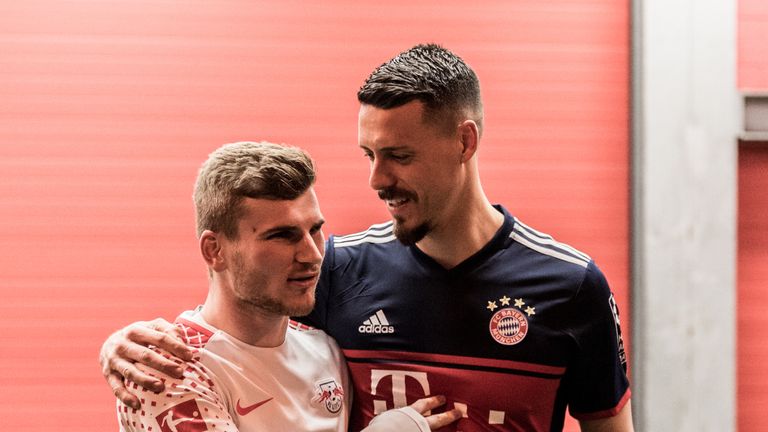 Hoffmann expects Germany to potentially play with and without a striker at the World Cup, as they did at Euro 2016 when Gotze was sometimes deployed as a 'false nine'.
However, he added: "They need a striker of course. Germany won the World Cup in the past because they had Miroslav Klose. To win again they need a good striker. It will be a bonus that they have got a lot of quality midfielders to help the attack."
What makes an ideal striker for Low? The Germany boss has shown himself to be flexible with his systems and, with so many attacking options, will surely want his No 9 to be mobile and able to get involved in the play. Werner is quick, can create space and drift out wide, while Gomez and Wagner provide more powerful and direct options.
Who will get the nod? The upcoming friendlies against Spain and Brazil should provide some signs of how Germany plan to go about winning another World Cup.