Transfer news: Freiburg sign midfielder Mike Frantz from Nurnberg for an undisclosed fee
Last Updated: 13/06/14 5:49pm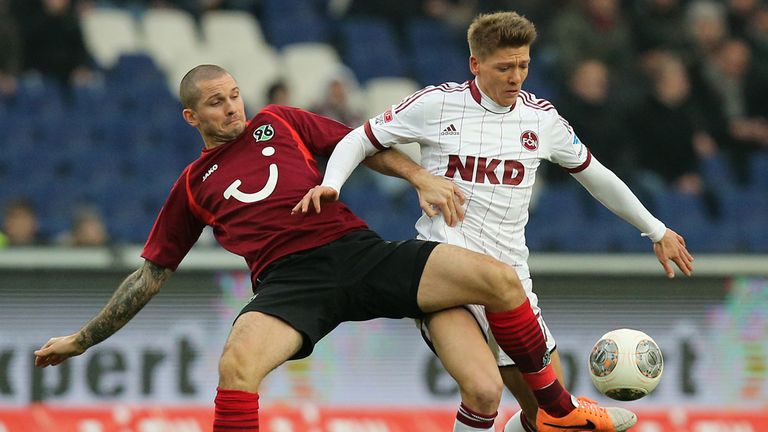 Mike Frantz has joined Freiburg for an undisclosed fee to end a six-year association with relegated Nurnberg.
The 27-year-old midfielder will line up at the Mage Solar stadium next season after Nurnberg's drop down to Bundesliga 2 was confirmed on the final day of last season.
He joined Nurnberg in 2008, achieving promotion to the German top flight in his first year, before going on to make 109 league appearances for them, scoring eight goals.
Frantz was entering the final year of his contract at Nurnberg, but after deciding to leave he is now excited about taking on a new challenge.
"Freiburg is an association that has established itself in recent years in the Bundesliga. I hope that I can help the club and the team with my experience," Frantz told Freiburg's official website.
"The way football is played at Freiburg has always impressed me. It was always uncomfortable to play against Freiburg, so that makes it even more enjoyable that I can now play for them."
Freiburg sporting director Jochen Saier added: "We had very good discussions with Mike Frantz, where it quickly became clear that he fits in very well with what we want to do. We believe that his quality, experience and versatility will help."
Nurnberg chairman Martin Bader thanked Frantz for his service to Nurnberg on the club's official website.
"We regret to see Mike leave us. He has always identified himself with the club over the years and was one of the longest-serving players at Nurnberg," he said.
"Freiburg offered him a long-term contract and so his decision is understandable. In return, Nurnberg have obtained a suitable financial resolution."