What does the future hold for Mario Gotze?
Borussia Dortmund midfielder scored winning goal for Germany in 2014 World Cup final
By James Walker-Roberts
Last Updated: 14/06/18 2:59pm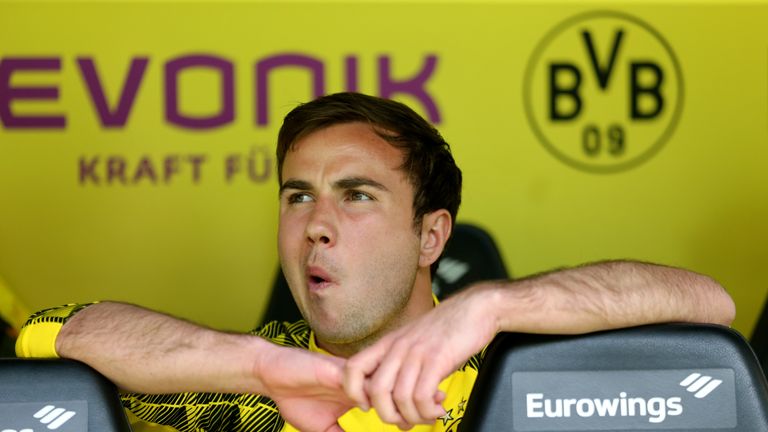 Mario Gotze has had some difficult times with Bayern Munich, Borussia Dortmund and Germany, but has shown signs of rediscovering his best form. James Walker-Roberts looks at what he has done over the last few years and what he might do next, amid Premier League interest...
"He is a miracle boy, a boy wonder."
Around this time four years ago Mario Gotze was being lauded by Germany manager Joachim Low after coming off the bench to score the winner in the World Cup final against Argentina.
There will be none of the same praise from Low this summer as Gotze failed to make the Germany squad. Instead, it's Gotze's club future which is making the headlines, with Arsenal, West Ham and Everton interested in signing the 26-year-old from Borussia Dortmund.
But what's happened to Gotze since his World Cup heroics and why has he only started 39 Bundesliga games over the last three seasons?
Low had told Gotze to "show the world you can be better than Messi" when he sent him on as a late substitute against Argentina in the World Cup final in 2014. To some extent he did that as he chested down Andre Schurrle's cross and finished past Sergio Romero to win the World Cup for Germany and leave Messi still without a major international trophy.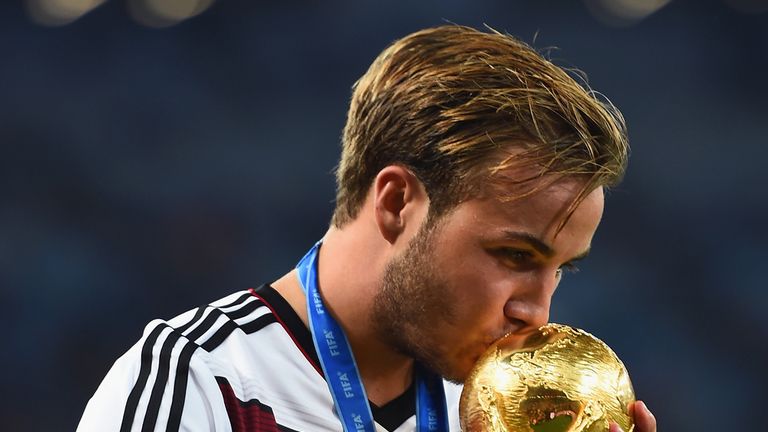 But the goal somewhat overshadowed what had been a largely disappointing tournament for Gotze, who had played just seven combined minutes in the quarter-finals and semi-finals before coming on in the 88th minute of the final.
Low also revealed this year that he had some regrets over his comments to Gotze.
"I committed the mistake to talk about that sentence publicly afterwards," he said. "That did not help Mario during the next few months. He was always measured to it and scoring the decisive goal might have become a burden for him."
Gotze had fared well enough in his debut season with Bayern Munich before the World Cup - having arrived along with Pep Guardiola in the summer of 2013 - as he scored 10 goals and made nine assists from 20 Bundesliga starts. The following season only three outfield players were given more minutes than Gotze in the Bundesliga.
Scoring the decisive goal [in the World Cup final] might have become a burden for him.
Germany manager Joachim Low
Yet all was not well.
Despite increased playing time, there was not an increase in output, and Gotze started on the bench in both legs of the Champions League semi-final defeat to Barcelona and the German Cup final against former club Borussia Dortmund. A training video from the day after Bayern's defeat to Barcelona shows Gotze missing a chance in front of goal and then cutting a lone and seemingly unhappy figure as he stares down at the floor with hands on hips and shakes his head.
According to an annual survey by kicker magazine, Gotze was the second biggest disappointment of the 2014/15 season, as voted for by 183 German top-flight players.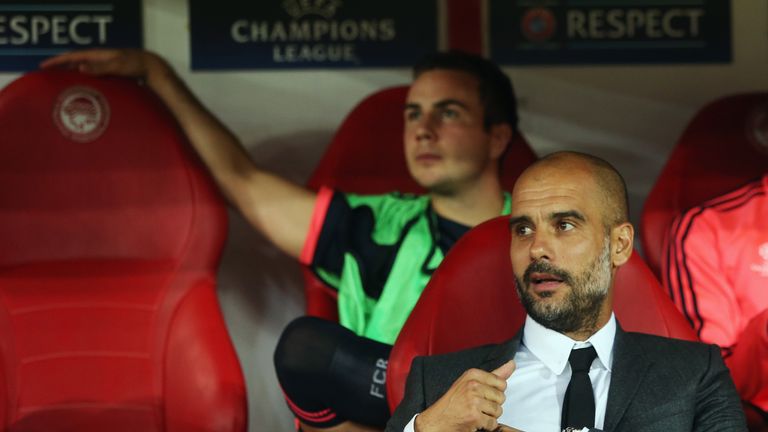 Gotze looked for ways to improve that summer, including visiting Cologne's sport university to undergo "major diagnostic tests and analysis" on his body. German newspaper Bild reported that the test results were "strong and satisfactory in all areas", but it would be Gotze's body that would let him down in the following years.
After missing more than three months with injury in 2015/16, Gotze played just 14 Bundesliga matches for Bayern Munich and left in the summer to return to Borussia Dortmund.
With some Dortmund fans still unhappy about his departure to Bayern in 2013, Gotze said he would try to convert those that "do not welcome me with open arms".
But, after an inconsistent start to the 2016/17 season, it was then revealed in March that Gotze had a metabolic disorder that would rule him out for the rest of the campaign.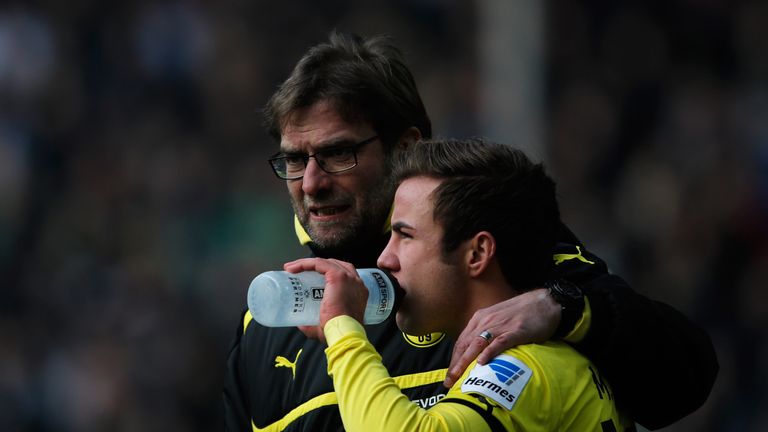 The announcement caused some to change their opinion of the way that Gotze's performances for Dortmund had been viewed. Germany legend Lothar Matthaus had been critical of Gotze's form, but backtracked by saying "you have to judge his recent performances differently, knowing this".
"The illness shows that Gotze has been unjustly treated," said German newspaper Der Westen.
A metabolic disorder can cause muscle weakness and fatigue, and Gotze would spend five months in rehab before he joined up with Dortmund on their pre-season tour of Asia. He made his competitive return on August 20 after seven months out, with Dortmund manager Peter Bosz describing him as a "special player" after he played an hour in a 3-0 win over Wolfsburg.
Although Bosz would urge caution with Gotze, there were encouraging signs. Operating in a No 10 role as he had done in his previous spell at Dortmund under Jurgen Klopp, Gotze got into a groove and began to perform at a consistent level. At the time of the winter break, he had been one of Dortmund's brightest performers in the first half of the season.
But a change of manager, from Bosz to Peter Stoger, saw Gotze drop deeper and struggle to contribute as much in a less creative and more restrictive role. He often played across the front three in a 4-2-3-1 formation but Dortmund were uninspiring to watch and Stoger's approach - unflatteringly dubbed "Stoger Ball" - did not appear to suit Gotze.
He was not included for Germany's friendlies against Spain and Brazil in March and was also singled out for criticism by Stoger after Dortmund's Europa League exit against RB Salzburg.
"I'm grateful to the coach for pointing out my weaknesses, and I'm going to work hard on them," said Gotze at the time.
However, in a recent documentary called Being Mario Gotze, the 26-year-old suggested he prefers Klopp's arm-around-the-shoulders approach to public criticism.
Every football player develops, every team, every opponent. The old Mario Gotze will never return. What matters in football is the current situation
Mario Gotze in November 2016
"Pep Guardiola was technically one of the best coaches," he said. "But I had the feeling that he thinks only on the pitch and leaves out the people and the outside. The empathy was not that big.
"Kloppo was like a footballing father. Pep was completely different. A world-class coach needs empathy, every athlete is also human and you should combine both [tactics and empathy]."
Dortmund's next boss is Lucien Favre, who managed to get the best out of Mario Balotelli during two seasons with Nice. He will be Dortmund's fourth manager in just over one season and his higher-tempo and possession-based football might well suit Gotze.
How would Gotze fare under the analytical Unai Emery at Arsenal? Or could he be the perfect fit for Marco Silva as he looks to build an identity at Everton?
While he might have been frustrated to miss the chance to help Germany retain the World Cup, perhaps a summer off will be beneficial for Gotze as he looks to rest and recharge ahead of next season.
"The old Mario Gotze will never return," he said in late 2016. But the new one could still have plenty to offer.