Bundesliga: Borussia Dortmund agree fan access for Revierderby with Schalke
Fans will be given access to the derby between Borussia Dortmund and Schalke on March 25, in spite of recent trouble.
Last Updated: 22/01/14 2:51pm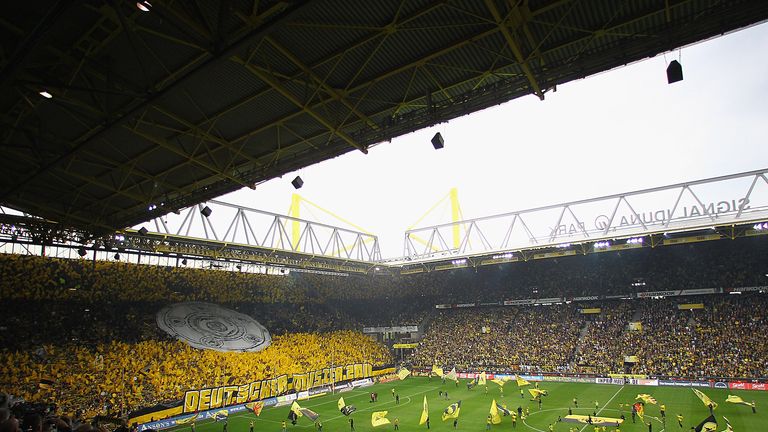 Dortmund's general manager Hans-Joachim Watzke earlier this week spoke of a "bilateral agreement" to ban visiting fans from attending the heated encounters as a result of increasing violence accompanying recent matches.
However, after consultation with the Dortmund police and Schalke representatives, Dortmund have reluctantly agreed to welcome visiting fans to the Westfalenstadion.
"Borussia Dortmund's suggestion, supported by the police both in Dortmund and Gelsenkirchen for both of the next derbies in Dortmund and Gelsenkirchen to be played without visiting fans, did not lead to enough of a consensus in our opinion," said Dortmund in a statement.
"The suggestion was for more visiting fans subsequently to be allocated tickets on the one condition that these next two games would be played in a peaceful atmosphere and a perceivable safer situation.
"Borussia Dortmund will now - both in Schalke and neighbouring Dortmund fans' areas - reduce the capacity at the Westfalenstadion to create safety buffer zones.
"Furthermore, Dortmund have requested that the match's kick-off time (20:00 CET) be brought forward to ensure that entry to the stadium is carried out in daylight."
Dortmund's fans caused the last derby between the two sides at the Arena AufSchalke to start with a delay after both teams were ordered off the field by the referee as fireworks and flares were thrown down on the field and towards rival fans.
With fears of reprisals in Dortmund, the Westphalian club had sought agreement on a ban on visiting fans for future derbies until the situation returned to a certain level of normality.
Furthermore, they have "withdrawn so-called away season tickets from three ultra fan groups" while many of the individuals identified as troublemakers in the past "have been given stadium bans".