As Real Madrid's slump continues, Tottenham are reaching new heights. Here, Guillem Balague reflects on Spurs' 3-1 win over the European champions at Wembley.
There were a lot of criticisms in the Spanish press after Real's loss on Wednesday, but everybody believes they can turn this around. Nobody is saying that this is such a disaster that Zinedine Zidane has to go.
However, there was more evidence at Wembley that Zidane is not the best at preparing games and changing them during.
Before Spurs' opening goal, Zidane only changed his defence to a back three in order to match the hosts, which is what a lot of coaches tend to do.
The issue here is that you have to train those things, but Real haven't trained that. It was just a coin throw up in the air to see if it could work.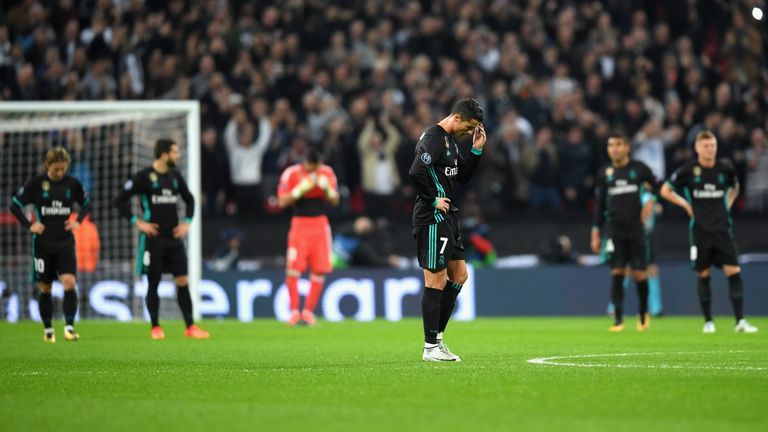 You also need to have a little bit of concentration and work without the ball, but the only one doing that last night was Isco.
Real have all fallen asleep. After you win a lot it's harder to keep winning, but also the two Supercup victories before the season started made them relax as well, and they're now finding it difficult to come through the gears that they should get to.
Problems for Zidane
Doubt over Zidane's ability to tactically improve the team is universal, and the club's president, Florentino Perez, was aware of this when the Frenchman was coaching Castilla (Real Madrid B).
Castilla, of course, have good players, but as the developing side that they are, they also need to concentrate on collective and tactical work. Zidane did not do much of that there.
Real and Perez knew what they were getting in Zidane when they hired him in 2016. He has gone on to win a title every three months, which is extraordinary, but it comes off the back of a team with impulse. It was a very successful impulse, but when the individual doesn't perform, the collective doesn't hold it together.
There has been question marks about how to turn this around, but not so much about getting rid of Zidane.
Spurs dining with the big guns
The stock of everybody at Spurs has risen, but how far can this team go? And what do they need to consistently stay at this level?
They are now in the same room as the big guns, no doubt about it. But it's the consistency which makes the big guns historical, and they will have to find that by improving as a team and individually, but also by getting players as well.
That should be the focus of everybody at the club. Not so much regarding whether Harry Kane or Mauricio Pochettino will go.
As Eddie Jones told me a month ago, and I love to repeat it, everybody wants to be part of something special, and they are creating something special here.
The media have been very impressed with Kane, and even though he didn't score in the two games against Real, his movement, his passion to recover the ball and his insistence to make runs have made him exciting to follow.
Meanwhile, Dele Alli can still reach many other levels, and he is still not at his best, though at Wembley he was like a bee, stinging Real's defenders.
It was fantastic to see the whole performance from Spurs, and I have not read anybody saying 'Kane has to go to Real' or 'Alli has to go to Barcelona'.
People looking for headlines will go that way, but I am interested to see how far this Spurs side can go. Everybody seems very comfortable at this new level. They are happy to be at the Santiago Bernabeu and then to go and beat Real Madrid at Wembley.
It shows they were prepared to get here. They know a lot about their rivals and have a lot of answers when questions are put to them during games. It was a fantastic job and something to celebrate seeing an English side do that.
That mixture Pochettino brings from his experiences in Argentina, Spain and now England, it seems to be the perfect combination for his English players.
It makes me think about all these British coaches who complain about not having jobs, and I say two things to them. There must be a reason why you are not getting a job, and also, when they say things like 'We're not given opportunities', have their passports been confiscated? Because I am sure they could find that abroad.