Manchester United's Nemanja Vidic feels pace key to beating Bayern Munich
By Chris Harvey
Last Updated: 02/04/14 6:44am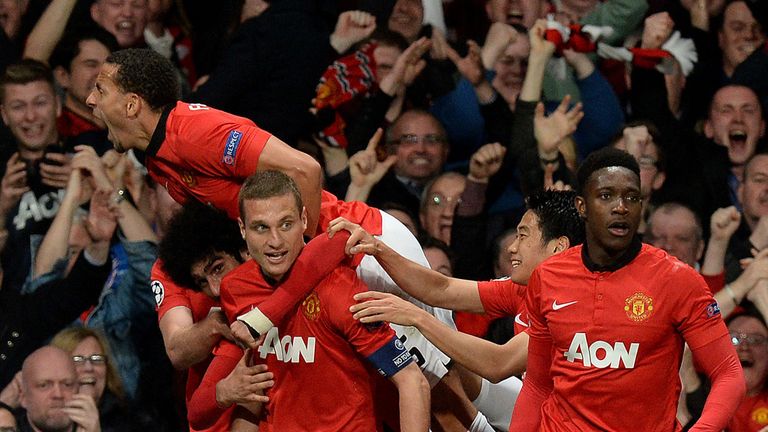 Nemanja Vidic feels his Manchester United side have the pace to hurt Bayern Munich when they go to the Allianz Arena for the second leg of their UEFA Champions League quarter-final.
United travel to Munich boosted in confidence after a 1-1 draw at Old Trafford on Tuesday and Vidic – who scored the home side's goal – believes speed on the counter attack could provide David Moyes' side with a route to the semi-finals.
Their task will be made easier by the absence through suspension of Bastian Schweinsteiger and Javi Martinez but Vidic knows it will be difficult to get a positive result in Bavaria.
"It was a tough game and a good result – and I think it will be the same game next week, " Vidic told Sky Sports.
Bayern had plenty of the ball at Old Trafford and the Serbian defender expects it to be a similar story in Germany.
"They will have the same possession, especially as it's their own ground, but if we keep the shape we can hurt them with our pace.
"We felt we had good positions and were solid, but one mistake was punished and they showed what a good team they are.
"They had a lot of possession but we accepted they would and we tried to counter attack."
Fellow defender Alex Buttner also feels United have a decent chance in Germany and told Sky Sports News: "Of course we can do it, we always believe in ourselves.
"We had chances to score more goals and we have to focus on that. In defence we did well and we didn't give a lot away – just the goal. I think we have a good chance."
The left back was also pleased to keep out the dangerous Arjen Robben: "It was nice to play. The defence were great. For me as well, it was my first game and I think we did well. We know that they can play good football and for myself, I defended well against one of the best wingers. It's good to play a good game."
Manager David Moyes was happy with his side but urged caution too.
"The players played really well, I'm delighted," he said. "I'm disappointed we conceded a goal, but it was really gutsy and I'm really pleased.
"The players had a real determination to make sure we did well. It's a competition we have a good history in and the players realised we were playing a good side.
"We know we have to score a goal. At the moment, if the scores say the same, Bayern win and we know we have to do something about it. But we've given ourselves a great opportunity."
Watch the second leg of Manchester United's Champions League quarter-final with Bayern Munich live on Sky Sports on Wednesday April 9.