Sky Sports Vault
We unlock the Sky Sports Vault once again and travel back to 1999, visiting St James' Park on a rain sodden evening. Ahead of this Sunday's Tyne-Wear derby, we look at the feud between Ruud Gullit and Alan Shearer, a famous Sunderland victory and catch up with a forgotten Newcastle striker
By David Bowers
Last Updated: 29/10/13 10:46am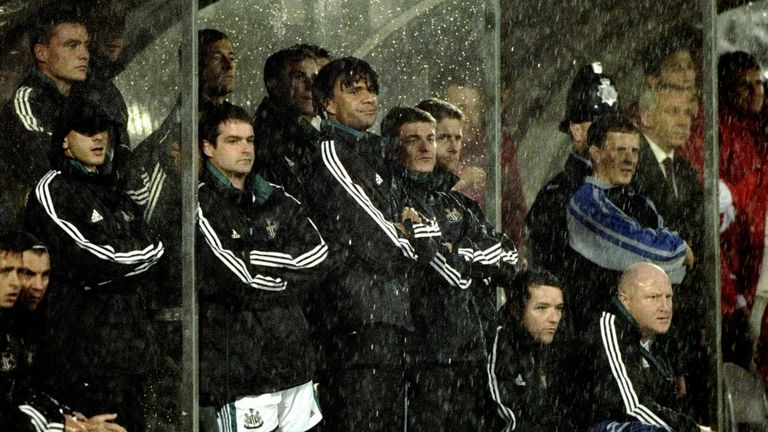 At St James Park on 25th August 1999, the stormy weather acted as a pathetic fallacy to Ruud Gullit's Geordie nightmare. On the pitch, there was a Sunderland fan living the dream in a Newcastle United shirt.
Paul Robinson, a Sunderland-born striker, began his career at Division Three side Darlington and despite having only really made substitute appearances, was snapped up by Kenny Dalglish in March 1998 in a deal that also saw James Coppinger join the Magpies. Robinson bode his time in the reserves as he was forced to wait for a competitive first-team appearance, something which never arrived whilst under Dalglish's guidance. After a year of impressing in the second string his opportunity arrived in August 1999 thanks to the Scot's successor, Gullit.
Robinson featured in the first three games of the 1999/00 season, all as a late substitute and all finishing in defeat for the Magpies. Despite featuring in these losses, Robinson did enough to persuade manager Gullit that he could be relied upon to lead the line on 21st August at home to Wimbledon, taking the place of Alan Shearer who was suspended. It wouldn't be the last time.
A 3-3 thriller ensued and Robinson was at the heart of Newcastle's ultimately forlorn attempts at "sexy football", contributing to Gary Speed, Didier Domi and Nolberto Solano's goals. Newcastle held a 3-1 lead but a late Gareth Ainsworth double drew the game level, denying the Magpies their first win of the season and in the process heaping further pressure on Gullit.
Robinson felt no pressure. Gullit neither. Never a man to knowingly shirk a possible confrontation, Gullit stuck true to the old adage of 'play well, keep your shirt' as he informed Robinson he would start the next game. A fully-fit, available-again Shearer was told to bring a cushion for the Tyne-Wear derby. The Geordie faithful could not have been less amused had the Bigg Market announced a ban on ale of the brown variety.
"I was quite a cocky, arrogant fella at the time. I wouldn't say I expected to be in the line-up, but because I had played well against Wimbledon, I knew I would be in contention," Robinson told Sky Sports when we caught up with him this week.
Gullit's decision to stick with him looked to be inspired, as the nippy 20-year-old sliced open the Sunderland back four to set Kieron Dyer free, whose strike meant Newcastle went into the half-time interval leading. Whisper it quietly, but some members of the Gallowgate were wondering what all the Shearer-fuss was about.
Could a Sunderland fan celebrate a Newcastle goal?
"I went absolutely nuts. I'd done an interview for the matchday programme and they'd labelled me as half red-and-white and half black-and-white," adds Robinson.
"I was getting booed by a section of Newcastle fans and obviously by the whole Sunderland section. It doesn't matter who you support, because when your team scores a goal you should celebrate."
Despite being brought up as a devout Sunderland fan, Robinson didn't suffer from divided loyalties during the game in the rain.
"All I wanted to do was win, I wasn't bothered about who I was playing. When you play against your local rivals, points go out the window. It's all about pride. You need to win that game, you need to win over your rivals."
It's been lost in the subsequent back story but when Robinson was substituted on the hour mark, Newcastle were still leading. The crowd's cries for Shearer weren't answered though, as Duncan Ferguson entered the fray.
Shortly after, Niall Quinn guided in a Nicky Summerbee free-kick to level the scores. It was a leveller the away side merited. Gullit was reluctantly forced into action and turned to his talisman Shearer in an attempt to swing the derby back into the Magpies' favour. The largely ineffectual Silvio Maric was withdrawn.
The stage was set for the England captain to repay those fans who yearned for his arrival. The script was written. However, Sunderland's Kevin Phillips had his own lines learnt and had no desire to play supporting actor to Shearer's leading man. Continuing his First Division form which had seen him score 60 goals in two seasons, Phillips tore up the script by measuring a glorious chip over emergency keeper Tommy Wright.
A memorable night for both sets of fans then, which ultimately helped lead to Newcastle's regeneration as Gullit was sacked a day later. Replacing him would be fans' choice Sir Bobby Robson. The Magpies would soon be back in the higher echelons of the Premier League table and the Champions League.
Robinson took a different route. Despite a great admiration for Robson, the ex-Darlington lad became disillusioned with life at Newcastle after dropping further down the pecking order. He made 15 more appearances for the Magpies, most as a late substitute, despite regularly scoring for the reserves.
Wimbledon, the team that Robinson made his competitive debut against, were under a regeneration of their own. In May 2000, manager Egil Olsen had left the Dons as the threat of relegation loomed, something which hadn't happened for 14 years. Coach Terry Burton took over but couldn't avoid the inevitable, as Wimbledon slipped down to the First Division.
£7million pound striker Carl Cort headed from the Dons to Newcastle, whilst Burton believed the man to drive Wimbledon back into the top flight was Robinson, who moved from the North East to south-west London for a fee of £1.5 million. His tale became the quintessential one of bright lights, big city, even bigger spending.
"It is a big wrench for a young man to move from the North East. Paul is from a very close-knit family and still lived with his parents," Burton told Sky Sports in 2000.
"We explained to him that coming down here was a sacrifice he had to make to take the next step."
The move to London was sacrificial for Robinson's career.
He made just four appearances in three years, which included loan spells at Burnley, Dundee United, Grimsby Town and Dundee United. All the while he craved for a glimpse of the north.
"I look back at my 34 years in life, and joining Wimbledon was by far the worst decision I've ever made," Robinson tells me.
"Bobby Robson didn't want me to go, but I wanted to play first-team football. I thought I was better than what I was. I was grounded and had always lived with my parents and then suddenly, £1.5m was spent on me.
"There was too much money being spent for a young lad. I thought the lifestyle was great and I could spend a load of money. I couldn't walk past a shop without buying something. It all meant that football wasn't a priority anymore."
Robinson's spending increased as his playing time diminished. His London nightmare came to an end in 2003 with Blackpool offering him an escape route and despite taking a large quantity of the blame for his unsustainable spending habits, the support for him was non-existent.
"I think other people could have helped me, especially the club. When that kind of money is spent on you, you'd expect people to help you out when you're making a few dodgy decisions but everything happens for a reason."

Seven and a half years after that rain-sodden night at St James' Park, Robinson, whose wish to return to the North East was granted by spells at Hartlepool United and non-league Whitley Bay, was declared bankrupt.
Failing to repay his erratic spending days saw him move back home to Wearside, moving in with his parents. Amongst the financial chaos, Robinson met his girlfriend Rachel in 2008, eight years too late.
"She calmed me down. I never thought I'd say this five or six years ago, but I'm a lot happier now," he said.
"Being a footballer is a bit overrated. When I was at Newcastle if I was more grounded and became a family man at an early age, who knows where I could have been. I should never have left Newcastle and should have stayed under the guidance of Bobby Robson.
"I remember I had talked to the press, who had twisted my words and brought out an article saying I was having a pop at the fans. It was nonsense. Bobby brought me into his office, put his arm around me and said 'Don't worry son, just never talk to that journalist again.'
"The guy was a legend. But if I think too much about 'what could have been', I'd be driving to the nearest bridge!"
After welcoming his son Morgan into the Robinson clan, the one-time wonder kid is now a courier driver in Durham, living a happier, more grounded life. Had he lived then as he does now there's a good chance he'd have seen himself etched into Tyne-Wear memories for more than just one controversial game.
Thankfully after a tough few years he's now found a calm sanctuary that works for him. However, Robinson's life does pose a pertinent question - do promising English players receive the support that they deserve?
After a career which saw him play for 25 different teams, the 34-year-old has now hung up his boots after a final spell at local team Hebburn. Despite being fit enough to play, he prefers to spend his time working for his family.
He'll be watching on Sunday though and as we sign off with his bullish prediction for a Sunderland win, it dawns on me that if he ever really was 'half red-and-white and half black-and-white', he isn't anymore.