The king is dead
Harry Redknapp's tenure as Tottenham boss is over after the club confirmed on Thursday he was leaving his post. The 65-year-old had lengthy contract negotiations with chairman Daniel Levy but could find no resolution. Adam Bate looks back on Redknapp's eventful three-and-a-half-year reign.
By Adam Bate - Follow me @GhostGoal
Last Updated: 14/06/12 3:02pm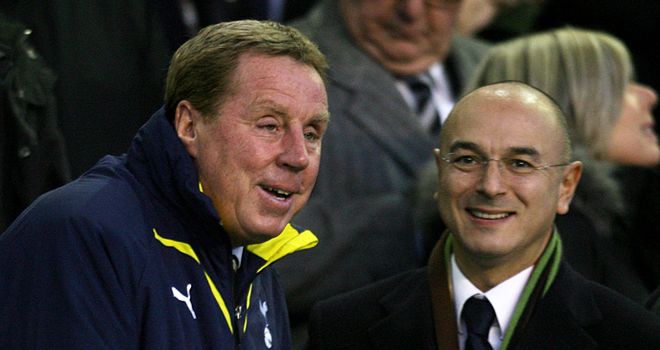 And so the journey is over. It's one that - as Harry Redknapp himself was so fond of telling everyone - began in October 2008 when Tottenham had taken just two points from the first eight games of the season. Spurs appeared in disarray under former Sevilla boss Juande Ramos and the club needed an experienced hand to get them back on track - a short-term fix. Redknapp fitted the mould. But the firefighter ended up giving the White Hart Lane faithful their greatest times in a generation.
Much of it was done with a swagger that rekindled memories of Hoddle, Waddle and Gazza if not quite the trophies of the Bill Nicholson era. And there were tangible achievements too. A fourth-place finish in 2010 brought with it UEFA Champions League football. Redknapp then made a mockery of his reputed tactical ineptitude by leading Spurs to the quarter-finals of the competition - keeping clean sheets home and away against AC Milan in the round of 16. In his three complete seasons with the club, Tottenham never finished lower than fifth - a level of consistency not seen since the 1960s.
While Redknapp could be forgiven for viewing this as an unmitigated success, there remained a nagging feeling that chairman Daniel Levy would be lingering on the near misses. Despite the flowing football and the significant investment, there would be no silverware to mark the manager's time in north London. A Carling Cup final was lost on penalties in 2009, and there were FA Cup semi-defeats at Wembley in both 2010 and 2012. In the Premier League, a late run of one win in 10 games prove costly to Champions League ambitions in 2011... and then there was the small matter of last season's collapse.
It couldn't have helped Levy's mood that Spurs' form appeared inextricably linked to the status of the England manager's job. In the days following Fabio Capello's resignation, Tottenham hosted a confident Newcastle side and promptly demolished them 5-0 in emphatic style. It served as a celebration of Redknapp's acquittal on charges of tax evasion and, seemingly, a wonderful send-off before he left to take up his anointed role as England boss. Spurs were 10 points clear in third place and their supporters were revelling in the lead over Arsenal.
Sour
But a sequence of just one win in nine games followed as the season turned sour for Redknapp and his players. The talk that had led Sir Alex Ferguson to claim Tottenham were playing the best football in the country at Christmas now seemed a cruel joke. Alarmingly for Levy, form only picked up once Roy Hodgson was surprisingly appointed as England manager instead. It was too late for Spurs and too late for both chairman and manager.
Ultimately, a contract dispute was the sticking point with neither man keen to budge. But it's tempting to conclude that Levy believed the firefighter had long since done his job. The role had changed and the club was ready to go forward with someone else. There is no appetite at White Hart Lane to allow this issue to be defined by an England job that never came to pass, but it's inescapable that it forced both Levy and Redknapp to envisage a future without the other. And it's apparent that future didn't seem quite so bad for either of them. Certainly, Redknapp did not cut a heartbroken figure when interviewed by Sky Sports News on Thursday. He knows he is leaving with his head held high.
And yet, the gentleman of the tabloid press took to Twitter and appeared at pains to paint this as the end of an era at Spurs. Matt Law of the Sunday Mirror opined: "If Tottenham don't finish in the top four next season Levy should be fired or quit." Others had a message for the chairman. "You have failed over many years to get Spurs a stadium - and now you sack Redknapp," wrote Charlie Wyett of The Sun, before adding: "Let's see where Tottenham finish next season." While John Cross of the Daily Mirror added: "If a foreign owner had done what Levy has done then we'd be up in arms. This is up there with the Venky's. You can't justify it on results."
But perhaps the final word must go to Redknapp himself and the comments that now look to have written his managerial obituary at White Hart Lane. Asked in March if Tottenham's players were being affected by the speculation about their manager leaving to take the England job, he was insistent: "That is the biggest load of nonsense I've ever heard in my life. They don't care whether I'm the manager next year, they wouldn't lose any sleep over that or whoever comes. That's football: footballers are footballers, they play the game, they come in every day and train, somebody else comes in the door tomorrow and it's 'the king is dead, long live the king'."