Zenit St Petersburg midfielder Igor Denisov unhappy with big contract given to new signing Hulk
Zenit St Petersburg midfielder Igor Denisov has criticised the club's recruitment strategy.
Last Updated: 25/09/12 7:23pm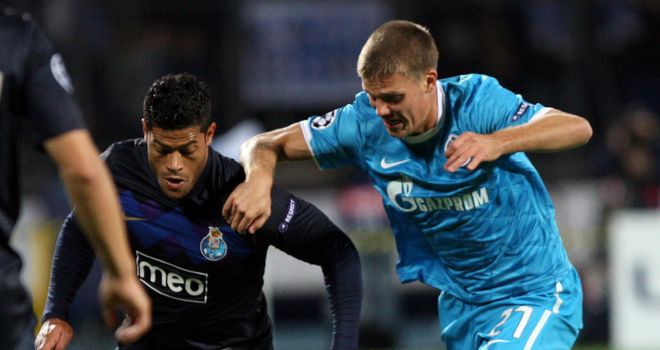 The Russian team, which is bankrolled by wealthy sponsors Gazprom, handed lucrative contracts to Portuguese striker Hulk and Belgian midfielder Axel Witsel after making a slow start to the season.
But this has not gone down well with Denisov, who was dropped to the youth team along with Zenit's leading scorer Alexander Kerzhakov for voicing his displeasure.
"I would understand if we got (Lionel) Messi or (Andres) Iniesta - they probably deserve any price," said Denisov.
"Yes, we bought some good players who will clearly help Zenit. But are they really so much better than the current team leaders that they deserve to get three times more?
"Zenit have assembled some great players who have won at least as many titles as the new guys."
He added: "It is not the money that is most important. What is at stake is something else entirely: a working atmosphere at the club and respect shown towards your own Russian players - the ones that Zenit have always relied on."
The club issued a statement calling Denisov's behaviour "unprofessional" and noting that he still has three more years left on a contract that made him one of the highest-paid players in Russia.
"He is discrediting himself as a player for club and country while doing serious damage to his own reputation," read the statement.