World Cup 2026: North American proposal for the rich, says Morocco's Moncef Belkhayat
By Zinny Boswell
Last Updated: 12/06/18 7:01pm
Morocco believe their bid for the 2026 World Cup will be fan focused, rather than North America's proposal which is a tournament "for rich people".
The vote for the 2026 World Cup takes place on Wednesday at the 68th FIFA national congress in Moscow with the head of every football federation selecting the host in a public vote.
Morocco and the combined bid from the United States, Canada and Mexico are the remaining candidates.
Moncef Belkhayat, of Morocco's 2026 bid team, feels their offer would produce a more inclusive tournament, allowing those with lower incomes the possibility of attending.
"We believe our offer is a much stronger offer from a value standpoint for fans," said Belkhayat.
"When you think about it a fan can come to Morocco in 2026 with €600 and watch two games and come back within two days. That's an experience which is unique in a lifetime.
"For the same experience fans would have to pay seven times more if they have to go to the Americas. You have to put football first - the humanity of football and the values of football.
"Morocco's proposal will allow fans to have access to tickets at an average of $230, with category 4 tickets at $27.
"It makes our bid a good balance between profit - $5bn that's what we have committed to - and a human orientated World Cup.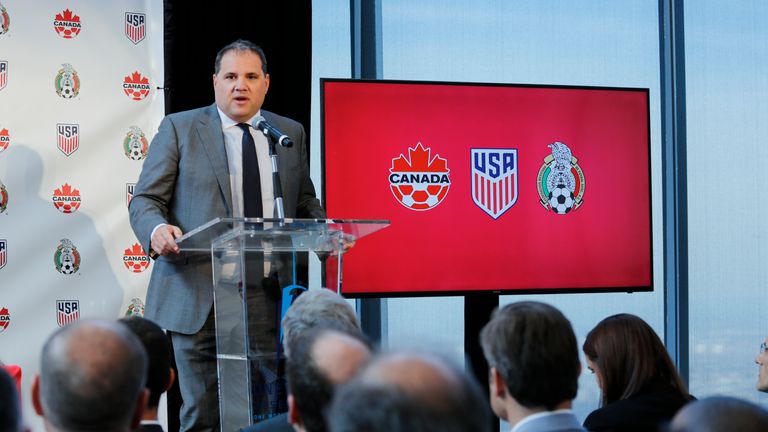 "The US proposal is at $11bn dollars, I think these numbers are exaggerated and when you analyse the average price of the ticket - that's just a world cup for rich people."
Belkhayat was confident following their final presentation and believes European federations will have a potentially decisive impact on Wednesday's vote.
"It went very well, we are very positive and optimistic," he added. "We believe Europe's votes will be very important and even decisive.
"We believe that we have quite good advantages to get the majority of European votes for a few reasons: we believe this bill is an African bill, but it's also a European bid in the sense that Morocco is 14km from the doors of Europe."