Kevin De Bruyne defends Man City team-mate Raheem Sterling
By Rory O'Callaghan
Last Updated: 06/06/18 3:09pm
Manchester City midfielder Kevin De Bruyne believes Raheem Sterling has been subjected to unfair criticism and insists his club team-mate is a "very good guy".
Sterling courted controversy earlier this month when he was pictured with a tattoo of a gun on his leg after arriving late to England's World Cup training camp at St George's Park.
The 23-year-old apologised to his England team-mates for his late arrival and was backed by Three Lions boss Gareth Southgate over his tattoo, after explaining its "deeper meaning".
Sterling insists his preparation for the World Cup has been unaffected by the incidents and De Bruyne believes his club team-mate is placed under unfair scrutiny while away on international duty.
"Raheem is an unbelievable player," said De Bruyne. "When he plays for England I don't know what happens but there is always criticism about Raheem and I don't know why.
"He's a very good guy, he's one of my guys and we've been together since day one. We have a good chemistry, we play well together and he's only 23.
"I don't know many guys that can show that capability of playing at that age in the Premier League."
Sterling and De Bruyne are set to come up against each other at the World Cup when England face Belgium in their final Group G fixture in Kaliningrad on June 28.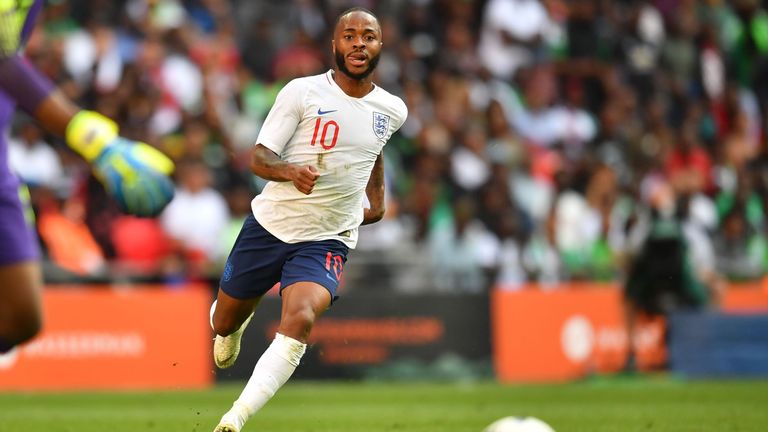 De Bruyne has urged Sterling to focus on his football ahead of the match and has backed his team-mate to deflect the criticism that has been levelled at him in recent days.
De Bruyne said: "Why do people talk about other people when they don't know why or for what reason?
"People are very quick to criticise other people without doing research and obviously social media is one of the bad things. Everyone has an opinion and it's very easy to give an opinion behind a keyboard.
"As a player and as a public figure, it's not the easiest because you know that whatever happens, whatever you do, there could be something that's wrong with it.
"If I was him I wouldn't care, I'd just do whatever I'd need to do to play football. What I do in my private life, if I'm happy with it and it gets criticism, that's just the way it is.
"Everyone has to live by their own standards, but I've never seen Raheem do anything stupid. If he was acting dumb, doing stupid things or doing drugs or whatever, then I'd say, OK that's a problem!
"But these days you get scrutiny for everything and that's just the way it goes."