Marcus Rashford will be a top player, says England boss Gareth Southgate
Last Updated: 11/09/18 11:13pm
Gareth Southgate has heaped praise on Marcus Rashford after the striker scored the winner for England against Switzerland on Tuesday night.
Rashford, who has had a difficult start to the season with Manchester United, also notched the opener at Wembley in their Nations League clash with Spain on Saturday night, before scoring the only goal in their friendly at the King Power Stadium.
"I'm really pleased for him more than anything," Southgate told Sky Sports after the 20-year-old scored his fifth international goal. "We know how exciting he is and we know he is going to be a top player, he's got a super mentality and he's great to work with.
"He's got two goals this week, some of his performances with us have been really good but to finish with two really good finishes is very important for him."
England didn't get off the best start in the first half after making nine changes from their game against Spain, but Southgate made a few tweaks for the second half before Rashford's 54th-minute winner.
Southgate admitted it was going to be a tough game due to the amount of players in his squad making their first starts of the campaign.
"So many of the lads were playing their first 45 minutes of the season," said the England manager. "It was a tall order to ask them to go in and play against a really good side in Switzerland, who are an excellent team.
"Their movement was really good, they kept the ball really well and we had to chase too much [in the first half]. There was definitely a lot of room for improvement.
"We didn't get hold of their pivot in the first half, [Granit] Xhaka was always available and their back three were finding him too easily. [Xherdan] Shaqiri was also dropping off the front into areas that were a problem and they were overloading in midfield.
"We altered the shape a little bit in the second half, which I think helped get our defence a little bit higher up the pitch and meant less running for our midfielders. We turned it over too easily in that first period but we kept the ball better in the second half."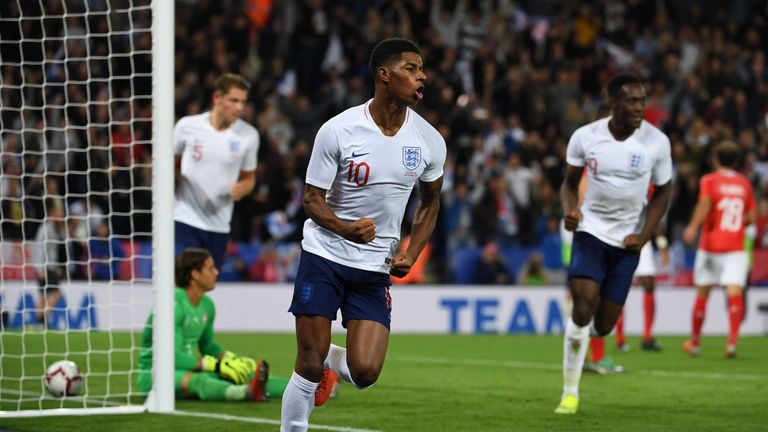 Southgate also praised his players for the way they attempted to rectify their own problems themselves at the break in Leicester.
"Before I got in the players were trying to sort things out," he continued. "We expect and encourage it because they're intelligent footballers and it's important they have a view of what's going on. We want to have an environment that's demanding because that's the only way we can keep raising the standards.
"We were trying to correct one or two things but also challenge them a bit, it was an important night for us to finish well and we knew it would be difficult because of the changes and amount of game time, but I'm really pleased because the players have given everything this week.
"It was two tough tests against different formations and in the end we've got a good result tonight and could arguably have deserved a draw on Saturday."
There was also a standout result in England's Nations League group on Tuesday night as Spain thumped Croatia 6-0 in Alicante. Southgate admitted sympathy for the Croatians, who he believes are having similar difficulties to his own side after going so far at the World Cup in the summer.
"We could see how good a side Spain were at the weekend," he said. "I think for the teams that went towards the end of the World Cup it's a really difficult period because so many players have missed pre-season and you're not really sure what physical condition they're in.
"I imagine Croatia are having similar difficulties."