England duo Mason Mount and Ben Chilwell are doubts for Tuesday's Euro 2020 clash with the Czech Republic after going into self-isolation as a precaution following their interaction with Scotland midfielder Billy Gilmour, who has tested positive for coronavirus.
Mount and Chilwell embraced and spoke to Gilmour on the pitch following England's Euro 2020 draw with Scotland at Wembley on Friday and are also understood to have spoken with their Chelsea team-mate in the tunnel for 25 minutes after the game, before he went on to return a positive test on Monday.
The three Chelsea players had not seen each other since returning to London after they won the Champions League final in Porto on May 29.
Both Mount and Chilwell - along with the rest of Gareth Southgate's squad - have returned negative tests for Covid-19, but it remains unclear whether the duo will be available to play in Tuesday's final group-stage match against the Czech Republic.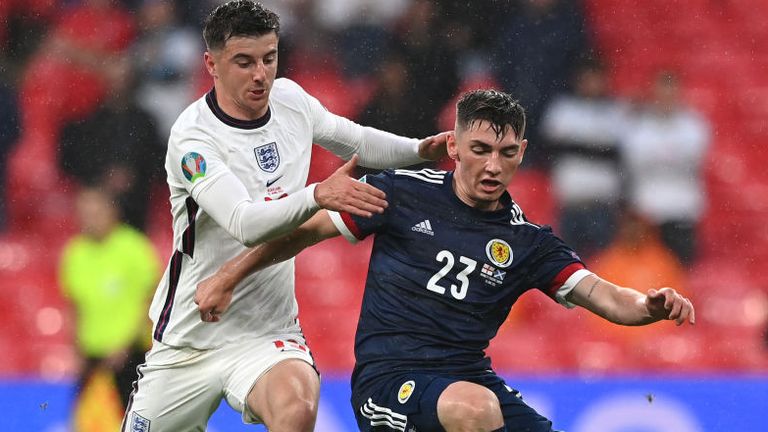 Asked if the pair will be fit for Tuesday's game, Southgate replied: "We don't know at the moment.
"There's obviously got to be quite a doubt but there's still a lot of discussions and investigations going on behind the scenes, so at the moment they're isolating and we just have to find out over the next 12 hours or so.
"We had worked with the players this morning on the training pitch, so of course then you find out as you finish that this is the situation, so I can't say it isn't disruptive of course.
"We don't really know at this point whether they might be ok for tomorrow or they could be out for 10 days, so there's a lot of unknowns frankly at this moment in time.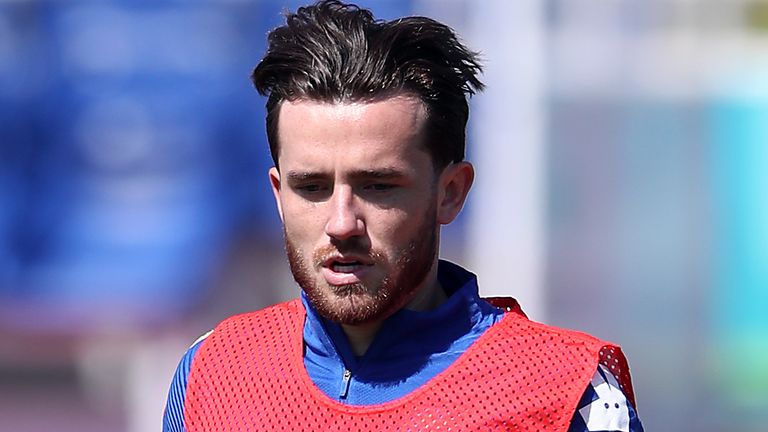 "Although we worked on the training pitch, we hadn't confirmed the team. We put some players in and moved them around, so we hadn't confirmed the team yet and we'll wait until the morning when we're really clear on the final situation on the two boys as to where we stand."
A statement from the Football Association read: "As a precaution at this time and in consultation with Public Health England, Ben Chilwell and Mason Mount are isolating after interaction with Scotland player Billy Gilmour at Friday's match.
"The pair will be kept away from the rest of the England players and wider support team, pending further discussions with PHE. The entire squad had lateral flow tests on Monday afternoon and all were again negative, as was the case with Sunday's UEFA pre-match PCR tests.
"We will continue to follow all Covid-19 protocols and the UEFA testing regime, while remaining in close contact with PHE."
With England's place in the last 16 already secured, the pair being unavailable for Tuesday's match is not a major concern for Southgate, but a possible 10-day isolation period could rule them out of the first knockout-stage fixture next week.
Gilmour, who impressed against England in his first international start, has been ruled out of Scotland's final group-stage match against Croatia, with all four teams in Group D still able to qualify for the knockout stages.
Southgate bemused by lack of Scotland isolation
Scotland have not been instructed to put any other players into self-isolation following Gilmour's positive test.
When asked about the coronavirus protocols, manager Steve Clarke replied: "It's not my department. My department is getting the team ready for a massive game against Croatia and that's what I have been concentrating on."
On Gilmour, manager Clarke said: "He's upset, as you would expect. He has no symptoms, hopefully his health will hold up.
"Billy would have started the game and now he won't so it's a chance for someone else to come into the team and make themselves a national hero."
Southgate appeared to admit he was slightly bemused by the fact his players had been forced to self-isolate, while Scotland players who shared a changing room with Gilmour had not.
"I don't know all of the factors behind that," he said. "Clearly it's nothing to do with being on the pitch, so that's why there's no issue around teams training for example.
"I don't want to cause a drama for Scotland, but if you're all in the dressing room together, where does everything stand?
"Our medical people are dealing with all this, I'm being updated as regularly as we can be, which is every hour or so, there's a little bit more information and we have to accept whatever the situation is and adapt to it, that's the world we're all living in across every family, and across every sport and every business."