Women's duo Alex Scott and Karen Carney backing England for World Cup success
England women's duo Alex Scott and Karen Carney have backed Roy Hodgson's side to enjoy a successful World Cup campaign
Last Updated: 10/06/14 3:23pm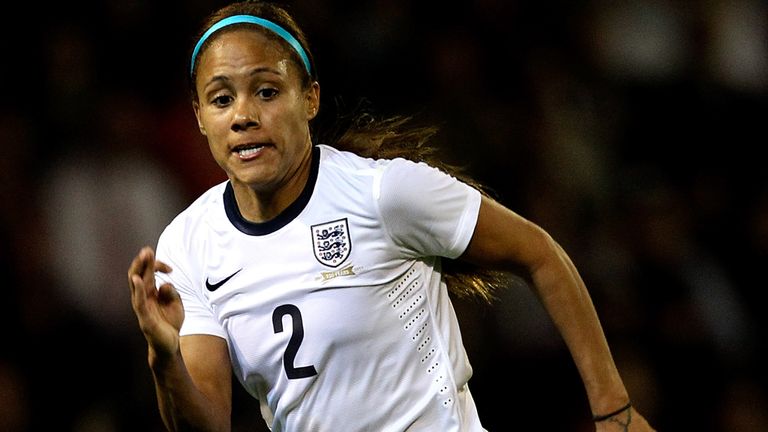 Scott and Carney have more pressing matters to contend with as they prepare for World Cup qualifiers in Belarus and Ukraine in the next 10 days.
But Scott, who won the FA Women's Cup with Arsenal Ladies earlier this month, insists she is confident England will get out of Group D and progress to the tournament's knockout stages.
"It's one team that we have," the England centurion told Sky Sports. "We want to support the guys and we hope that they support us as well.
"I'm quietly confident about England at the World Cup. I think similar to what Mark Sampson has done, both he and Roy Hodgson have brought through youngsters.
"It's a good blend of experience and youngsters and I think there is a positive atmosphere around the England camp so I'm excited and I think they are going to get out of the group.
England's women play on the same day the men face Italy as well as on the day England play Uruguay in Sao Paolo.
Birmingham City Ladies midfielder Carney hopes both sides can notch victories in their forthcoming matches and is backing the men to rise to the occasion ion Brazil.
"The ideal thing will be for us to get the win and then cheer on the lads," Carney said.
"It's Team England, it's one team and we try and support everyone from the disability teams to the women's teams right through to the men's teams and all the youth games as well.
"My head and my heart are telling me that they are going to do well and I hope they do.
"I think they've got a young squad. The expectations are quite low for them which will suit England and I think they'll do good.
"We'll be rooting for them and hopefully they will be doing the same for us. No matter what they do, they'll do us proud so we're behind them all the way."