Jones eyes Wales cap
Craig Jones has aspirations of representing Wales and Bury boss David Flitcroft will do all he can to help him achieve that goal
Last Updated: 23/12/13 1:03pm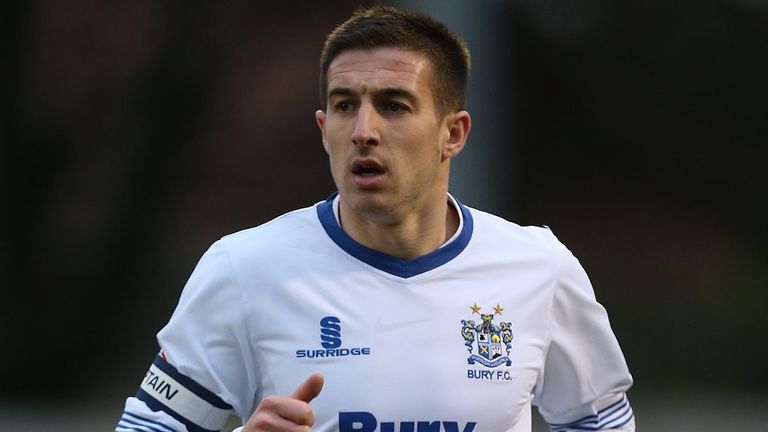 Craig Jones has aspirations of representing Wales and Bury boss David Flitcroft will do all he can to help him achieve that goal
The 26-year-old midfielder was instantly made skipper when Flitcroft assumed the managerial vacancy at the JD Stadium, despite being something of a bit-part player up until this season.
However, Jones' desire to continue his journey from non-league football to the international arena has impressed Flitcroft, who aims to assist in making that dream reality.
"I've not had the time yet to have a one to one (with Craig) to find out what his motives are," said Flitcroft.
"(But) he wants to get in the Wales squad and it's my duty of care as a manager of his football club to try and help him achieve that, and I do believe we can."
Although Jones is one of the longer-serving members of a Shakers squad virtually pieced together from scratch this summer, Flitcroft has shunned some more senior figures to hand Jones the armband.
Justifying that decision, the Bury boss highlighted the influence that Adel Taarabt had on QPR's Championship title-winning side in 2011 when he was surprisingly named captain.
Flitcroft added: "I look at Neil Warnock when he went into QPR and made Taarabt his captain and he had to pull in Paddy Kenny, Clint Hill, get all his natural leaders in and say 'he's going to be captain'.
"He almost built the promotion team around him and that's what we'll do with Jonesy. In the training ground he's got a great honesty in his work and the players will follow that lead. It's what I represent; the honest and integrity I believe should be in football.
"The kid's got a great honesty and he's just someone who, when I wake up in the morning, he's the first name in your head that you want to work with today. He's receptive, he wants to learn, he wants to get better. Players like that energise you as a coach and a manager."