Controversial Switzerland penalty would have been automatically reviewed by a Video Assistant Referee
By Bryan Swanson, Chief News Reporter
Last Updated: 10/11/17 4:38pm
The decision to award Switzerland a penalty against Northern Ireland would have been automatically reviewed by a Video Assistant Referee (VAR), had the system been in place.
Romanian referee Ovidiu Hategan pointed to the spot in the second half of Thursday night's match at Windsor Park when Xherdan Shaqiri's shot hit the top of Corry Evans' arm as the Northern Ireland midfielder turned his back.
Northern Ireland manager Michael O'Neill called the decision in the first leg of their World Cup play-off "bewildering".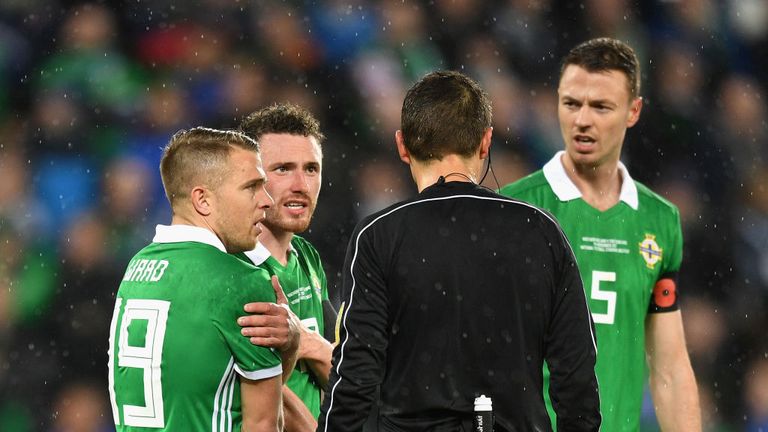 Last year, the International Football Association Board (IFAB) - the game's lawmakers - approved a two-year live experiment to assist referees and match officials for "clear errors in match-changing situations" including goals, penalty incidents and red cards.
Hategan's decision would have been automatically reviewed under the new VAR system.
A video referee was not used at Windsor Park because FIFA - world football's governing body - has not introduced the experimental system in its World Cup qualifying matches, as all referees must undertake lengthy additional training sessions before they are allowed to use VARs.
A FIFA spokesperson has told Sky Sports News: "The general rule is that the decisions of the referee regarding facts connected with play are final and not subject to appeal.
"FIFA has been involved in consultations with the Confederations on the matter of VAR [Video Assistant Referees]. Goal Line Technology and VAR technology has not been used for the qualifiers, so it was decided for consistency to maintain the same approach for the playoffs."
It is understood Hategan's performance will be assessed by a referee observer in line with standard practice after every international match, and it could affect his ability to officiate at the FIFA World Cup in Russia next summer.
Around 20 countries are currently taking part in experiments involving the use of VARs and they have received "very positive" reviews from leagues trialling the system during a two-day summit in Switzerland this week.
The system is in full use in Italy, Germany, Portugal, the United States (Major League Soccer) and South Korea.
The VAR system will be used in England's international against Germany at Wembley on Friday after the first trial of the system passed without incident during last month's 2017 Wembley Cup match.
IFAB will announce next March whether the system can be used worldwide and FIFA will make the final decision over whether VARs will be used in next summer's World Cup in Russia.