Nations League permutations for England, Scotland, Wales, Northern Ireland and Republic of Ireland
Groups in the balance ahead of final rounds of fixtures
By Andrew Dickson
Last Updated: 15/11/18 11:59pm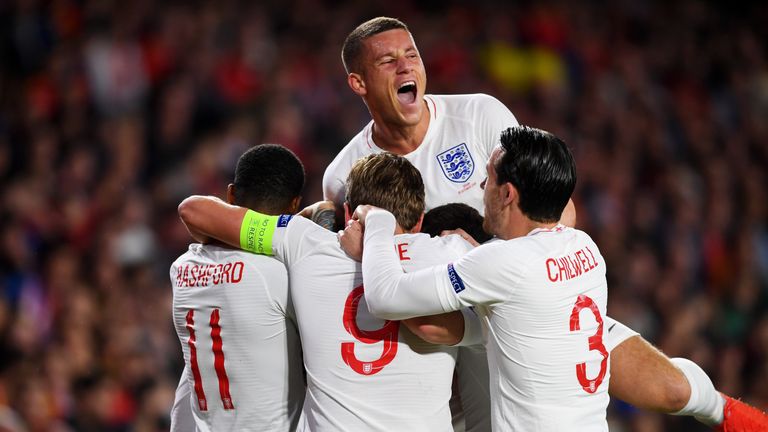 With two rounds of Nations League matches remaining, who needs what to clinch a group win or avoid relegation?
We are yet to discover the identity of the four teams who will play in next summer's finals and which leagues the home nations and Republic of Ireland will be in when the event is held again in 2020.
Who will be promoted, relegated or given the fall back of a European Championship play-off place should they fail to get there directly? We take a look...
England
Current situation:
Gareth Southgate's team sit second in Group A4 with two rounds to play, thanks to their excellent 3-2 win over Spain in Seville. That result stopped the Spanish from winning the section but they remain favourites to come out on top. Spain have six points, followed by England on four then Croatia with one - although the Croatians do have two games still to play rather than one.
Nations League Group A4
| Team | Played | Won | Drawn | Lost | GD | Points |
| --- | --- | --- | --- | --- | --- | --- |
| Spain | 3 | 2 | 0 | 1 | +6 | 6 |
| England | 3 | 1 | 1 | 1 | 0 | 4 |
| Croatia | 2 | 0 | 1 | 1 | -6 | 1 |
Remaining group fixtures:
Croatia v Spain, November 15; England v Croatia, November 18.
Can England win their group?
England need two things to happen to get ahead of the rest and claim a place in the finals next June. First, they need Croatia to take something from Spain when the teams meet in Zagreb in order to stop Luis Enrique's team from winning the group. From there, England must then beat Croatia three days later at Wembley to finish top and ensure they are in the hat for the draw on December 3. In doing so, they would also secure a play-off place for UEFA Euro 2020 to fall back on should they not get to the tournament automatically via the qualifiers.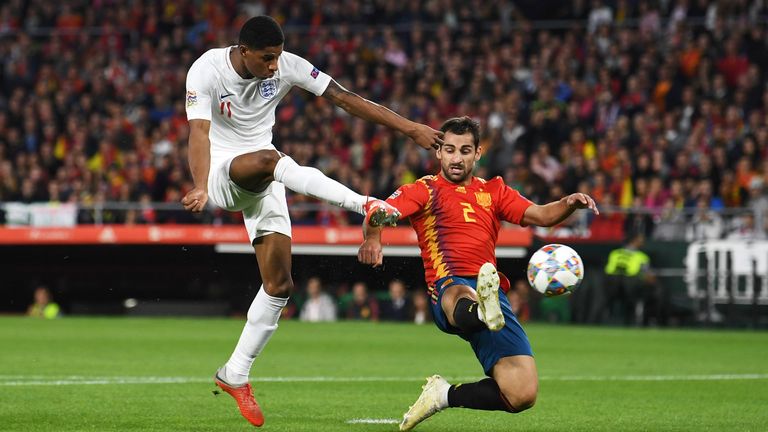 Is relegation still possible?
Unfortunately for Southgate, it is. If Croatia beat Spain, a team they lost 6-0 to in September, they would only need a score draw at Wembley to condemn England to the drop. Even if Croatia lose to Spain again, a win for them in London would also put Southgate's team at the foot of Group A4 on head-to-head results.
Could they stay where they are?
That is distinctly possible and arguably the most likely outcome. If Spain beat Croatia and England avoid defeat in the final fixture - or if both games end in a draw - it will be a case of as you were by the end of the group, with England remaining in second place, Spain going through to the final four and Croatia relegated. Croatia could also beat Spain then draw 0-0 at Wembley, something which would ensure England stay ahead of them on points by virtue of a superior goal difference.
Scotland
Current situation:
While Alex McLeish is under pressure following only two wins in his first eight games back as Scotland manager, his team could yet look back on their inaugural Nations League campaign as a successful one. They sit second in Group C1 on three points, ahead of Albania on goal difference after beating them 2-0 at Hampden in September. Israel lead the way with six points from three games after wins over both other teams.
Nations League - Group C1
| Team | Played | Won | Drawn | Lost | GD | Points |
| --- | --- | --- | --- | --- | --- | --- |
| Israel | 3 | 2 | 0 | 1 | +2 | 6 |
| Scotland | 2 | 1 | 0 | 1 | +1 | 3 |
| Albania | 3 | 1 | 0 | 2 | -3 | 3 |
Remaining group fixtures:
Albania v Scotland, November 17; Scotland v Israel, November 20
Can Scotland win their group?
Yes, but it probably relies on Scotland taking a minimum of four points from their last two games - with three of them having to come from their final fixture against an Israel team they lost 2-1 to in Haifa. In addition, it would also cement a pot three place in the UEFA Euro 2020 qualifying draw and a play-off spot should they fail to reach the finals directly.
Three points against Israel would be enough on their own as long as Scotland won by a two-goal margin or a one-goal margin with at least three goals scored - provided any defeat in Albania was also by just a single goal. Of course, a defeat in Albania and a win over Israel would see all three teams finish on six points, meaning the group would then come down to head-to-head results then goal difference. In that situation, it's the Israelis who have it all to lose after making up for a 1-0 defeat in Albania with a 2-0 home win and that success against McLeish's team.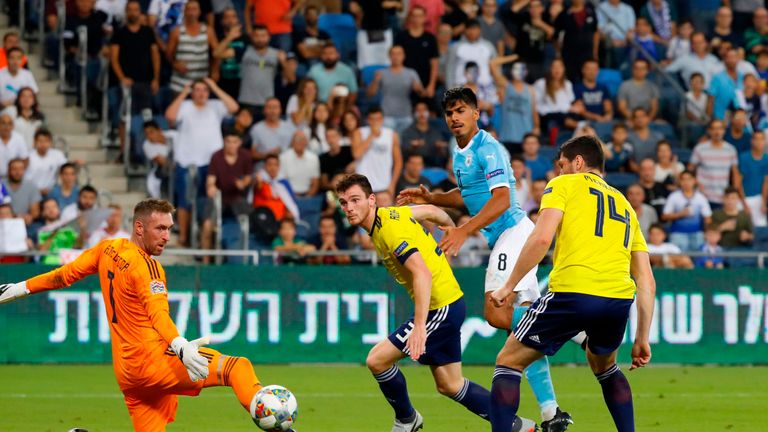 Is relegation still possible?
It is - and were it to happen it would be a real blow to McLeish's long-term aims. Scotland would have to lose in Albania then fail to win against Israel at Hampden. A three-goal loss in Albania and a win by only one goal against Israel would also see Scotland finish bottom of their group and slip into Group D.
Could they stay where they are?
The good thing from Scotland's perspective is the fact they will play in both of the group's remaining fixtures means their fate is still very much in their own hands. Currently sitting second, it's most feasible they will stay there and provided they avoid defeat in Albania, they will avoid relegation. After that, they would need to beat Israel to be sure of progression to Group B, otherwise another stint in Group C would follow UEFA Euro 2020.
Wales
Current situation:
After three matches, Wales sit top of Group B4, with boss Ryan Giggs targeting promotion to the top tier of the competition. Wins home and away against Republic of Ireland have propelled them to the summit, although Denmark, who secured a 2-0 home win over Wales in September, are just two points back with a game in hand.
Nations League - Group B4
| Team | Played | Won | Drawn | Lost | GD | Points |
| --- | --- | --- | --- | --- | --- | --- |
| Wales | 3 | 2 | 0 | 1 | +2 | 6 |
| Denmark | 2 | 1 | 1 | 0 | +2 | 4 |
| Rep. Ireland | 3 | 0 | 1 | 2 | -4 | 1 |
Remaining group fixtures:
Wales v Denmark, November 16; Denmark v Republic of Ireland, November 19
Can Wales win their group?
Yes - but they will need to take something off Denmark in their next fixture to do so. Victory over the Danes in Cardiff will guarantee Wales top spot and promotion, while a draw would mean Denmark would need to beat Republic of Ireland in their final fixture to deny Wales. If Denmark beat Wales, they will clinch top spot with a game to spare.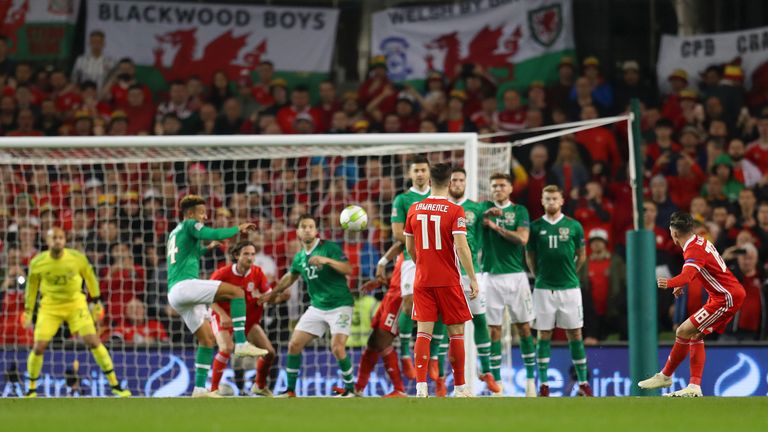 Is relegation still possible?
No - with bottom-placed Republic of Ireland five points behind Wales with one game to play, Wales are now safe from relegation.
Northern Ireland
Current situation:
Northern Ireland are bottom of Group B3 after a Nations League campaign to forget so far. A home defeat to Bosnia and Herzegovina and two more to Austria in Vienna then the Bosnians in Sarajevo leaves them staring relegation to Group C in the face.
Nations League - Group B3
| Teams | Played | Won | Drawn | Lost | GD | Points |
| --- | --- | --- | --- | --- | --- | --- |
| Bosnia | 3 | 3 | 0 | 0 | +4 | 9 |
| Austria | 2 | 1 | 0 | 1 | 0 | 3 |
| Northern Ireland | 3 | 0 | 0 | 3 | -4 | 0 |
Remaining group fixtures:
Austria v Bosnia and Herzegovina, November 15; Northern Ireland v Austria, November 18
Can Northern Ireland win their group?
No. With no points from three games so far, the best Northern Ireland can hope for is to finish six points behind current group leaders Bosnia and Herzegovina. Their 2-0 reverse in Sarajevo ensured they definitely will not be moving up to Group A - with a move in the opposite direction looking much more likely.
Is relegation on the cards?
Very much so. Indeed, they could go down without kicking a ball, should Austria take anything from Bosnia and Herzegovina when they meet in Vienna on November 15. If it's an away win on that occasion, failure to win by Northern Ireland when Austria visit Belfast three days later would also send them down. A 1-0 home win might even not be enough on account of the fact Austria's goal difference is currently four better than Northern Ireland's.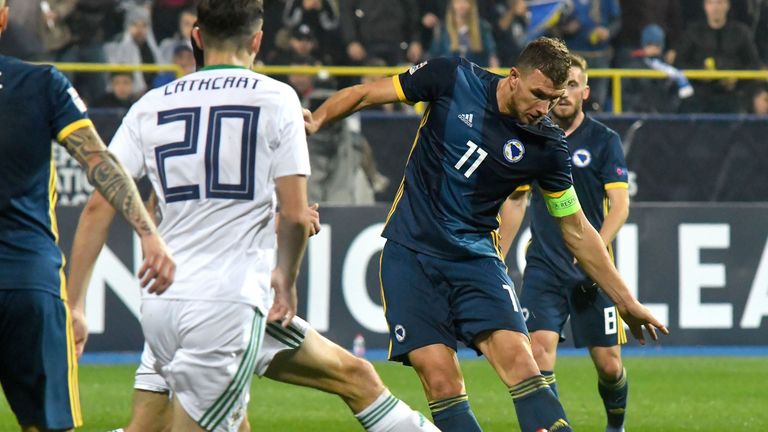 Republic of Ireland
Current situation:
Republic of Ireland are bottom of Group B4 and in real danger of relegation to the third tier, following their defeat to Wales in Dublin. With just one game left in their fixture list, they are reliant on a result elsewhere and then a big performance against Denmark to avoid the drop.
Remaining group fixtures:
Wales v Denmark, November 16; Denmark v Republic of Ireland, November 19
Can the Republic of Ireland win their group?
No, defeats home and away to Wales have left them with too big a deficit to make up. They are five points off top spot with just three points left available to them.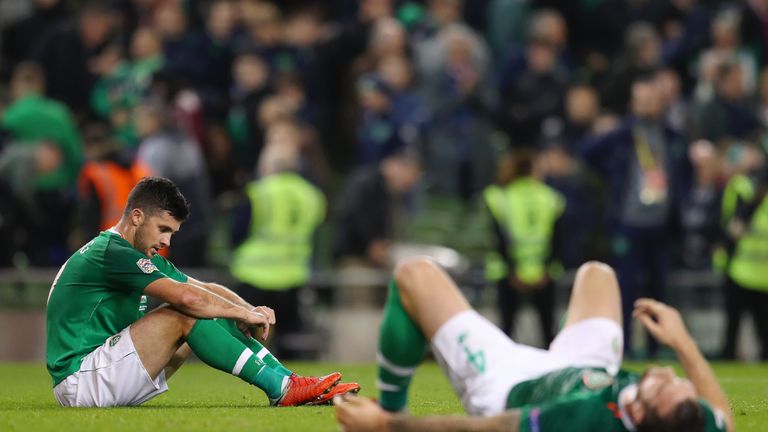 Is relegation still possible?
Very much so. If Denmark win or draw away to Wales in November, Republic of Ireland will drop into League C before they have even played their fourth and final fixture. So Martin O'Neill and his men will be hoping for a Wales win in Cardiff - giving them a chance to salvage survival in a decider with Denmark. However, that will be no easy task away from home, when only victory will do.
Already confirmed
Most teams are yet to have their final positions confirmed and, as such, a wide range of permutations remains possible.
However, Iceland's relegation to League B has been confirmed after their 2-1 defeat to Switzerland ensured they will finish bottom of Group A2. Poland are also on their way down from League A following their last-minute defeat to Italy.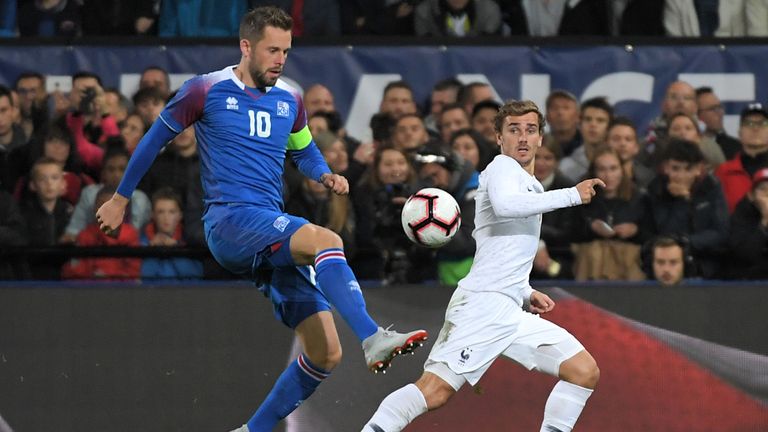 A number of teams already know they cannot be promoted in this version of the Nations League, including Estonia, Hungary, Lithuania, Turkey and San Marino. While one team, Malta, cannot be promoted or relegated.
League positions will have a bearing on their seeding for the UEFA Euro 2020 draw, which is being made on December 2.
Teams in League A will be ranked first to 12th based on several factors including their group positions, points gained, goal difference and goals scored. Nations in League B will be ranked 13th to 24th on the same criteria and so on.