Robbie Keane retires: Ireland hero with the record to back it up
Keane will now work as an assistant to Mick McCarthy
Last Updated: 03/12/18 2:16pm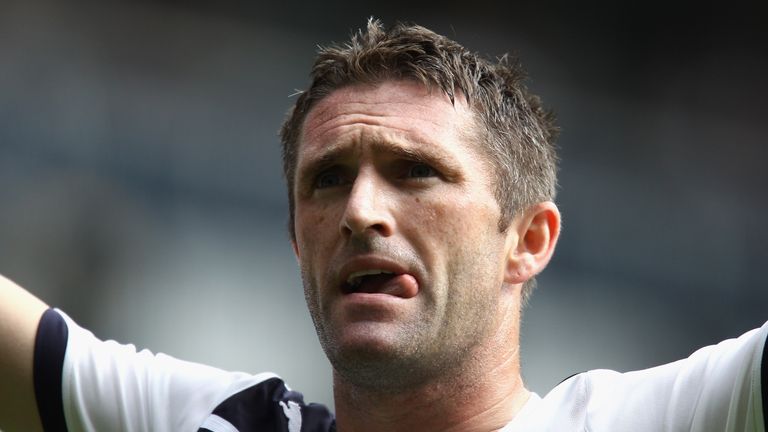 Robbie Keane retires as an Ireland hero and one of the Premier League's top goalscorers. Adam Bate gets the views of former team-mates on Keane's long career and his prospects as a coach...
The announcement that Robbie Keane has officially retired from professional football is an appropriate time to assess his legacy and it is the retirement of another member of the Premier League 100 club in the same month that serves to illustrate his impact.
Keane's trophy haul cannot match that of Didier Drogba but perhaps surprisingly his Premier League goalscoring record can. Drogba scored 104 goals but Keane hit 126 of his own. Drogba reached double figures in only five of his nine seasons at Chelsea but Keane did it as a teenager at Coventry and later achieved the feat in seven consecutive seasons.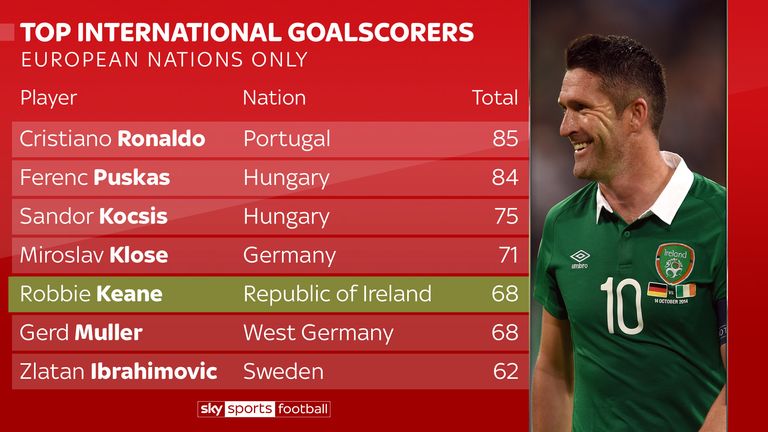 He ranks among the top 20 scorers in Tottenham history, Premier League history and, indeed, the history of international football. The man himself says that this exceeded his wildest expectations but his talents were obvious from the very start.
Beginnings at Wolves
Keane's career began in spectacular fashion with two goals on his professional debut for Wolves against Norwich at Carrow Road. His precocious talent was impossible to miss - especially if you were the man who provided the assist for the first of his 393 career goals.
"He was playing without fear," Don Goodman tells Sky Sports. "It was refreshing that a young player who had been doing so well in the youth team by expressing himself with flicks and tricks didn't come into the first team and change the way he played.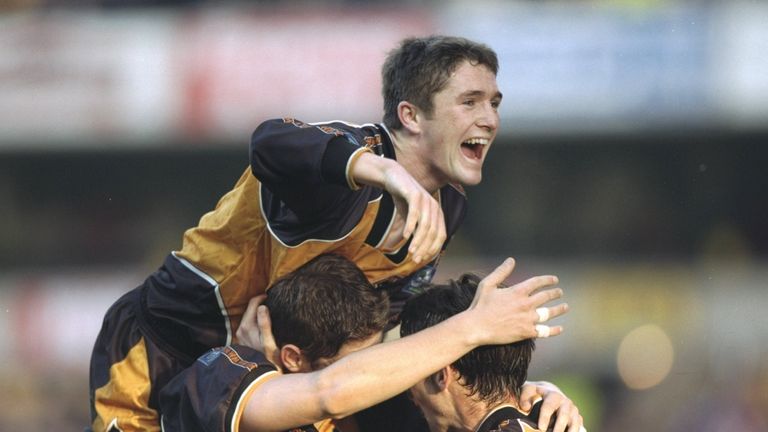 "He continued to play without fear and while I never doubted for a second that he would have a brilliant career, I suppose his achievements have surprised even me. He had all the technical skill in the world and some would say that if he had another yard of pace we might have been talking about a global superstar up there with the best of them.
"What's lovely is that he didn't change. None of that success changed him. I have nothing but the utmost respect and admiration for that because there are too many lads who allow fame and fortune to go to their heads. He didn't. He kept in touch with his youth-team colleagues at Wolves and he kept his feet on the ground."
Best years at Tottenham
Keane certainly didn't keep his feet on the ground with his trademark goal celebrations. Just as he had at Wolves, he marked his Premier League debut for Coventry with two more strikes to justify the £6m fee paid for him, then a British record fee for a teenager.
Within a season, he had made a dramatic move to Italy to play for Inter, joining a long list of strikers there that included Ronaldo, Christian Vieri, Ivan Zamorano and Hakan Sukur. Opportunities were in short supply and he returned to England with Leeds soon after.
But it was at Tottenham where Keane would spend the best years of his career, scoring 122 goals over two spells. That put him among the top 10 scorers in Spurs' history before Harry Kane pushed him down the list but he will not be forgotten by the fans - or his colleagues.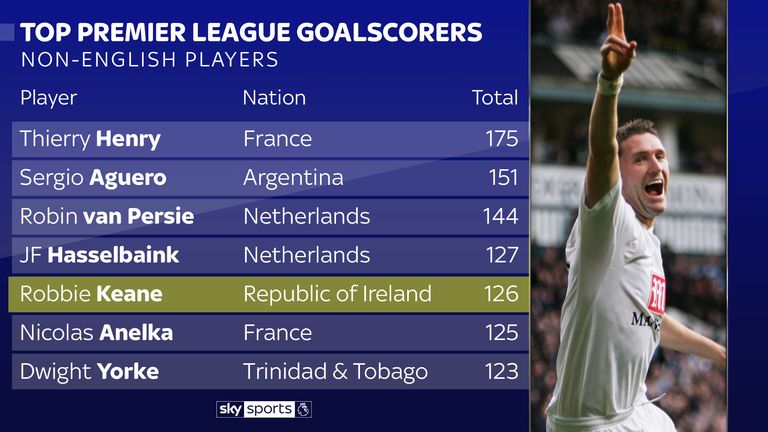 "Sometimes when you talk about old team-mates there are things said because you feel like you have to but not with Keano," Danny Murphy tells Sky Sports. "We became good friends because I lost my father when I was at Tottenham and he had been through the same thing. It is always nice when there is someone who understands and he was a great support.
"We became really good pals and we both had a similar sense of humour. He always had a smile on his face, always playing jokes, always kidding about. He was a brilliant trainer. He trained like a kid really. Every session was like it was his last one. He was great to have around if you needed lifting. He was just a brilliant person to have at your football club."
Keane's partnership with Dimitar Berbatov was a memorable one but his skill-set meant that he was capable of playing alongside every type of striker. "He was a goalscorer but he could create as well as score," says Murphy. "He could drop off and play from the middle of the park and play round corners. He was a very clever footballer and his movement was incredible.
"He had the mentality to match the ability and that's what separates the top players. He loved the big stage and he really was phenomenal at that point. He was playing some of the best football of his career and it was a pleasure to be on the same pitch as him."
The Galaxy and beyond
Keane's move to Liverpool in 2008 was short lived and he was soon back at Spurs. "Whether he should have left isn't really the point because I think he'd done enough at that point to be remembered as a great player," says Murphy. There followed loan spells at Celtic, West Ham and Aston Villa with his Premier League goal tally finally coming to an end at 126.
That makes Keane the fifth highest non-English scorer in the competition's history behind Thierry Henry, Sergio Aguero, Robin van Persie and Jimmy Floyd Hasselbaink. "Sometimes players are only really appreciated when they have stopped," adds Murphy.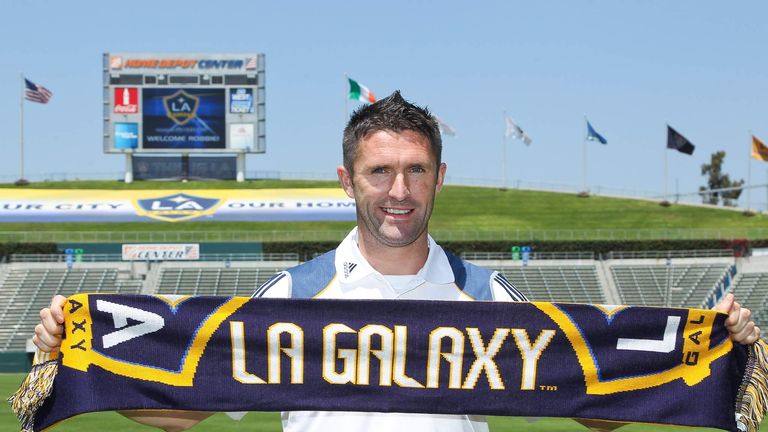 Even that was not the end for Keane, however. He scored more than 100 goals for Los Angeles Galaxy during his time in the United States, winning the MLS Cup three times. He even played in the Indian Super League before calling time on his career. For Murphy, it highlights the fact that Keane just loved playing football.
"There are brilliant players who don't love the game but he loved it," he says. "He was someone who wanted to play even when he was not quite right. He would have to be really in trouble not to play. He didn't miss training with niggles. That's because he loved it."
Future prospects with Ireland
It also explains why his international career with Ireland lasted for an amazing 18 years. While others would shirk international duty, Keane relished it. Perversely, his willingness to meet up for friendlies even saw him accused of padding his stats but he retired having scored many important goals for his country.
Most famously, Keane scored Ireland's stoppage-time equaliser against Germany in the 2002 World Cup to help take Mick McCarthy's team through to the knockout stages. He then scored a clutch penalty against Spain in the subsequent second-round tie and repeated the feat in the shootout.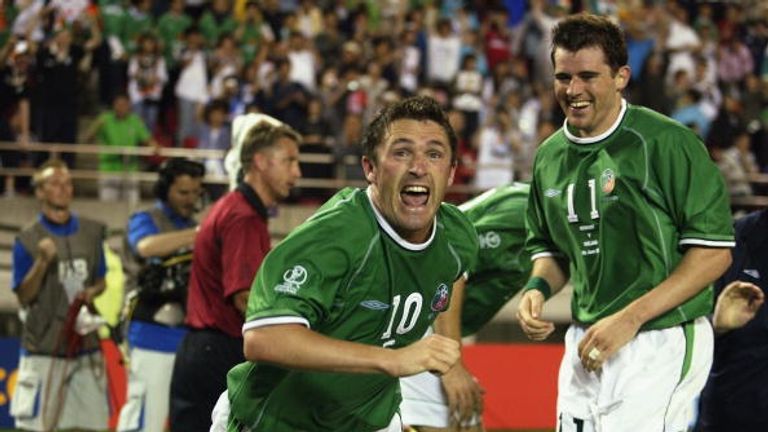 It was Keane's goal in France that almost got them to the 2010 World Cup too only to be denied in extra time as a result of Thierry Henry's hugely controversial handball.
The existence of Johnny Giles, Liam Brady, Paul McGrath and Roy Keane means that he cannot hope to have the monopoly on the Irish public's affections but when it comes to goals, Keane has no rival. He scored 68 times for his country. Niall Quinn is next on the list and he scored 21.
Now the time has come to begin his coaching career with Ireland and Murphy is expecting him to relish the challenge. "I think he will thrive because he is starting in a really good place because of the respect he has got," he explains. "Sometimes you go into a role and you have to earn the respect but he has already got it. That gives him one hell of a start.
"For all his jovial side, he has got a real grit and steely side. He is a tough guy who can give it out too. It's a clever appointment because his energy and enthusiasm is infectious. He inspires others around him and he's a leader. He had the full package. Players like that don't come around often and while he was a super player, he's an even better person."
If you're reading on skysports.com comment below to get involved in the debate, but please adhere to our House Rules. If you wish to report any comment, simply click on the down arrow next to the offending comment and click 'Report'.