Martin O'Neill and Roy Keane confirmed as Ireland's new coaching team
Martin O'Neill and Roy Keane have been confirmed as Ireland's new management team.
Last Updated: 06/11/13 8:52am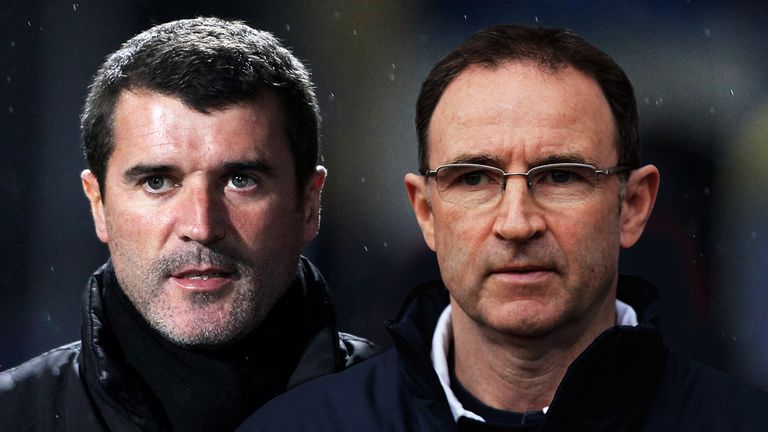 O'Neill, who has signed an initial two-year contract, will be head coach with former Manchester United midfielder Keane as his assistant.
They will succeed Giovanni Trapattoni - who was sacked in September following the country's failure to make the World Cup finals - and will be in charge of their first game against Latvia in Dublin on November 15.
O'Neill, who has had spells in charge of Wycombe, Norwich, Leicester, Celtic and Aston Villa, was sacked by Sunderland in March whilst Keane, whose first management job was at the Stadium of Light, has been out of the game since January 2011 when he was jettisoned by Ipswich.
He has stayed in the public eye as a TV pundit and saw his combative and unpredictable personality highlighted recently by Sir Alex Ferguson in the Scot's new autobiography.
Keane was outspoken when he was United's captain and also caused controversy playing for his country, clashing with managers and the Irish FA over a number of issues.
The most famous incident came at the 2002 World Cup in Japan when the midfielder attacked the team's preparations and the facilities they had to use before a dramatic falling out with manager Mick McCarthy.
The past is now being put to bed, though, with FAI chief John Delaney saying Keane was O'Neill's man and that he is happy to abide by that.
"Obviously we are not going to the World Cup and our next competitive game is not until next September so we made sure we took our time to check the market extensively to see who was available," he said.
"This is a big decision for Martin, a man who has managed in club football all his life, but Martin would always have wanted to manage Ireland, no question about that."
And Delaney insists he will have no problem working with Keane despite their public spat following the midfielder's walk-out from the Republic of Ireland's World Cup HQ in Japan.
"That was 11 or 12 years ago, it was a long time ago," he said. "We all make comments from time to time which we regret. I know I have.
"Up until last week I hadn't even sat down with Roy. When he was a player all his dealings would have been with the manager.
"But I must say when we met last week I was very impressed by him, very taken by him. He wants to come, Martin wanted him as his assistant and I come from the school where you must support your manager.
"It was Martin's choice and when he said he wanted to bring him in I had no problem with that, none whatsoever.
"For the good of Irish football and to make Irish football great, we said Martin O'Neill, Roy Keane, John Delaney or whoever will work together to make that happen. No one is bigger than Irish football."