World Cup: Franck Ribery and Clement Grenier out of France squad
Franck Ribery has been ruled out of France's World Cup campaign, along with Lyon midfielder Clement Grenier.
Last Updated: 06/06/14 5:55pm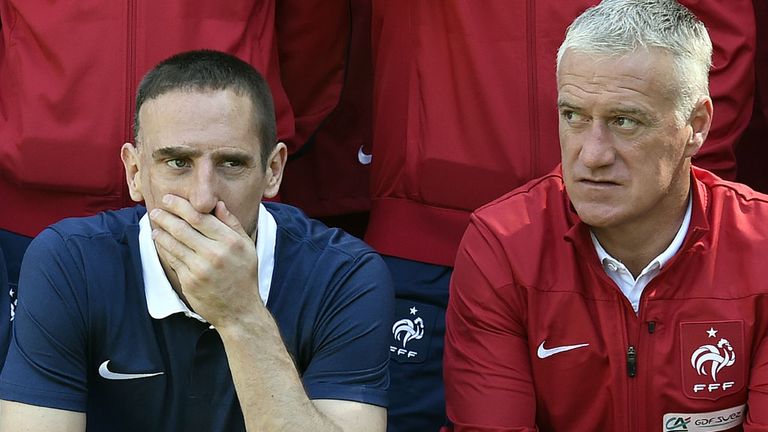 Montpellier's Remy Cabella and Southampton's Morgan Schneiderlin will replace the duo, whose absence was announced by Didier Deschamps at a press conference in Clairefontaine ahead of his side's departure to Brazil.
Ribery had been following an individual training programme to overcome a back problem and failed to prove his fitness after rejoining the full squad on Friday.
Grenier sat out the session as he underwent scans on a thigh injury, and both players' worst fears were confirmed by coach Deschamps.
Deschamps said in the press conference screened on the French Football Federation's official website: "(Ribery) stopped with a strong pain.
"He had tests early in the afternoon which unfortunately confirmed the severity of the situation, that he will be unavailable for several weeks."
Grenier missed much of Lyon's Ligue 1 run-in with a separate injury and, having regained his fitness in time to join up with France, the latest setback has cost him his trip to the tournament.
"He had a groin problem with his club but he participated in the last match," said Deschamps.
"He came with us and participated in the training sessions and in the match against Norway. On Wednesday he trained as normal, Thursday morning as well, but on Thursday afternoon in the game, he suffered a terrible blow and felt pain in his right adductor.
"He had an MRI scan, which unfortunately again confirmed he will be incapacitated for several weeks, he will not be able to train or, evidently, to play.
"We submitted to FIFA the two medical documents and we decided to call up Morgan Schneiderlin and Remy Cabella.
"The two players were on the reserve list and they are similar to the two players who left us. You cannot copy them exactly but Morgan Schneiderlin is the player most in the profile of Clement Grenier, and Remy Cabella is the most in the profile of Franck Ribery."
Ribery said on the French Football Federation's official website: "It is like a death in the soul that I am forced to leave the France team and give up on the World Cup.
"I always hoped to be able to play against Jamaica (in this Sunday's final warm-up friendly) but when I pushed it physically on Friday morning it aggravated my back pain.
"The MRI scan confirmed those feelings and therefore my inability to train and play normally.
"In these conditions and despite the efforts of the medical staff, who I thank sincerely, my absence was inevitable."
Deschamps admitted Ribery's absence, in particular, is a major setback but vowed not to lose heart ahead of the tournament.
He said: "We know what Franck is capable of. With Franck Ribery at 100 per cent, we are better.
"But we have to be ambitious and we will continue to be."
For Ribery, it marks the end of his World Cup career if a recent interview he gave to radio station RTL is to be believed.
"It will be my last World Cup," he said on May 21. "We have to go there to achieve something, to try to win the World Cup, quite simply."
The 31-year-old made his international breakthrough by helping Les Bleus to the 2006 final in Germany, where they lost on penalties to Italy.
But he was also part of the wretched 2010 campaign in South Africa which ended in mutiny.
It would have been a first World Cup for Grenier, who has won five caps for Les Bleus since making his debut against Uruguay last year.