Reasons for optimism
Luis Suarez is a striker determined to leave Liverpool, but that doesn't mean that Liverpool fans should be low. Daniel Storey believes that the excitement of recent and future signings give genuine reasons for optimism. That's the 'new striker' excitement...
Last Updated: 18/06/13 5:05am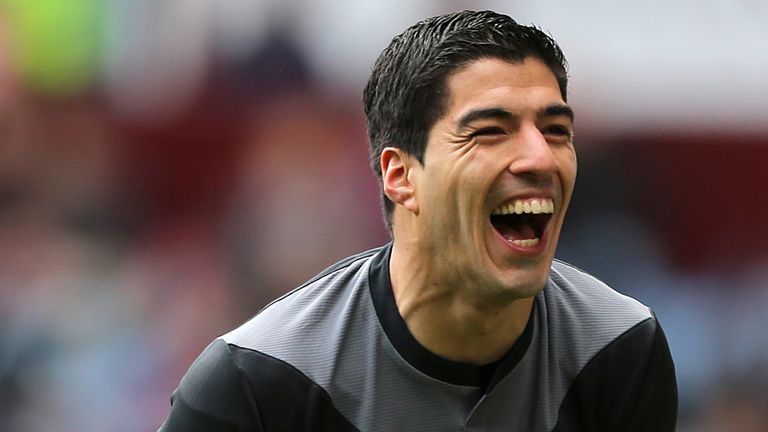 It seems increasingly likely that Luis Suarez's time at Anfield is drawing to a close. The Uruguayan may be on international duty at the Confederations Cup, but the striker still took time out to further push forward his case for a move to Real Madrid.
"A player always aspires to be at the top of their profession and Madrid is at the top for any football player. I will give my soul every time I step on the pitch. I have done this with Uruguay, Ajax and Liverpool. I do not hold anything when I finish a game."
Such talk is adventurous from Suarez given Real's continued silence on the issue. The Spanish club currently seem more intent on unsettling Tottenham's Gareth Bale than adding to their collection of strikers, but it does appear that a deal is likely to be completed. Skybet offer 4/11 that he leaves Liverpool by the end of August, with the same odds that Real Madrid is his next destination.
However, perhaps the most interesting part of Suarez's latest charade is that the tide of judgment appears to have turned on Merseyside. After standing by their player through thick and somewhat thinner, Liverpool supporters are justified in their feeling that their star player has used the club's trust and support for personal gain, engineering a deal that the Uruguayan is only too happy to play out in the media eye.
Part of this feeling is that of resignation. Football has evolved (or devolved, depending on your opinion) to such an extent that once a player of Suarez's magnitude has made the decision to leave, there is very little point in fighting such an opinion. In real terms, it does not matter whether or not supporters or club feels that Suarez has misplaced or misused their loyalty in a divisive character - there is little point crying over milk that will inevitably be spilt.
However, there is another reason for optimism on Merseyside. The assumption is that Liverpool should expect to command a fee in the region of £35-£40million for their star striker, which will then be handed to Brendan Rodgers to improve his squad. Such a figure will go far on a side that improved impressively during the last campaign. After 19 Premier League games Liverpool were 14 points off the top two, a gap that increased by just three points over the second half of the season.
Whilst there is no doubt of Suarez's positive effect (a total of 23 league goals speaks for itself), Liverpool were too reliant on their star striker during the first part of the season. By mid-November, taking out his goals and assists would have left the club second bottom of the Premier League with five points, but to Rodgers' credit he sought to address that in January. Whilst Fabio Borini failed to hit the ground running after his summer transfer, the form of Daniel Sturridge (10 league goals in 15 games) and Philippe Coutinho (seven assists and three goals) lifted Liverpool spirits inordinately.
With Borini, Sturridge and Coutinho joined by Iago Aspas, an early summer signing from Celta Vigo, it appears likely that Rodgers will aim to create a fluid attacking trio operating behind a principle attacker, with Armenian Henrikh Mkhitaryan also a potential capture from Shakhtar Donetsk to bolster the aforementioned names.
Another reason for Liverpool positivity is that such a set-up still leaves room for the purchase of another striker. Andy Carroll appears certain to join West Ham in the near future (adding £15million to Rodgers' coffers), which means that the manager essentially has the remit to search Europe for his main man.
The one thing that Suarez's forceful ambition does do is reduce the chance of that most frustrating of off-season occurrence, the transfer saga. If Liverpool can get Suarez (and Carroll, for that matter) out of the door with the minimum of fuss, a conclusion that seems best for all parties, it enables the club to focus on more pressing, and ultimately rewarding matters.
The identity of such a forward is, as yet, unknown. Rodgers could opt for a powerful striker more helpful for away games against physical sides (Christian Benteke or Romelu Lukaku, perhaps?), or may prefer to stick with the type of player to blend with his current options. If so, there is the possibility of including Real's Alvaro Morata in any deal for Suarez, or a move for Adrian of Atletico Madrid. Finally, Rodgers could go for a short-term solution in the shape of David Villa or even Jermain Defoe, judging his current signings and perhaps giving Borini a second chance at Anfield.
For fans, the identity of this player is not important immediately, for there are few things more exciting as a football supporter than knowing your club will soon be signing a high-profile striker. Goalkeepers may make match-winning saves and defenders make match-winning tackles, but there is nothing quite like a new number nine (and seven, in Liverpool's case) to raise our footballing pulses.
This is part of our football psyche. As children, we don't dream of making the save that wins the World Cup, and having the ambition to make a last-gasp tackle to ensure victory is almost unheard of in the school playground. Instead, we dream of being the goalscorer, the celebrity that takes all the plaudits. The striker is our pin-up boy and our icon, and typically attracts the highest shirt sales and sponsorship deals. Pele in the 60s, George Best in the 70s, Maradona in the 80s and Brazil's Ronaldo in the 90s; our poster boys and heroes are all players of an attacking nature. Liverpool fans are waiting for their new attacking hero.
There are reasons for Liverpool fans to feel low this summer, with justified reasons for a bitterness towards their want-away striker, and losing your star players is never a pleasant experience. But, and say it quietly in places, this is a good time to be a Liverpool supporter. In Coutinho, Sturridge and Aspas they have a trio of exciting players aged under 25, and can spend the next two months consumed by the excitement of their club searching for new talent.
That's an awful lot better than a saga of protracted negotiations ending in a late sale, with no chance of suitable replacement.