Football Commentator & Columnist
Martin Tyler's stats: Man City's huge lead, David Silva lays it on a plate and Arsenal's near-record run
Last Updated: 06/03/18 4:25pm
Is Manchester City's gap at the top the largest ever? Has anyone assisted more than David Silva? And is this Arsenal's worst losing run?
Sky Sports commentator Martin Tyler has the answers to those questions and more.
Got a question for Martin? Tweet @SkySportsPL with #TylersTeasers and do not forget to have a go at his latest teaser
Tyler's starting stats...
I was at the Etihad on Sunday to see Manchester City extend their unbeaten run at home to 27 Premier League games and 36 in all competitions. They have won the last 14 in the Premier League and 20 in all competitions (counting the Carabao Cup penalty-shootout win over Wolves as a win).
Chelsea have lost only five of their last 56 Premier League games played on a Sunday. All five have been in Manchester (three v City and two v Manchester United).
Chelsea have lost four away games in a row in all competitions. That last happened between December 2002 and January 2003.
Antonio Conte became the first manager to do the double over Pep Guardiola in any league when he did it with Chelsea last season. Pep has become only the second manager to record a league double over Conte after Delio Rossi of Sampdoria against Juventus in 2012/13.
Clear at the top
Man City are 18 points clear at the top of the Premier League. Has there ever been a larger lead than this at the top? Aaron, Manchester
MARTIN SAYS: Since we received your question, Aaron, that lead has been trimmed to 16 points.
Before Manchester United's dramatic 3-2 win over Crystal Palace on Monday Night Football, City's 18-point lead was the joint-second highest gap between first and second in Premier League history.
United's 19-point advantage on Arsenal on May 1, 2000 remains the largest gap, on their way to strolling to the Premier League title by 18 points. In that season, they confirmed their title win on April 22.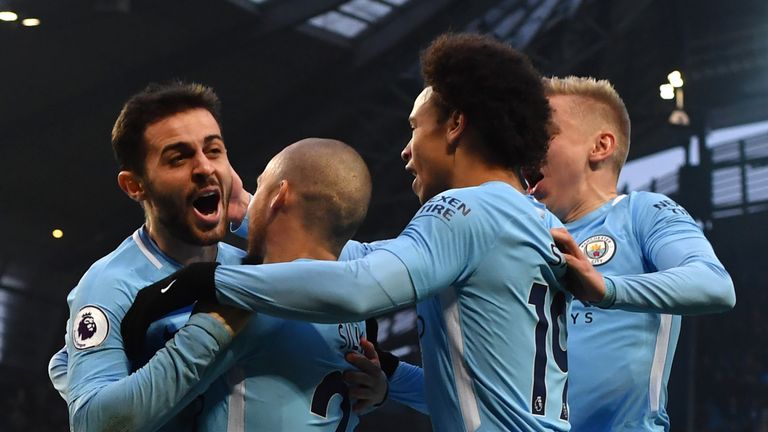 City could theoretically confirm theirs as early as March 31 at Everton, though it would take an unlikely set of results to do it that early. More realistic is the next fixture against Manchester United, live on Sky Sports, on Saturday April 7.
United hold the record for sealing the title with most games remaining. They did it with five games left in 2000/01.
The United sides of 2012/13 and 1999/00 and Arsenal's 2003/04 Invincibles achieved it with four games left.
City would have done it with seven games left if they do it against Everton and could also break the record against United (six games left).
Silva service
Has anyone made more assists than David Silva since he moved to the Premier League? Steven, via e-mail
MARTIN SAYS: Silva registered his 12th assist for City in all competitions this season in the 1-0 win over Chelsea, setting up Bernardo Silva, and that's his most in a campaign since 2011/12 (19).
But when considering Premier League assists, Silva has in fact made more than any other player since joining from Valencia in August 2010.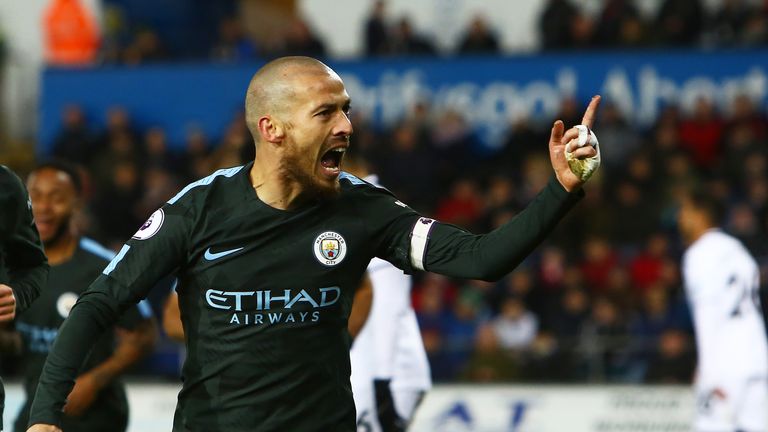 He has 73, a considerable distance ahead of Wayne Rooney (53) in second. Cesc Fabregas is third (52), followed by Mesut Ozil (49), Chris Brunt and Juan Mata (both 47).
Silva has reached that tally in 242 games, however, while the likes of Ozil (139 games) and Mata (134 games) have had fewer chances to shine.
Gunners keep losing
When was the last time Arsenal lost this many games in a row in all competitions? Liam, Southwark
MARTIN SAYS: Arsenal's 2-1 reverse at Brighton, combined with defeats against Man City (twice) and Ostersund, mean the Gunners have lost four straight games for the first time since October 2002.
Then, the champions were beaten 2-1 four times in a row; against Everton (and that famous Rooney goal), Auxerre and Blackburn at Highbury, and then Dortmund away. They returned to form with a 1-0 win at Fulham on November 3, 2002 thanks to Steve Marlet's own goal.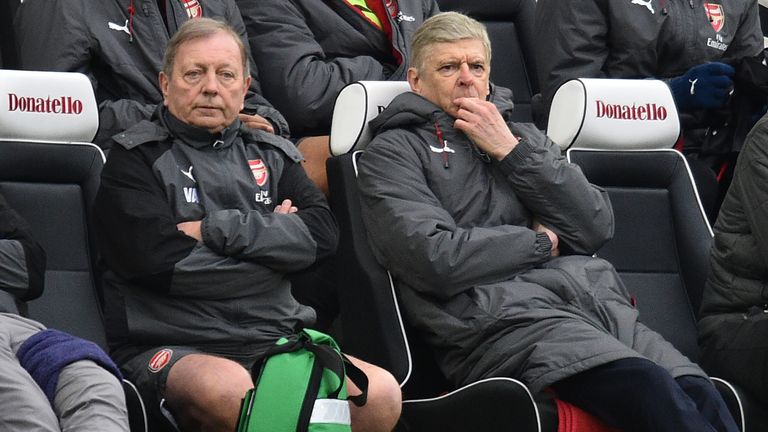 Another defeat on Thursday in Milan would bring about Arsenal's worst losing run since 1977, where they lost eight games on the trot between February 12 and March 12.
Terry Neil's eighth-placed finish in his first season in charge was an improvement on their 17th-placed finish under Bertie Mee the season previous, but a run of defeats against Man City, Middlesbrough, West Ham, Middlesbrough again (FA Cup), Everton, Ipswich, West Brom and QPR were a lowlight.
I actually commentated for ITV on their 4-1 defeat at Ayresome Park in the FA Cup that season. I well remember David Mills' hat-trick that day - and Graeme Souness played in that game. "A proper player," as he would say.
Klopp's 200
How quick did Jurgen Klopp reach 200 Premier League goals in comparison to other managers? Anne, Merseyside
MARTIN SAYS: Sadio Mane scored Liverpool's 200th Premier League goal of the Jurgen Klopp era as he wrapped up Saturday's 2-0 win over Newcastle. It took Klopp's Liverpool just 97 games to reach that landmark, a rate of 2.06 goals per game, but that's not quite the fastest in Premier League history.
Manuel Pellegrini took only 84 games at Man City to get to 200 (2.38 goals per game), followed by Klopp's Liverpool predecessor Brendan Rodgers (96 at 2.08 goals per game), so one game quicker.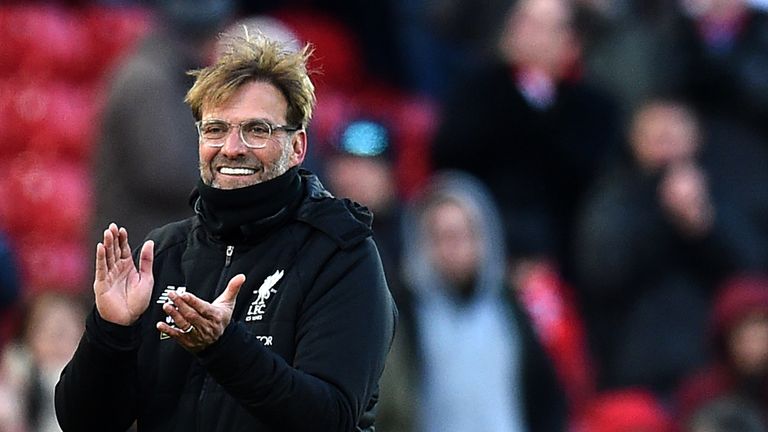 Klopp is the third quickest to that tally in Premier League history, just ahead of Roberto Mancini at Man City (100 games at 2 goals per game) and Jose Mourinho's first stint at Chelsea (108 games at 1.85 goals per game).
It's also worth mentioning Tottenham's Mauricio Pochettino has reached 100 Premier League wins as a manager in 197 games - the joint-sixth quickest alongside Kenny Dalglish.
Only Jose Mourinho (142), Alex Ferguson (162), Arsene Wenger (179), Rafa Benitez (181) and Claudio Ranieri (187) reached it in fewer games.