Football Commentator & Columnist
Martin Tyler's stats and facts: Arsene Wenger's best home seasons, Man City streak ends
Last Updated: 08/05/18 9:37am
Is this Arsene Wenger's best home season with Arsenal? Have Man City missed out on a record? How many teams bounce straight back up after relegation from the Premier League?
Sky Sports commentator Martin Tyler has the answers to those questions and more in his weekly column, plus have a go at his teaser on Man City players who've appeared in World Cup finals.
Got a question for Martin? Tweet @SkySportsPL with #TylersTeasers.
Starting Stat from Man City 0-0 Huddersfield
I was at the Etihad on Sunday for the 0-0 draw with Huddersfield, which was the first time since April 27, 2017 that Manchester City failed to score in a home Premier League game. That was at home to Manchester United.
It was only the second time this season they failed to score after the 0-0 draw at Crystal Palace on New Year's Eve. We must also point out they failed to score in two hours in their home Carabao Cup game against Wolves before winning on penalties.
Huddersfield have now failed to score in 20 Premier League games. As we mentioned last week, the unwanted Premier League record is 22 - and they play at Chelsea and at home to Arsenal in their final two games.
This was the fourth meeting between the two clubs in the last two seasons and Manchester City have not gone 1-0 up in any of them. City drew 0-0 at Huddersfield in the FA Cup last season and went 1-0 down in the replay before going on to win 5-1. In November they went 1-0 down in the Premier League at Huddersfield through a Nicolas Otamendi own goal before going on to win 2-1 and then they didn't score at all on Sunday.
John Stones made his first league start since January 20 at home to Newcastle and it was his third start in their last 19 games in all competitions; the others were the 1-0 defeat to Wigan and the 2-1 home defeat to Basel.
Aaron Mooy, who last season joined Manchester City from Melbourne City only to be loaned to Huddersfield after six days, could not play in the FA Cup meetings last season. He finally got to play at the Etihad for the first time on Sunday.
Feeling at home
Arsene Wenger said this is Arsenal's best home season. Is that true? Jason
MARTIN SAYS: In terms of points it's not far off their best home season in the Premier League.
However, the Gunners have twice performed better than their 2017/18 record of 47 points from 19 games, with 15 wins, two draws and two losses.
Their best home record under Wenger was during the 'Invincibles' season of 2003/04 when they picked up 49 points after 15 wins and four draws.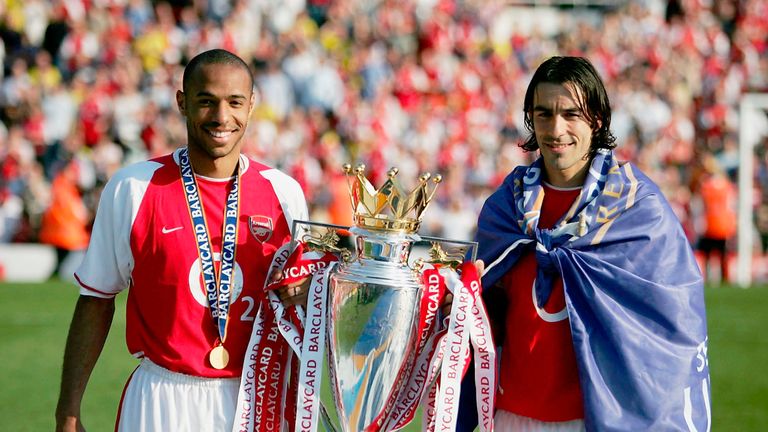 The Gunners won the league that season, and finished second in 2000/01 when they lost only once at home and accrued 48 points.
There have been five other occasions when Arsenal have won 47 points from their home games under Wenger.
They were in 1997/98, 1998/99, 2002/03, 2007/08 and 2009/10.
In terms of scoring, this is Arsenal's joint-best record at home under Wenger, with 54 goals matching the total in 2004/05 when they finished second in the league.
Arsenal's worst full home season since Wenger was appointed in October 1996 was the 2010/11 campaign.
The Gunners only won 11 of 19 games at the Emirates, scored 33 goals (their second-lowest total under Wenger) and picked up 37 points.
Wenger's complete home record is P606 W415 D120 L71 Pts1365.
Wenger's best home seasons
| Season | W | D | L | F | A | Pts |
| --- | --- | --- | --- | --- | --- | --- |
| 2003/04 | 15 | 4 | 0 | 40 | 14 | 49 |
| 2000/01 | 15 | 3 | 1 | 45 | 13 | 48 |
| 1997/98 | 15 | 2 | 2 | 43 | 10 | 47 |
| 1998/99 | 14 | 5 | 0 | 34 | 5 | 47 |
| 2002/03 | 15 | 2 | 2 | 47 | 20 | 47 |
| 2007/08 | 14 | 5 | 0 | 37 | 11 | 47 |
| 2009/10 | 15 | 2 | 2 | 48 | 15 | 47 |
| 2017/18 | 15 | 2 | 2 | 54 | 20 | 47 |
Where was Wenger grounded?
Could the John Smith's Stadium [where Arsenal go on the final day of the season] become the first ground Wenger has visited in the Premier League and not won at? Mark
MARTIN SAYS: Arsene Wenger has played at 53 different grounds in the Premier League, and there are six where hasn't won.
They are Bramall Lane, Hillsborough, Valley Parade, Wembley Stadium, Amex Stadium and Roker Park.
Wenger's only visit to Bramall Lane was in December 2006 when Arsenal were beaten 1-0 by Sheffield United.
Arsenal played at Hillsborough four times under Wenger but failed to win.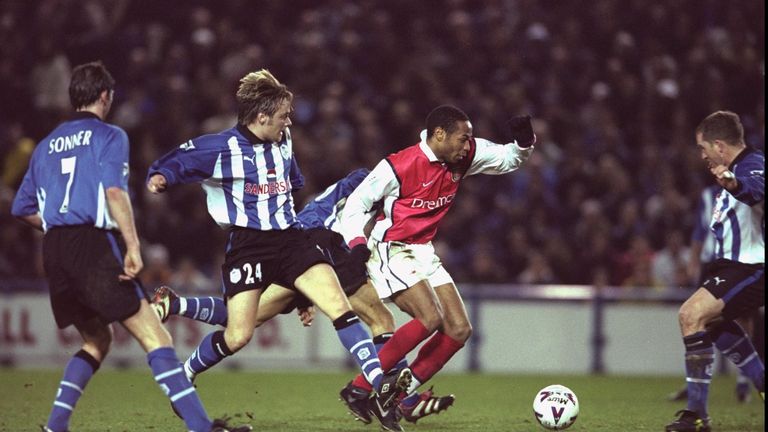 In December 1996 they drew 0-0 with Sheffield Wednesday and then lost to them in November 1997 and September 1998 before another draw in January 2000.
Wenger lost 1-0 on his only match at Roker Park - Sunderland's former ground - in January 1997 and didn't win on two visits to Bradford's Valley Parade in 2000, with the first game in February ending 2-1 to the hosts and the second in September finishing 1-1.
Wenger has visited two new grounds this season in the Premier League in Wembley Stadium and the Amex, but was beaten on both occasions.
Tottenham won 1-0 against Arsenal at Wembley in February and Brighton beat the Gunners 2-1 at the Amex in March.
Huddersfield were beaten 5-0 at the Emirates earlier in the season, but might need points on the final weekend against Arsenal to stay in the Premier League.
For the record, he did win at Bramall Lane in the League Cup, the Amex in the FA Cup, Roker Park in the FA Cup and had a very successful record at Wembley.
Happy returns
How many teams come straight back up after being relegated? Jimmy, Bolton
MARTIN SAYS: Of the 73 teams relegated in the Premier League era before this season, there have been 21 teams who have come straight back up the very next season (29 per cent).
However, there have also been nine seasons where none of the relegated teams have returned at the first attempt.
Newcastle, Hull and Burnley were the most recent sides to secure immediate returns after being relegated.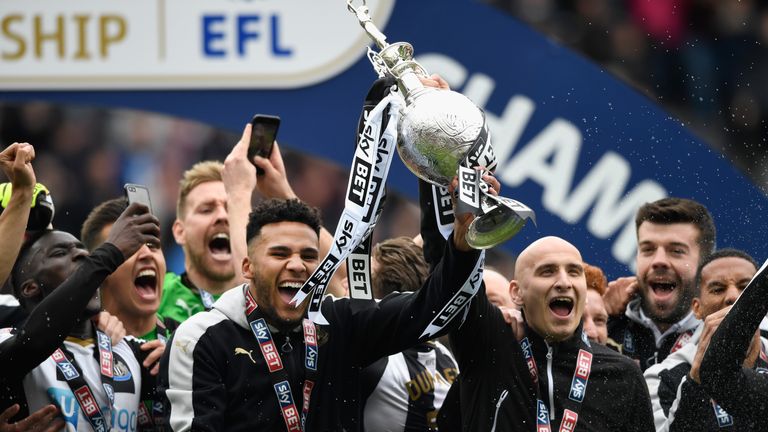 Newcastle came up last season and Hull and Burnley were both promoted in 2015/16, having been relegated the previous season.
West Brom, who appear to be on the brink of relegation, might take some heart from the fact that in 2003/04 and 2009/10 they were promoted straight back to the Premier League after being relegated.
When they dropped down from the Premier League in 2005/06 they finished fourth the next season in the Championship and then won it the following year.
However, there have also been three instances of teams being immediately relegated to the third tier after dropping out of the Premier League.
Swindon did it when they were relegated from the top-flight in 1993/94, as did Wolves in 2011/12, and Sunderland this season, having been in the Premier League last year.
Scoring streaks
Man City were on track to score in every Premier League home game before Sunday. Has any team ever done that? Jack, Manchester
MARTIN SAYS: City would not have been the first side to achieve the feat as it has been done on 15 different occasions.
Tottenham and Chelsea were the most recent teams to do it in 2016/17.
Spurs also did it in 2011/12, while Chelsea scored in every home game in 2005/06, 2009/10 and 2014/15. On all four occasions Chelsea have done it, they have won the league.
Manchester United have done it three times in 1999/00, 2010/11 and 2011/12 and City themselves managed it during the 2011/12 and 2012/13 seasons.
Arsenal scored in every home match in 2001/02, 2002/03, 2004/05 and 2007/08.
Only two teams, though, have scored in every away game in a Premier League season and they were Arsenal and Manchester United in 2001/02.
However, City won't be able to achieve that this season as they failed to score at Crystal Palace on New Year's Eve.
The only side to score in every game in a Premier League season, therefore, was Arsenal when they won the league in 2001/02. They scored in all three of their defeats that season and none of their nine draws were goalless.