West Brom were lucky their winning goal against Sunderland was allowed to stand at the weekend, according to Dermot Gallagher.
The former Premier League referee dropped by the Sky Sports News HQ studio on Monday for his regular look at some of the weekend's most controversial calls, and according to Gallagher Martin Atkinson got a major one wrong.
Also on the ex-official's radar: James McClean's post-match celebrations, Crystal Palace striker Dwight Gayle's two quickfire bookings, a failed Norwich penalty appeal and three instances of advantage leading to goals.
Read on to find out Gallagher's verdict on the lot...
INCIDENT: Dwight Gayle's two bookings for Crystal Palace against West Ham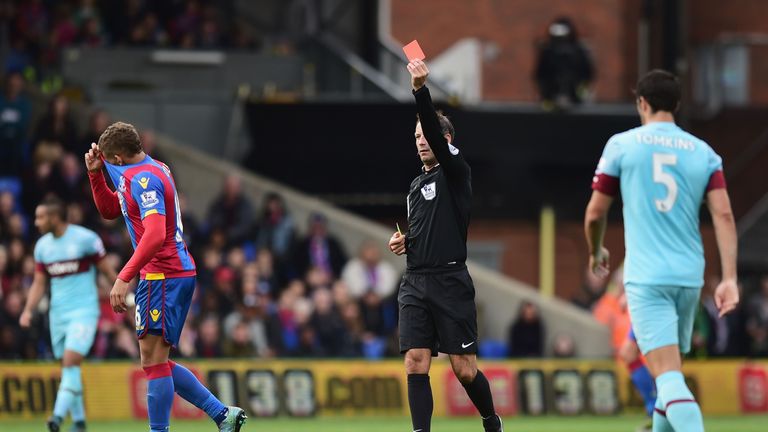 THE SCENARIO: Palace striker Gayle is sent off for two yellow cards in quick succession, the first for a foul on Dimitri Payet and the second for catching Cheikhou Kouyate late. West Ham go on to win the game, and Alan Pardew says ref Mark Clattenburg could have given Gayle a warning rather than a second yellow card.
GALLAGHER'S VERDICT: Correct decision
GALLAGHER SAYS: I don't think he can give him a final warning. I think when he makes a tackle like that second one it's reckless, a yellow card, and Mark's hands are tied. He's got nowhere to go, he's got to send him off. Dwight Gayle didn't have to make that tackle, that's maybe something he'll look at in future.
INCIDENT: Advantage played in the run-up to goals for Chelsea, Manchester United and Newcastle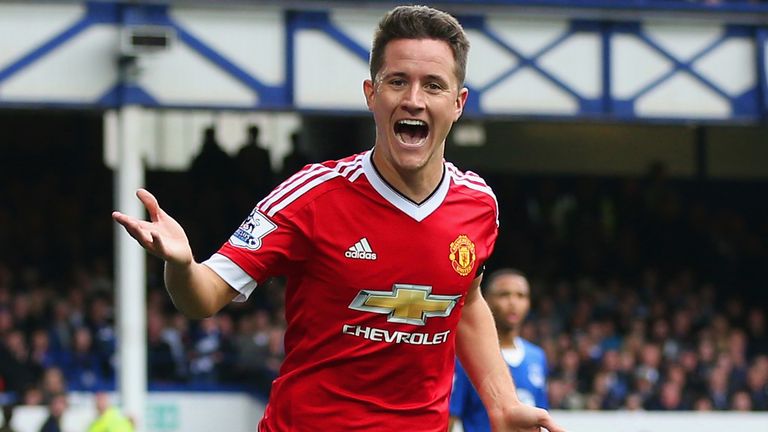 THE SCENARIO: Alan Hutton's own goal for Chelsea against Aston Villa, Ander Herrera's header for United at Everton and Aleksandar Mitrovic's goal for Newcastle against Norwich all come after the referees play advantage. All three initial fouls lead to bookings after the goal goes in.
GALLAGHER'S VERDICT: Correct decisions
GALLAGHER SAYS: On all three occasions the ref goes back and shows yellow cards to the defenders, which shows great game management - they're aware of what is going on. The good thing is is that all three recognised advantage straight away and put their arms out. All three brought a goal and the referees still remembered the yellow cards.
INCIDENT: Saido Berahino's winner for West Brom against Sunderland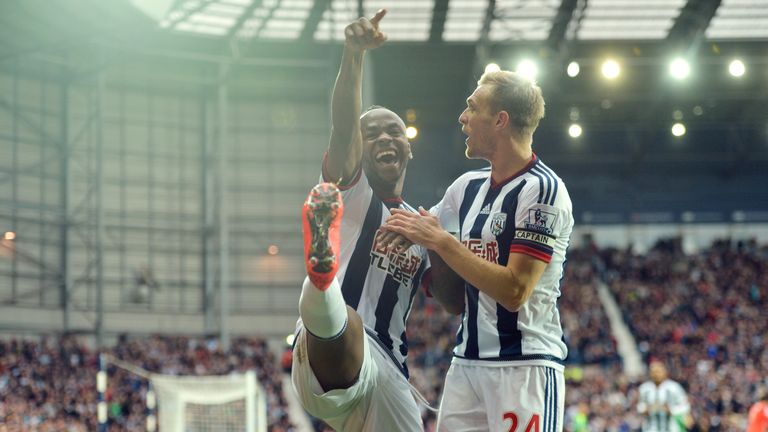 THE SCENARIO: Berahino challenges Sunderland goalkeeper Costel Pantilimon for Chris Brunt's cross and then taps in the game's only goal after knocking the loose ball out of the keeper's attempted grasp. Sunderland's players claim both foul and handball against Berahino, but the goal stands and Sam Allardyce later claims ref Martin Atkinson has made "a big error".
GALLAGHER'S VERDICT: Wrong decision
GALLAGHER SAYS: I think it's a foul - I'm in the minority I hasten to add, and I'm surprised. I think he jumps into the man, and the keeper's got the ball in his hands. I'm not sure about the second one - the forward's entitled to go for it - and I'm also not convinced about the handball - it has to be deliberate. But I think the first one was a foul.
INCIDENT: Norwich's failed penalty appeal in 6-2 defeat at Newcastle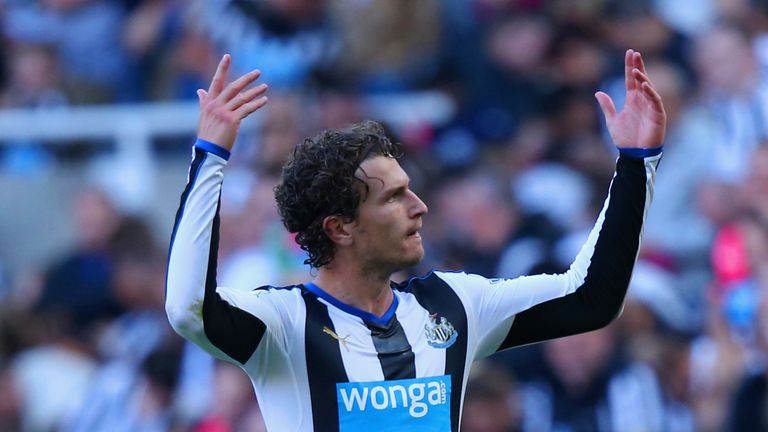 THE SCENARIO: Jonny Howson claims he is being pulled by Daryl Janmaat as a corner is headed back across goal, but referee Anthony Taylor allows play to continue and Newcastle break to go 3-1 ahead within seconds.
GALLAGHER'S VERDICT: Penalty, but no blame attached to ref
GALLAGHER SAYS: It's as massive gamble from the defender. If seen it's a penalty, no doubt about that. What went in his favour is that Janmaat's body blocks off the ref's view and the assistant is the other side. I think Janmaat's very, very lucky. What you would say is that for the referee it's very hard to give, but if he sees that he's going to give a penalty.
INCIDENT: James McClean's post-match celebration after West Brom's win over Sunderland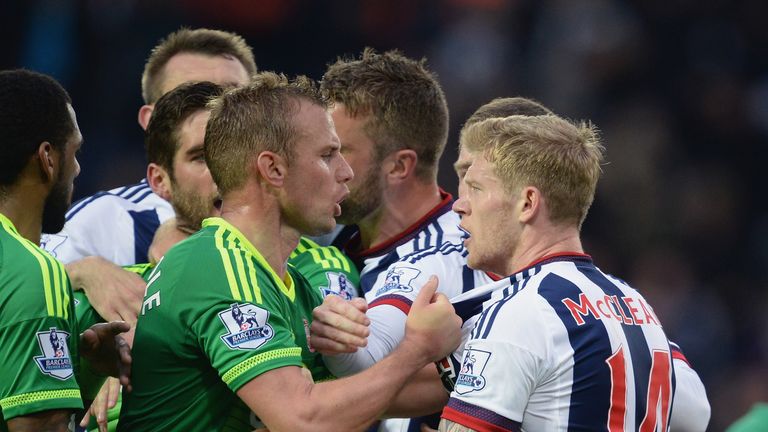 THE SCENARIO: McClean, a former Sunderland player who criticised the club after his departure, is targeted by the away fans during West Brom's 1-0 win at The Hawthorns and responds by running towards the away end and pumping his fists in celebration at the final whistle. A melee follows as Sunderland striker Danny Graham confronts McClean.
GALLAGHER'S VERDICT: No further action
GALLAGHER SAYS: What you would say is his team-mates have got him off quickly, the stewards have intervened and it didn't escalate. The FA has got the right to look at the video and ask the referee what he saw on the day, maybe even ask the stewards, but I'd be very surprised if he didn't just get told 'be careful in the future'. At worst he's over-celebrated, and that's a yellow card. We don't know what got said, but from what you see he hasn't really done a lot wrong.