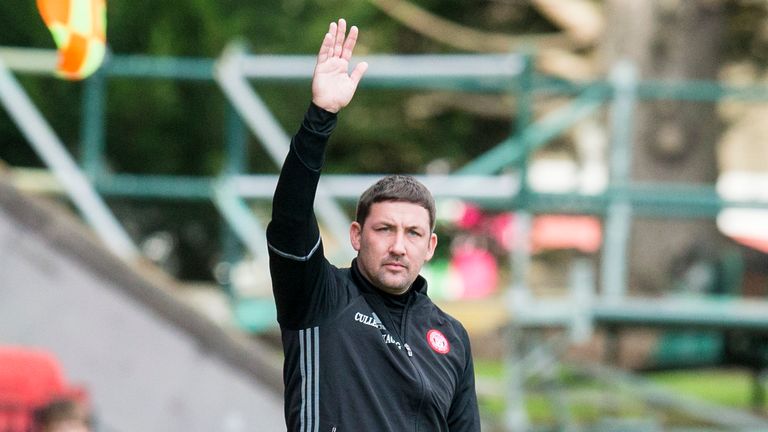 Hamilton boss Martin Canning insists it is "business as usual," despite the club falling victim to a major internet fraud last week.
The Scottish Premiership team are currently working with police, concerning a criminal investigation, with regards to the Accies being defrauded of a substantial amount of money.
Various reports allege the amount was between £750k and £1m, with members of the club's board having to dig deep from their own personal funds to assist with the day-to-day running at New Douglas Park.
There is a timely windfall due to the Accies, as well as 10 other senior Scottish clubs, in light of Celtic's Champions League adventures last season.
A 'solidarity payment' of £375,000 will be made to each club by UEFA this week.

Canning said: "We had a meeting on Friday morning with the directors and owners, and they've told us to concentrate on football, and put football first
"That was a great thing to do because everybody knows where we stand. They've said it's business as usual in terms of the football department.
"We just go and work away, and they will work and deal with the other stuff. They will deal with the issues off the park. We haven't discussed that (budget).
"From a footballing point of view it's not really had an effect, we've just got to keep our heads down and work hard in training and turn that into results on Saturday.
"As a player or anybody not in the know, as soon as you hear that type of news you start to wonder what's going to happen, and there's loads of questions.
"So the fact they came in on the Friday morning and spoke to everybody, assured everybody and put everybody's heads right.
"It allows you to concentrate on football, and that's a positive.
"The real disappointment for me is for the guys that have worked so hard to build the club up and do what they've done with this place since they took over - it is obviously a big kick, so that's my disappointment."
Hamilton have also issued a statement which reads: "We have been the target of an elaborate fraud resulting in the loss of a substantial sum of monies.
"The Police Service Scotland and our bank are working closely with the club, conducting a criminal investigation to pursue those individuals responsible.
"At this point it is imperative that we remain calm and work together, as we go through one of the most difficult situations we have faced as a club.
"In the interim, the directors intend to inject funds to meet the club's ongoing obligations until the investigation is complete to ensure continuity.
"It is our intention to host a media briefing to go into more detail when the initial legal and banking investigations reveal the facts. This will allow us to give full disclosure of the event."
Owner Ronnie MacDonald has said plans to build an indoor pitch have now been put on hold.