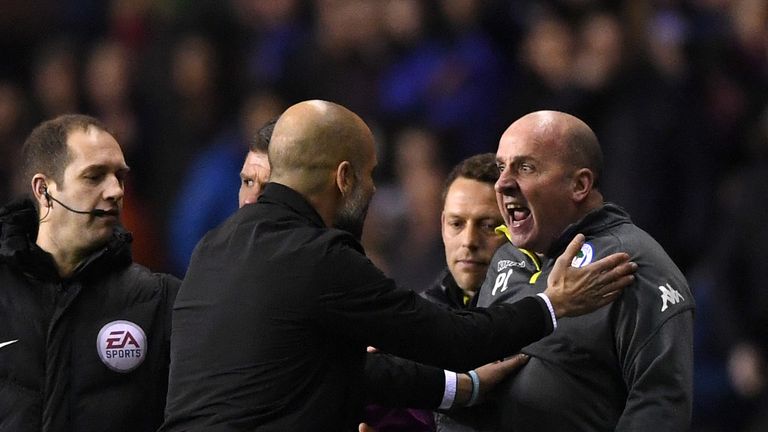 Pep Guardiola and Paul Cook both played down their sideline clash after Wigan stunned Manchester City in the FA Cup on Monday.
City saw their hopes of a quadruple disappear as they were upset by the League One side, with Will Grigg scoring the winner in the 79th minute at the DW Stadium.
Guardiola and Cook clashed late in the first half when Fabian Delph was shown a straight red card for a sliding challenge on Max Power.
Referee Anthony Taylor initially pulled the yellow card out of his pocket and then appeared to change his mind, with Guardiola reacting furiously to the decision and getting involved in a heated exchange with Cook which continued down the tunnel at half-time.
But the City boss said afterwards: "Nothing happened in the tunnel, nothing happened with my colleague. It was just please stay in your position, that's all, and then finished."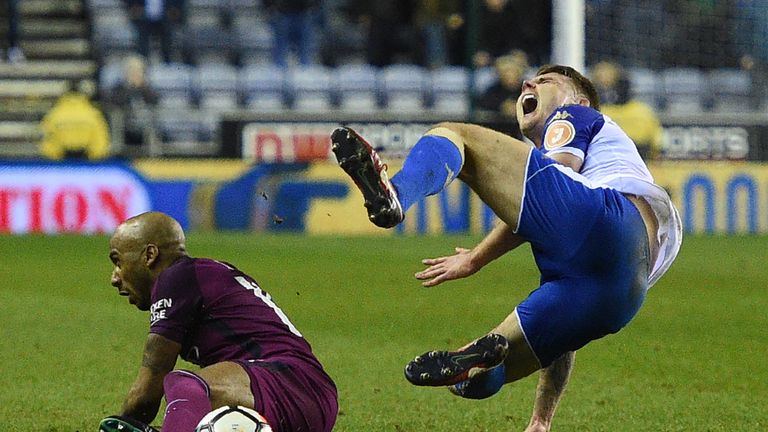 Cook was reluctant to go into the incident or its aftermath, saying: "I think we should speak about the game. We'd all have different opinions. There's a lot made of tackles. I felt at the time it was a straight red. I don't think Pep and his bench thought it was but that's football. We're never going to agree."
The result, which was even more unexpected than Wigan's FA Cup final triumph over the same opponents five years ago, marked the end of City's bid for four trophies this season, and Guardiola played down the significance of the red card.
He said: "We played good in the second half even with 10 so the influence in terms of the way we played wasn't too much. Of course with 11 it's easier. We conceded one shot on target in 90 minutes and we lost. Football is like this.
"Of course we are sad and we want to go through because the FA Cup is a nice competition and you want to go to the quarter-finals, play at home against Southampton, but football counts what happens in 94 minutes.