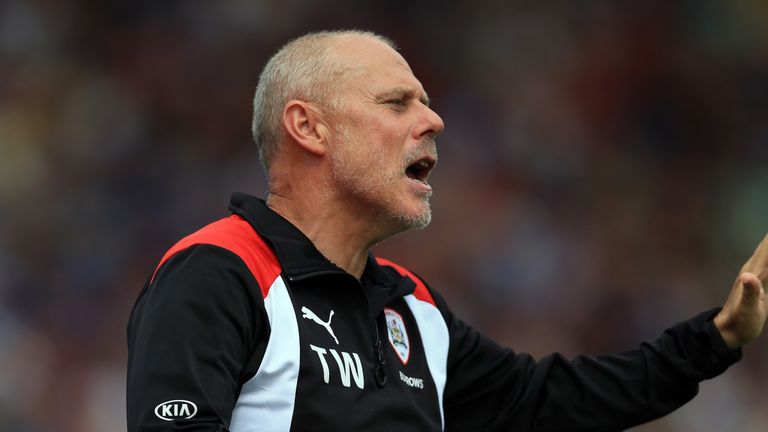 Three men, including former Barnsley assistant manager Tommy Wright, have pleaded not guilty to bribery offences.
Wright, 52, whose address was given as Dark Lane, Barnsley, South Yorkshire, denied two counts of accepting a bribe between April and September 2016 in contravention of sections two and 11 of the Bribery Act 2010, when he appeared at Westminster Magistrates' Court on Monday.
Italian Giuseppe Pagliara, 62, of East Drive, Bury, Greater Manchester, and Dax Price, 47, of Susans Lane, Sittingbourne, Kent, pleaded not guilty to two counts of paying and facilitating a bribe.
All three men were granted unconditional bail after a brief hearing and will appear at London's Southwark Crown Court on October 22.
They were charged last month after a Daily Telegraph investigation into English football and the activities of players' agents.
It is claimed Wright held three separate meetings with a Daily Telegraph reporter posing as a representative of a fictitious Far East company, Pagliara and Price, who were acting as the firm's consultants.
Pagliara was banned by the Italian Football Association in 2005 for his part in the Serie A match-fixing scandal.
The video appears to show Wright accepting £5,000 cash at a second meeting in return for helping to persuade Barnsley to sign players who are part-owned by the firm.
Wright is then alleged to have helped arrange another meeting at Oakwell with Barnsley chairman Patrick Cryne and head coach Paul Heckingbottom.
Both Cryne and Heckingbottom were unaware of Wright's previous meetings, nor did they know at the time of Pagliara's true identity as he had been introduced as a translator.
Cryne clearly expressed at that meeting the proposals to give the club cash to help buy players it could not afford in return for a share of any future transfer fee was in breach of Football Association and FIFA rules on third-party ownership of players.