Man Utd were in trouble with Phil Jones and Eric Bailly as penalty takers, says Jose Mourinho
Manchester United manager: "We needed to go and kill the game, which we didn't."
Last Updated: 26/09/18 11:04am
Jose Mourinho has admitted Manchester United were in trouble when they had to call on Phil Jones and Eric Bailly to take penalties in their Carabao Cup exit to Derby.
United crashed out of the competition at the third-round stage 8-7 on penalties after a 2-2 draw with Frank Lampard's side in normal time at Old Trafford.
Fifteen perfect penalties took the shootout to sudden death where Scott Carson sealed Derby's progression with a low save to deny United defender Jones.
Mourinho blamed his side's inability to kill off the game for the result, and exposing the likes of Jones and Bailly to situations they are unaccustomed to.
"The penalties came and someone has to miss," the United boss told Sky Sports.
"When I saw us going after the sixth, the seventh I knew we were going to be in trouble with Jones and with Eric. I knew we were going to be in trouble then.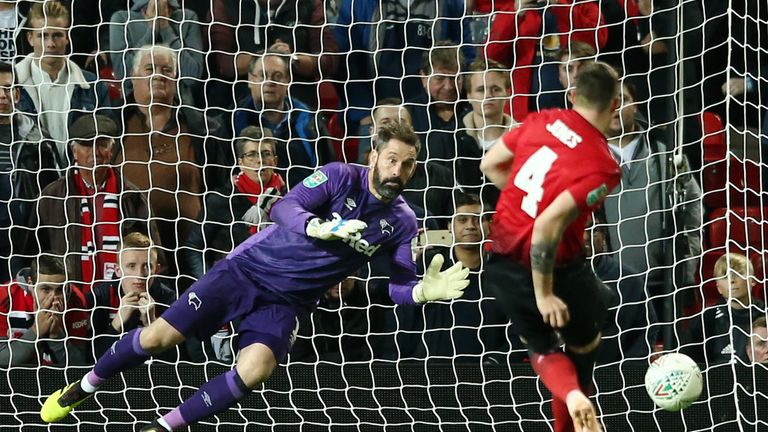 "We didn't score when we could and we could in the first half. We had good situations to kill it, we didn't and at half-time I repeated the same words I did in the last match, telling the players that their dressing room was a dressing room with belief because the result was open and because they were playing quite well.
"We needed to go and kill the game, which we didn't. We couldn't be dominant at the beginning of the second half and only after their equaliser we had again that reaction I don't like.
"I prefer to be proactive and to go for it, but we go for it only at 1-1 and after the red card we are in a bit of difficulty. Then even with one man less it was a reaction of pride, a reaction of a group that didn't want to lose the game and tried until the last second."
Juan Mata had given United an early lead but Derby hit back and looked on course for victory thanks to goals from substitute Jack Marriott and an exceptional Harry Wilson free-kick.
But Marouane Fellaini scored deep into stoppage-time to snatch a 2-2 draw and deny the Sky Bet Championship side.
Extra-time has been removed from the Carabao Cup this season, meaning games ending in a draw after 90 minutes go straight to a penalty shootout.
That was the case at Old Trafford and while Mourinho agrees with the rule change, he thinks it comes at a disadvantage to the bigger sides.
"I told the players in the team talk before the match, the new rules, which I agree with, would put the favourite team in more danger," he added.
"With a draw, you had in the past 30 more minutes to play. Without extra-time, you go straight to penalties and I think it goes against the team that normally would win the match in 30 minutes of extra time.
"Then you go to penalties and I never blame a player to lose a penalty shootout."
He added: "The Carabao Cup is not a worry anymore because we don't play again until the next season.
"It is the minor of the competitions we are involved in but I would lie if I say we threw the match away. No, we want to win the match and we are disappointed that we drew."