Manchester City's Leroy Sane dismisses Manchester United links ahead of derby
Man City host Man Utd this Sunday on Sky Sports Premier League
Last Updated: 05/11/18 6:59pm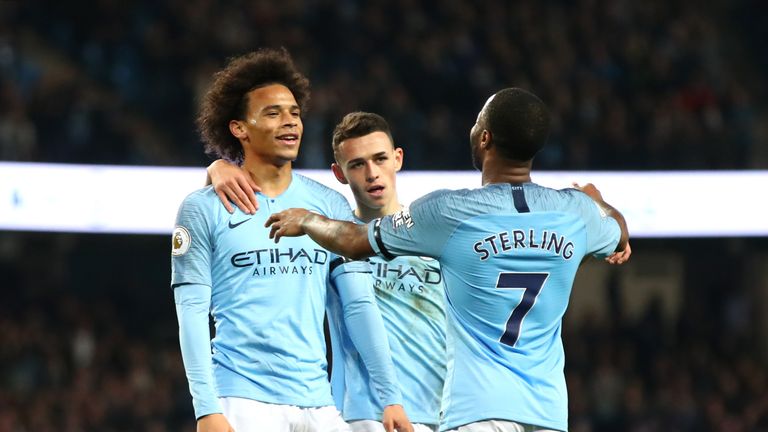 Manchester City winger Leroy Sane has dismissed speculation he could join Manchester United, insisting he is on the "right side" of the city ahead of Sunday's derby, live on Sky Sports.
Reports surfaced of an extraordinary move to Old Trafford last week, as the German continues to fight for a starting spot at City.
The 22-year-old has started seven of City's 16 games in all competitions this season, while last month manager Pep Guardiola confirmed City were in talks with Sane regarding a new contract.
Sane made a telling contribution on the weekend when scoring one and assisting another in the Premier League champions' 6-1 win over Southampton, and after the match, he was quick to dismiss rumours of a cross-city switch.
"That won't happen," said Sane, who is contracted at City until 2021. "That won't happen at all. I am really happy here and I'm on the right side."
Sane, last season's PFA Young Player of the Year award, has found himself battling with Raheem Sterling and Riyad Mahrez for two starting spots alongside Sergio Aguero up front for City.
Sterling - who scored twice on Sunday - has started nine of City's 11 league games, while both Sane and Mahrez have featured from the beginning on five occasions.
Despite the competition, Sane insists he has no concerns as City prepare for a Champions League tie at home to Shakhtar Donetsk on Wednesday before welcoming United to the Etihad on Sunday.
He added: "I have not been worried at all. I know what they want from me and what they expect from me and I will just try to work hard.
"I always enjoy myself. To play with these players under this coach is a really good feeling and everyone can see we enjoy it all together, playing with each other. It's fun to play with this team."