Shelley Kerr says teams will be wary of Scotland at Women's World Cup
By Matthew Treadwell
Last Updated: 08/12/18 9:19pm
Scotland Women head coach Shelley Kerr believes England and Japan will be wary of facing them after the draw was made for next summer's World Cup finals in France.
Kerr's side will be in Group D along with old international rivals England, who came third at the last tournament in Canada, as well as that year's beaten finalists and 2011 winners Japan and Argentina.
Scotland were thrashed 6-0 by England when the sides met at Euro 2017 but they have improved under Kerr and will go into the World Cup with a positive mindset.
"There are a lot of good teams and we certainly wanted to avoid the USA, which we did," Kerr told Sky Sports News.
"From 2015 [World Cup], we've got the runners-up and bronze medallists in Japan and England and let's not forget Argentina, who have already been at a World Cup finals before.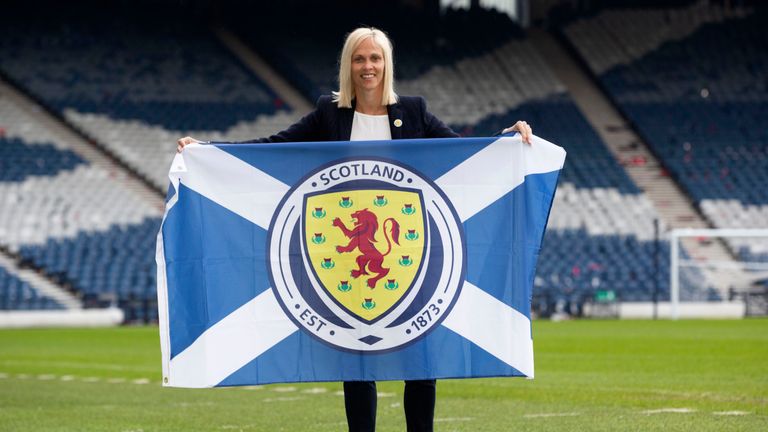 "We've got a tough group but all the groups are tough and it's an exciting first game to be involved in."
Kerr believes her side have matured collectively and have players that can cause problems for their opponents.
"Throughout the campaign, we won seven out of eight games. We played a tough Poland team, a tough Switzerland team," added Kerr.
"I think we have shown we have matured as a team. We've got some talented players who are plying their trade in the WSL [Women's Super League] and across some of the best leagues in Europe.
"We have also got players in the US as well, so we have got a composite group of players and we have developed, grown and matured.
"We have got a pretty talented group of players, so I am sure pretty sure even England, Japan and Argentina won't want to play Scotland either.
"It's exciting and when you get to a World Cup finals as a player or manager you know it is going to be tough but you need that challenge and players and managers thrive on it."