Ole Gunnar Solskjaer has Manchester United fans' 100 per cent support'
Watch Manchester United vs Manchester City on Wednesday from 7pm on Sky Sports Premier League; Kick-off is 8pm
By Matthew Treadwell
Last Updated: 22/04/19 11:59am
Manchester United fans remain fully behind manager Ole Gunnar Solskjaer despite their recent run of poor form, according to Sean Bones of the Manchester United Supporters' Trust.
United were humbled 4-0 at Everton on Sunday and remain sixth in the Premier League, two points behind Chelsea and Arsenal in the race to secure a Champions League place next season.
Having revitalised a flagging squad after taking over from Jose Mourinho in December, Solskjaer has found it tougher in recent weeks, but Bones insists he still has their total backing.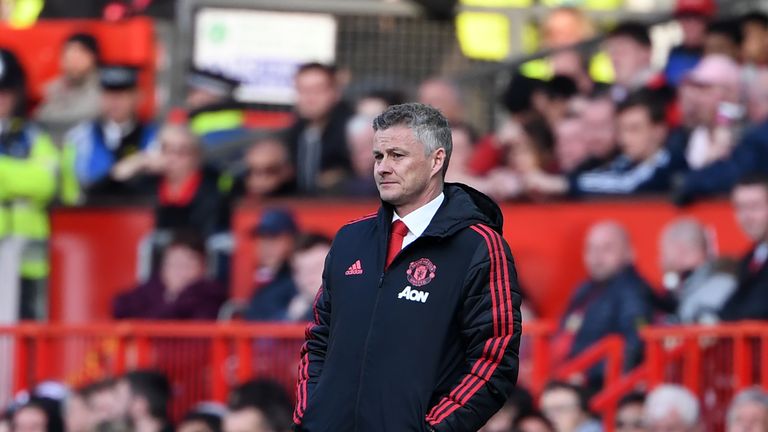 "The supporters are 100 per cent behind the manager," he told Sky Sports News.
"It was a woeful performance. That happens, but when you are a Manchester United player you can't saunter around casually, you've got to work harder than the opposition.
"That didn't happen yesterday and it didn't happen in the two Wolves games [2-1 defeats in the FA Cup and Premier League], you've got to want it more than the opposition.
"When you put the Manchester United shirt on, you've got to give everything.
"Ole understands that, and the supporters are 100 per cent behind the manager, and he shouldn't have to apologise to us as supporters."
Bones believes the club requires greater direction and blames the Glazer family for not ensuring plans were put in place after manager Sir Alex Ferguson and chief executive David Gill stepped down from their roles.
"What is clear is the squad isn't fit for purpose and that goes to the very top, to Joel Glazer and the Glazer family," added Bones.
"When Sir Alex and David Gill were here, they structured the profile of the squad properly.
"Manchester City have the two guys from Barcelona [sporting director Txiki Begiristain and chief executive Ferran Soriano] doing that particular job and I think going into the future, we expect more from the Glazers.
"At Old Trafford, we expect to win trophies and we expect a certain level of performance and a squad that can do that.
"You've got to spend money, invest wisely, you've got to get a balance and a blend between the youth system and the players that you bring in.
"The last three managers have failed [in that], because they perhaps haven't had the amount of support they should have from the top, or with the players and the profiling.
"I think Ole understands that and has a vision of Manchester United that is totally in step with the supporters. Now it is up to the Glazers to match that."