Trent Alexander-Arnold says Liverpool need fearless performance against Barcelona
Last Updated: 07/05/19 5:59pm
Trent Alexander-Arnold says Liverpool must play with no fear against Barcelona if they are to have any hope of overturning a 3-0 first-leg deficit in their Champions League semi-final.
The newly-crowned La Liga champions visit Anfield on Tuesday with a comfortable advantage, thanks in large part to Lionel Messi's second-half double at the Nou Camp last week.
Barcelona also count former Liverpool stars Luis Suarez and Philippe Coutinho among their attacking ranks, but Alexander-Arnold said the Merseysiders have to ignore those names and go all out for victory.
"As a team, we've got to go out there and be fearless and not hold back at all," said Alexander-Arnold. "Probably the only way we can get the result we want is to not hold back, to go out there with no fear and focus on ourselves.
"I think if we get caught up with thinking about the players they've got and fearing them, and holding players back then I don't think that's really going to work for us.
"It's all about everyone getting involved and trying to score as many goals as possible really."
A 3-0 win for Liverpool would force extra time, but if Barcelona score an away goal, Liverpool would need to score five, a prospect made even more daunting by the fact that Mo Salah and Roberto Firmino will miss the game through injury.
Liverpool boss Jurgen Klopp confirmed on Monday that the head injury sustained by Salah against Newcastle would keep him out of the Barcelona game, while Firmino has a groin injury.
However, Alexander-Arnold wants players and fans to believe the tie is still there for the taking.
The 20-year-old recalled Liverpool's superb comeback against Dortmund at Anfield in 2016, when Dejan Lovren scored a stoppage-time goal to give the Reds a 4-3 aggregate win, having been 3-1 down at one stage.
"I was here as a fan in 2016. It was one of those special nights you won't forget," he added. "You always remember where you are when those things happen.
"It's important for us to have that belief and I'm sure the fans believe that we have it in us to score enough goals and not concede.
"Realistically it's an uphill battle for us, but it's important to have that belief as well.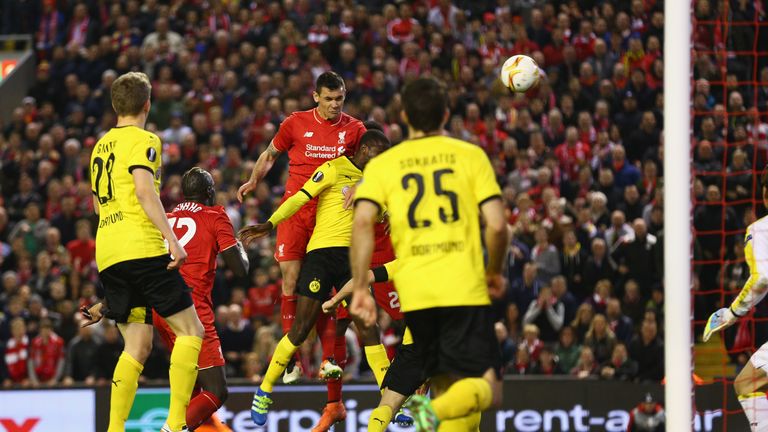 "It's a slim possibility, but while that's still there we'll believe with everything we've got that we can do it."
Alexander-Arnold, who was just six years old when Steven Gerrard inspired Liverpool to their fifth European crown in 2005, also spoke of the club's pedigree in this competition and how he wants to add to that success.
"The club has always had that special bond with the Champions League," said Alexander-Arnold. "If you ask the fans, there has always been that sense of something special in the air, no matter who we're playing.
"Growing up, you get taught that the club has a special history with the Champions League and we'll be looking to continue that and make it back to back finals."