Liverpool's Adrian injured by celebrating fan at Super Cup
Andy Lonergan in line to replace Adrian
Last Updated: 16/08/19 10:33pm
Liverpool goalkeeper Adrian is "very optimistic" about starting Saturday's Premier League game against Southampton after he was injured by a fan at the Super Cup.
Jurgen Klopp confirmed Adrian's ankle was swollen after he was accidentally knocked over when a supporter who had encroached onto the field was chased by security.
Adrian is filling in for injured first-choice Alisson and emerged as the hero when saving Tammy Abraham's penalty on Wednesday night, and the goalkeeper hopes he will be ready to make his first league start for the club this weekend.
"Today I feel much better," Adrian told liverpoolfc.com. "It was a strange, weird situation because we were celebrating between us and one guy jumped from the crowd and started running.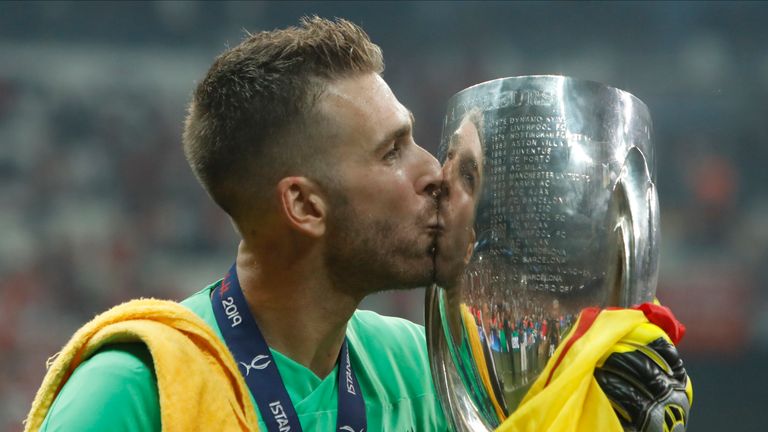 "I think he slipped in front of us and also the security with him and made me a tackle from the side. It was a bit of a strange situation but I feel much better today and I hope [I'm] ready for tomorrow."
On his chances of starting at St Mary's on Saturday, Adrian added: "Yeah, I think I have many chances.
"I feel mentally ready and I also hope today with the treatment of the ankle it's going to be much better. But I'm very optimistic to start playing tomorrow again."
Earlier on Friday, Klopp was asked if the performance would boost Adrian's confidence, saying: "It would help him a lot if it was 100 per cent clear he can play tomorrow.
"When we were all together (celebrating after the match), a supporter jumped over something, was chased by some security guys, slipped and kicked his (Adrian's) ankle. It's crazy.
"Yesterday, it was swollen. Today I spoke to him and he said 'it's much better than yesterday', but we have to see.
"Apart from that, it was a brilliant night for him, not only because of the penalty but also because of the game."
Alisson's injury prompted Liverpool to sign Andy Lonergan on a short-term contract, and the former Preston, Leeds and Bolton goalkeeper could be in line to deputise should Adrian miss Saturday's encounter.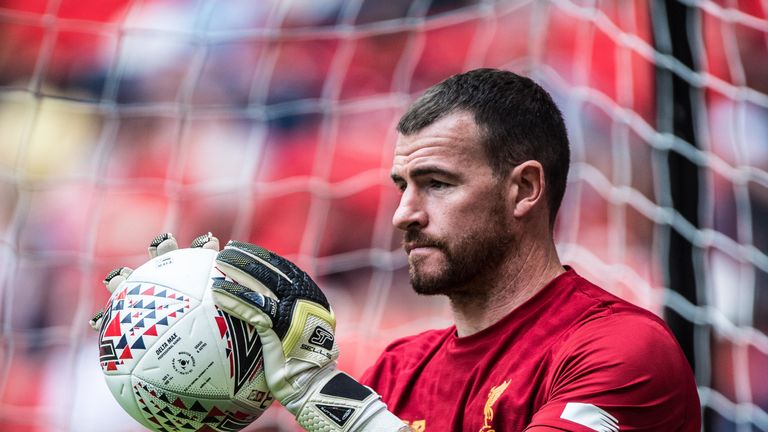 Klopp said: "(Caoimhin) Kelleher is now in training as well, so we have them.
"If we have to make a decision, we have to make a decision.
"Adrian came in a week before, Andy Lonergan trained longer with us, played half-time in one of the pre-season games."
Klopp thinks fans should refrain from running on to the pitch to celebrate, adding: "There is no doubt about how much we love our fans, but if they all could stop doing that - it's not funny.
35y 302d - Should he debut for Liverpool tomorrow, Andy Lonergan will be the oldest Englishman to make his Premier League debut in the 21st century, aged 35 years and 302 days. Evergreen. pic.twitter.com/lZRTnaR2BT

— OptaJoe (@OptaJoe) August 16, 2019
"I like the fact that we don't have fences in the stadium but it means there is a lot of responsibility for the supporters as well.
"If one person cannot stop himself, then the people around should do it.
"You watch it (the Adrian collision) and you think, it's crazy. How can something like this happen?"
Liverpool will definitely be without Naby Keita for Saturday's match - the midfielder will be on the sidelines due to a muscle strain.