Sky Sports has joined Women in Football (WIF) as a corporate member to take action for gender equality in football as part of a new campaign #GetOnside.
Almost three-quarters of WIF members (71 per cent) want more support for the development of women in leadership roles, nearly four out of five WIF members (78 per cent) want more gender diversity in boardrooms, and almost one in three (29 per cent) have experienced social media abuse based on their gender.
#GetOnside tackles issues like these head-on as organisations and individuals pledge to provide women in the game with greater support, mentoring, visibility, opportunities and networking.
Sky Sports said: "We pledge to #GetOnside by becoming a Women in Football Corporate Member to enable us to support our people with the best leadership, training and development we can."
The #GetOnside family also includes WIF's lead partner Barclays, Aston Villa, Brighton, Everton, FIFPRO, the FA, Football Manager, ITV Sport, League Managers Association, PFA, Portas, Scottish FA, Sian Massey-Ellis, talkSPORT, TEAM Marketing and the World Football Summit.
More pledges will be revealed soon by WIF, who are encouraging the industry to build a future where thriving in football is driven by ability, not identity.
WIF chair Ebru Koksal said: "We know that this campaign has the power to change lives - and therefore to change the game.
"Football is an industry that's changing, and our new #GetOnside initiative is a great opportunity for collaboration for the continued drive to equality for all."
WIF CEO Jane Purdon added: "Football belongs to all of us, but sadly real barriers exist for women in the game.
"We know that football wants to change this, and I applaud the many organisations who have stepped up and committed to take action to help create a fairer, more inclusive game.
"The future is equality - and we're bringing it home."
A full list of #GetOnside pledgers taking part will be published on the WIF website, together with details of the actions they are taking and guidelines for other organisations and individuals wishing to join the campaign.
For more information visit womeninfootball.co.uk.
'A female Premier League or EFL boss would help shatter a prejudice'
A first female head coach or manager in the English men's professional game would help to "shatter a prejudice", the chair of Women In Football has said.
League Two club Forest Green said they were preparing to shortlist a female candidate for their top job earlier this year, until it turned out her CV had been sent in without her or her agent's knowledge.
The League Managers' Association is one of a number of organisations and individuals who have made pledges in support of WIF's #GetOnside campaign, and the network's chair, Koksal, believes that first appointment would change perceptions.
"I think that would have a significant impact, because of the visibility of the role and having a role model there to aspire to," she said.
"It would shatter a prejudice and a belief that there cannot be a female head coach for one of these clubs - why not?
"We have an incoming FA chair who is female (Debbie Hewitt), she has had an amazing career, and I really look forward to hopefully interacting with her. I believe she will make a great change to the industry as well. So why not a female head coach?
"It's actually about diversity of thought," Koksal said when discussing the importance of striving for equality in the boardroom.
"Time and again, the experience is that if everybody is thinking alike because they're part of an inner circle, there are so many blind spots. Having that diverse person on the board will allow for better debate and a higher quality of decision-making which will hopefully be in the interest of everybody in the organisation.
"For people with diverse characteristics, once you see a role model there at the decision-making table, then there is more of a desire and a push from the ranks to move up. It just helps to build a stronger pipeline."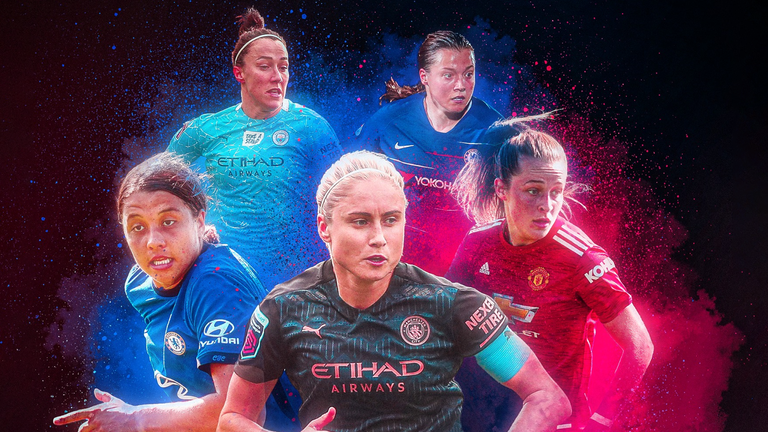 The Barclays FA Women's Super League has a new home this season on Sky Sports with up to 35 games shown exclusively live. The deal covers the next three seasons and has seen the WSL added to Sky Sports' flagship offerings.
The current Sky Sports Barclays FA WSL presenter line-up is led by presenter Caroline Barker and includes expert pundit Karen Carney and reporter Lynsey Hooper with commentators Jacqui Oatley and Seb Hutchinson. Jessica Creighton is the host of the brand new Inside the WSL show.
From world-class stars like Lucy Bronze and Vivianne Miedema, to the endless rivalry of the 'big three' - Arsenal, Chelsea and Manchester City - there are plenty of reasons to be excited for the 2021-22 season on Sky Sports.