Comeback Kings: Sky Sports looks at the greatest comebacks in history
With the America's Cup ending with an epic finale, we look at the best comebacks in history.
Last Updated: 26/09/13 10:25am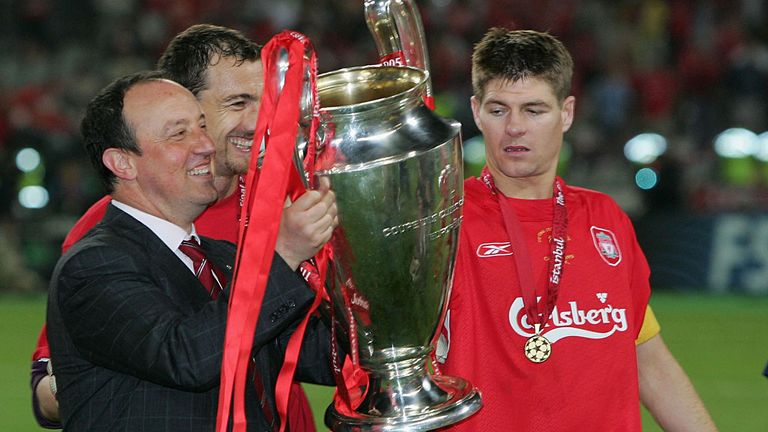 Oracle Team USA were docked two points even before the America's Cup started, before then falling 8-1 behind, but an unbelievable run saw them clinch the winner-takes-all final race in San Francisco to complete an astonishing comeback, but is it the best of all time?
Here we run through some of the most memorable sporting comebacks, let us know your thoughts at the bottom of the article...
Liverpool in Istanbul
A memorable night in Istanbul for Rafa Benitez's Liverpool, who were given a footballing lesson by Milan in the first half of the Champions League final, trailing 3-0 at the break and looking like being on the wrong end of a hiding. It all changed in the second half though, with an amazing burst of three goals in six minutes forcing extra time - and then penalties when Jerzy Dudek performed some spaghetti-legged magic to help Liverpool conquer Europe for a fifth time.
Miracle of Medinah
Speaking of Europe, and what a comeback by Jose Maria Olazabal's golfers out in Chicago, as they trailed the American's 10-4 going into Sunday's singles and needing a miracle to keep hold of the Ryder Cup. Summoning up the spirit of Seve, though, they silenced the partisan crowd and staged a brilliant recovery, culminating in Martin Kaymer sinking the putt that saw the Cup coming back to Europe.
Dennis Taylor
The likeable Taylor trailed snooker legend Steve Davis 8-0 after the opening session of the 1985 Crucible final, and an easy whitewash for the Nugget was on the cards. However, Taylor staged an amazing comeback, even more remarkable given the opponent, and dragged it back to 17-17 to force a nerve-jangling final frame. Taylor took it in dramatic fashion sparking his famous finger-wagging celebration.
Man Utd 1999
Bayern Munich led through Mario Basler's goal in Barcelona and in truth the Germans had been on top for most of the match, and it looked like job done as the game entered stoppage time at the Nou Camp. However, substitutes Teddy Sheringham and Ole Gunnar Solskjaer had other ideas, and not only did they level but Man Utd won it before extra time was even necessary as they claimed the Champions League in remarkable fashion in a remarkable treble-winning season.
Botham's Ashes - Headingley
Australia were on the verge of going 2-0 up in the Test series inside four days at Headingley, before Ian Botham strode to the crease with a swashbuckling innings of 149 as England followed-on, which at least made the Aussies bat again. Bob Willis then stepped up though, and when he took 8-43 England had become just the second Test team to win after following-on, and that momentum swing helped them go on to a 3-1 Ashes series victory.
Allez les Bleus
In what many have called the greatest game in Rugby World Cup history, France found themselves 24-10 down after Jonah Lomu's two tries put the All Blacks in total control of their 1999 semi-final. The pre-tournament favourites looked destined for the final, but the French came storming back thanks to a 28-point haul from Christophe Lamaison as they went on to win 43-31.
Faldo the Master
You can argue whether this one was a storming comeback or an almighty choke, but either way it was some pulsating golf as Nick Faldo came from six shots back to beat Greg Norman at the 1996 Masters. While Faldo sparkled in his round of 67, Norman crumbled and his 78 saw the Englishman win by five shots for his third Masters title.
Ten-man Man City
It was just one of those days for City, as they went 3-0 down at Tottenham in the FA Cup fourth round, and with Joey Barton not helping matters by getting himself sent-off just after the whistle went for half-time. Three goals down and a man down, City somehow managed to battle their way back, with Sylvain Distin, Paul Bosvelt and Shaun Wright-Phillips drawing them level before a 90th-minute Jonathan Macken winner completed the unlikely win.