Look who's back
Love or loathe him, few in the game fascinate as much as Roy Keane. To celebrate his return as Republic of Ireland assistant manager under Martin O'Neill, we celebrate a man who shoots from the lip like few others - past or present...
By Alex Dunn - @skysportsaldunn
Last Updated: 05/11/13 10:51pm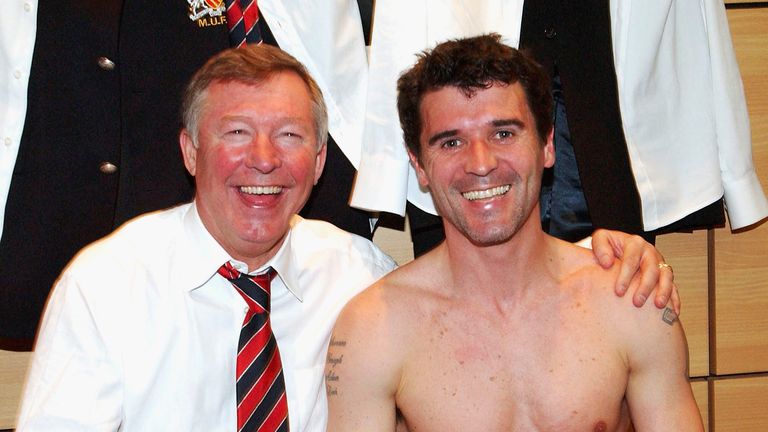 "I remember having conversations about loyalty when I was at the club. I don't think he knows the meaning of the word. To constantly criticise other players that brought him success... I won't be losing any sleep over it." Roy's not overly enjoying Sir Alex's new book.
"You've seen the training pitch and I'm not being a prima donna. Training pitch, travel arrangements, getting through the bloody airport when we were leaving, it's the combination of things. I would never say 'that's the reason or this is the reason', but enough is enough." Enough is indeed enough for Keane, as he quits international football in protest at the standard of Ireland's preparations for the 2002 World Cup.
"Mick, you're a liar... you're a ******* ******. I didn't rate you as a player, I don't rate you as a manager, and I don't rate you as a person. You're a ******* ****** and you can stick your World Cup up your ****. The only reason I have any dealings with you is that somehow you are the manager of my country! You can stick it up your ********." It's fair to say the slanging match which ensued with Mick McCarthy put paid to any chance of a reconciliation.
"Who do you think you are having meetings about me? You were a crap player and you are a crap manager. The only reason I have any dealings with you is that somehow you are the manager of my country and you're not even Irish you English ****!" Even flies were afraid to be in that particular room.
"Where we trained last Monday, in Clonshaugh, was abysmal and it has been for as long as I've known it. I was fairly critical about our seating arrangements on the flight out here, when the officials were sitting in the first-class seats and the players were sitting behind. For me that's simply not right and it's not just because I'm playing for Manchester United. The priority has to be the team - and I don't think that has always been the case here." A year earlier Keane had sent his regards to Ireland's 'blazers' from cattle class.
"Nineteen years old, your first trip, do you have any idea how long we have been waiting?" Following a friendly in the United States in 1991, an apoplectic Jack Charlton demands to know why Keane can't make it to the coach on time like his team-mates.
"I didn't ask you to wait, did I?" The glorious precociousness of youth encapsulated by Keane's response.
"If Jack came in here now, he wouldn't buy you a drink, he'd be hoping somebody would buy him one. He's a miser. A miser. That's all he spoke about... money." Experience failed to soften Keane's thoughts on Charlton.
"I am prepared to give the benefit of the doubt on a number of occasions. I'm not the type to look for trouble. If he is late once or twice, even three or four maybe well and good, but when it is five, six or seven times, you have to draw the line. If you are driving to work, don't get in the car with Liam Miller because he has more car crashes than anyone I know." A changing of tune with regards punctuality when he became a manager.
"I love playing for my country but my sanity is more important." Speaks for itself.
"Sometimes you wonder, do they understand the game of football? We're 1-0 up, then there are one or two stray passes and they're getting on players' backs. It's just not on. At the end of the day they need to get behind the team. Away from home our fans are fantastic, I'd call them the hardcore fans. But at home they have a few drinks and probably the prawn sandwiches, and they don't realise what's going on out on the pitch. I don't think some of the people who come to Old Trafford can spell 'football', never mind understand it." Manchester United's commercial team choke on their prawn sandwiches, before drawing the curtain in the executive box.
"Just because you are paid £120,000-a-week and play well for 20 minutes against Tottenham, you think you are a superstar. The younger players have been let down by some of the more experienced players. They are just not leading. There is a shortage of characters in this team. It seems to be in this club that you have to play badly to be rewarded. Maybe that is what I should do when I come back. Play badly." The pulled MUTV interview that proved the final straw for Sir Alex Ferguson.
"I'd waited long enough. I ******* hit him hard. The ball was there (I think). Take that you ****. And don't ever stand over me again sneering about fake injuries. And tell your pal [David] Wetherall there's some for him as well. I didn't wait for Mr Elleray to show the red card. I turned and walked to the dressing room. My attitude is an eye for an eye." Keane metes out (rough) justice on Alf Inge Halaand in the Manchester derby of 2001 following a spat which had simmered between the pair for years.
"I have never in my career set out to deliberately injure any player. In the incident involving Haaland I was making a genuine effort to play the ball. The words used in the book represent a degree of artistic licence on the part of the author." In an interview with the Guardian, Keane later tried to provide context to his actions.
"I'm not one for holding grudges (ahem) but this was a stupid mistake, a bad public relations exercise and something that should never have happened. I'm still waiting for my apology but I could be waiting a long time. The fact is nobody should be singled out in a letter. It wasn't right. I felt everything was being laid at my door." Roy wasn't happy when Manchester United sent a letter to season ticket holders explaining that his wage hike to £52,000 was partly responsible for a rise in prices.
"His transfer to Lazio illustrates how little power footballers have in the game. Contracts mean nothing. He has discovered that, to football clubs, players are just expensive pieces of meat. The harsh realities remain and when a club decide they want to sell there is little you can do once the wheels are in motion." After Jaap Stam was shipped off to Lazio in 2002.
"I'm not saying I have a halo over my head, far from it, but, if I've done wrong, I'll be the first to apologise. I've always been like that." On his softer side.
"When I first went to United, Bryan Robson was somebody I looked up to, still do. But I was young, and when you're young, you smell blood. It was like, 'Robbo, I'm after you, I'm taking you.' That's the name of the game, otherwise things don't move on. And I just felt over the last couple of years with the younger players at United, I was losing that influence. They were the ones smelling blood. In terms of dominating, I was definitely losing it. It might have been something the normal fan wouldn't recognise, the manager wouldn't even recognise it, but I recognised it. I was always my own judge, sometimes harsh, but in the end, I wasn't quite at the races." On the ravages of time.

"Cloughie was dead right, absolutely. It was the best thing he ever did for me. It's good to get angry. It's an emotion and part of the game. It's good to go a bit mad but I don't throw teacups around. That's not my style - I'd rather throw punches." A fond reminisce over the time Brian Clough cracked him in the mush.
"My first few years at United were very sociable. We'd agree to meet in Mulligans bar and 10 or 12 lads would show up. You were the exception if you didn't, now you're the exception if you do. The game has changed that much. I liked the change when it came, the way the foreign players looked after themselves. I thought, 'Yeah, I want to play for them as long as I can.' So I changed more than anybody: new diet, knocked the drink on the head, stopped cutting corners and accepted you can't have the best of both worlds. It wasn't as much fun after that, but it lasted longer." Keane combined captaincy with the equally important role of social secretary.
"The amount of fights I've had in Cork would probably be another book. I mean, people go on about my problems off the field, but they don't even know the half of it. My uncles used to say to me, "Why don't you go and have a drink in a hotel - Jury's or the Metropole, nice hotels like that?" But, I would say, 'No. No. I don't want to drink in a hotel. I don't want to sit in a hotel with the shirts and ties when I'm 20. I'd rather take my chances in the bars in Cork.'" On the follies of youth.
"The thing is, I'd be out in the afternoon because I'd need a few drinks to relax before I met up with the lads at five. Which is crazy. Lads I play with every day, train with every day, and I'd be 'I'm meeting the lads tonight, I'd better have a few before I meet them'. Madness. See it was a vicious circle for me. I'd keep to myself, then I'd meet the lads and I'd be ready for a bit of action. I kind of go berserk, if you know what I mean. The trouble might come, and I'd be full of remorse, feeling bad. It'd be, "Oh Jesus, I'm not going out ever again". And then I'd keep to myself for weeks." Keane concedes his drinking did become an issue.
"These so-called big stars are people we are supposed to be looking up to. Well, they are weak and soft. If they don't want to come because their wife wants to go shopping in London, it's a sad state of affairs. I can understand the attraction of people wanting to go to London - if you are talking about Arsenal, Chelsea or Tottenham. But there are players going to clubs in London simply because it is London. To me, that is wrong. It is not a football move, it is a lifestyle move and those are the type of people you don't want at your club. To me, that player is weak because his wife runs his life." Keane puts his stiletto into WAGS.
"If you love Senegal so much, why don't you go play for them?" Patrick Vieira is put in his place during the infamous tunnel bust-up at Highbury in 2005.
"Maybe Gary (Neville) deserves to be chased up a tunnel every now and then - there would be a queue for him, probably. But you have to draw a line eventually." A more measured Keane when the mist eventually cleared.
"On a night we got beaten in the cup by Luton, the staff came in and said, 'Clive Clarke has had a heart attack at Leicester'. I said, 'Is he OK? I'm shocked they found one, you could never tell by the way he plays'." His bedside manner may need a little attention.
"Aggression is what I do. I go to war. You don't contest football matches in a reasonable state of mind." Can't think why some opponents were afraid of our Roy.
"My advice to anyone is don't listen to the experts, just watch the game and gather your own opinions. There are ex-players and ex-referees being given air-time who I wouldn't listen to in a pub.'" On punditry.
"Zidane has proved to be the best player in his position for the last three years. I have played against him two or three times and he is someone I admire greatly. Obviously, he plays in the same area of the field as me and the challenge of coming face to face with him again is one to relish." On Zidane.
"People look back on my career and think the injuries and leaving the Ireland team at the World Cup were the disappointments. None of that stuff comes into it. The biggest disappointments were the games we lost in Europe. Years when we just got sucked into the bull, 'the final is in Glasgow this season, the manager's home city,' as if that entitled us to a break. 'The final's in Old Trafford this season, made for us.' People got sucked into that. Even that night in Barcelona, it was a great night in the history of the club, and it will be hard to beat it, but you knew some people had reached their height. It's human nature. I was frustrated by this. I wanted to get back there again, because as much as I thought we were a good team, until you get to a second or third final, you don't confirm it. It disappoints me that I didn't win the World Cup. People say 'but Roy, you played for Ireland, you were never going to win the World Cup'. I never saw it like that." On regrets.
"If you rant and rave on the sideline it doesn't reflect well on the club or the team. There's one or two clubs where their staff are a disgrace, an absolute disgrace. Their managers are worse because they stand by and let it happen. There's one club in particular." On touchline etiquette.
"They shouldn't be smiling. They just let their manager down. They should be focused on trying to win a game of football... Yet they're carrying on like that in the warm-up flicking each other's ears. Absolute disgrace." On ear-flicking.
"I have no problem with what any of the other players do with their money. Listen, I could not live David Beckham's life and he could not live mine. Everyone is different." On Beckham.
"I really respected Eric Cantona when he made the decision to quit. He just knew. There were one or two games when he realised that he could have done better. He set the standard, he didn't want it to fall. I am a bit like that." On Cantona.
"There were no tears. None. It was done. It's the people around you that get upset. Family members, wife, parents. They care about you, so they worry. For me, it was mostly acceptance. It had been coming and then it happened. It was the right thing for United, maybe not the right thing for Roy Keane, maybe not for Alex Ferguson, but for the club. I always said, when the day came, I'd be ready. Locker cleaned out the evening before: I was ready." On leaving United.
"Let's get one thing straight, Roy Keane is not a great player. No chance, far from it. There are so many players better than me who haven't made it. I make up for it in other areas. Like hunger and desire. I play to my strengths. I can't whip the ball in like Becks or run at defenders like Giggsy. I'll never be able to do that. I do not consider myself a great player or a legend. I am a winner and am proud of that." On his own limitations.
"Footballers are a strange breed these days, trust me. I thought I was strange." Roy Keane.