Top 10 Entertainers
In honour of Liverpool's exhilarating approach this term, we select our 10 most exciting sides of the Premier League era...
By Daniel Storey
Last Updated: 07/03/14 9:40am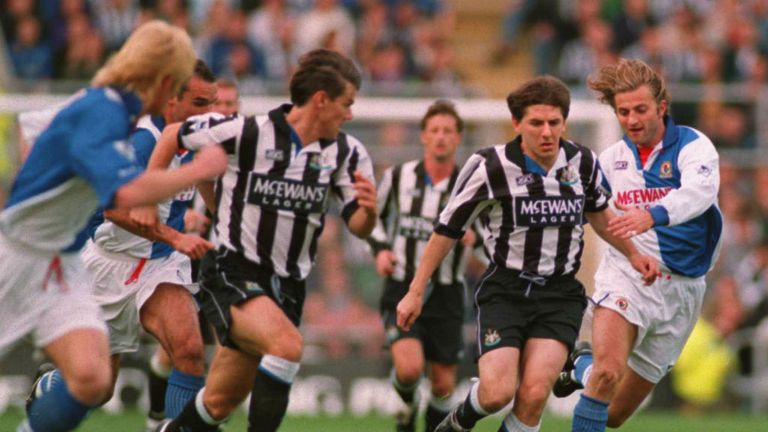 10) Oldham Athletic, 1992/93
That Oldham ensured their survival on the last day of the first Premier League season with a 4-3 win was a fitting conclusion to a wonderfully manic season in which the Latics' 42 league matches contained a total of 137 goals, including 4-2, 4-3, 5-2 , 5-3 and 6-2 scorelines. The highlight was surely the aggregate score of 8-7 in two league games against Wimbledon, with leading lights such as John 'Awooga' Fashanu and Ian Olney amongst the goals.
They somehow avoided relegation despite losing 12 of 16 games between the end of October and late February in a time that now seems firmly planted in yesteryear. Three consecutive May victories against Villa, Liverpool and Southampton secured safety. Their three opponents might still be in the top flight but, for Oldham, it's a long way back.
9) Leeds United, 2002/03
Leeds fans will remember the 1999/00 or 2000/01 seasons a lot more fondly, but it was the 2002/03 season that sticks more prominently in my mind. The club were on the financial slide, and the departure of Rio Ferdinand, Robbie Keane, Robbie Fowler and Jonathan Woodgate, amongst others, made for a hugely interesting spectacle for the near neutral. Mark Viduka stayed and performed admirably, and the Australian duo of him and Harry Kewell scored 35 in the league between them.
Despite being second in mid-September after a 2-0 victory over Manchester United at Elland Road, Leeds only guaranteed their safety with two games remaining, finishing 15th. Only the top five scored more than Leeds' total of 58, but only four teams conceded more. Yet more proof that a club sliding towards catastrophe can actually be damn entertaining viewing.
8) Middlesbrough, 1996/97
Relegated with 39 points from 38 games, and yet they scored more goals than 14 of the other 19 clubs in the division. Middlesbrough's dabble with Fabrizio Ravanelli and Emerson (who joined fellow Brazilian Juninho) was always going to be worth watching, and so it proved.
Bryan Robson invested in his attack but a defence of Steve Vickers, Curtis Fleming, Neil Cox and Derek Whyte predictably conceded more than any other side. An opening day hat-trick from Ravanelli against Liverpool in a 3-3 draw set the tone as Boro reached two cup finals with some wonderfully attacking invention, but dropped out of the top flight thanks to a draw at Elland Road on the final day. Juninho's post-match tears will live long in the memory.
7) Liverpool, 2013/14
Football excitement should not always be judged simply by the volume of goals, but the formula of wonderful attack + shonky defence pretty much always makes for good viewing - Brendan Rodgers' side this season are the epitome of such a principle.
Liverpool have scored over 20 goals more than any side other than Manchester City in the league, and Daniel Sturridge, Luis Suarez, Raheem Sterling and Jordan Henderson have recently played with a verve pretty unexpected for a largely English group.
Crucially though, they retain the propensity for the cock-up. If Kolo Toure's shoddy passes and comical reaction won't get you, Martin Skrtel dragging his man around a penalty area will. They might not win the title, but it would be foolish to suggest that Rodgers has not generated an awful lot of love for his Anfield entertainers.
6) Blackpool, 2010/11
I sit very firmly in the camp of people that can't get on with Ian Holloway's schtick, but there is no doubting the breath of fresh air that his Blackpool side brought to the Premier League following their surprise promotion. This was naivety at its most beautiful, with Charlie Adam's complexion to act as counterbalance.
Of course Blackpool were relegated from a mid-season position in which greater pragmatism could have ensured survival, but that simply won't matter when the 5-3 defeat at Everton, 4-3 win over Bolton and league double over Liverpool are remembered by fans in two or three decades' time.
Blackpool came to have fun and, thanks to an optimistic manager and inspired group of players and fans, fun they had.
5) Sheffield Wednesday, 1993/94
A reminder of just how much football has changed. Twenty years ago, Sheffield Wednesday finished seventh in the Premier League with a squad of 28 players of which all but one were either born in or represented England.
This was Chris Waddle in his last hurrah, Mark Bright, Trevor Francis and Carlton Palmer and Chris Woods as experienced heads and Chris Bart-Williams and Gordon Watson as exciting talents. And, despite your presumed cynicism, it was utterly thrilling. Wednesday scored 76 goals including three or more goals in a game on 14 separate occasions. Halcyon days indeed.
4) Chelsea, 2004/05
It seems foolish to omit the Chelsea side that scored 103 goals under Carlo Ancelotti in 2009/10, but it was the side that dominated the Premier League in 2004/05 in Jose Mourinho's first season that actually caught the eye the most.
Chelsea's greatest strength was admittedly in defence, with Ricardo Carvalho and John Terry beginning their six-year partnership. They conceded just league 15 goals all season and won 11 games 1-0.
However, that foundation effectively allowed for the attacking elements of the side to operate at will. Even now, daydreaming about Joe Cole and Arjen Robben providing for Didier Drogba and Eidur Gudjohnsen, with Frank Lampard and Claude Makelele in central midfield, makes me tingle.
Furthermore, it was all facilitated by a summer spend on players never before seen in the English game - there was something fascinating about watching such investment come to such immediate fruition.
3) Newcastle United, 1993/94
Whilst the abiding memory of Kevin Keegan's mental Newcastle team was the side that blew a 12-point lead at the top on the Premier League in 1996/97, that side actually scored fewer goals than Manchester United and conceded only two more.
Instead, Newcastle fans will tell you that it was the 1993/94 season when the 'entertainers' tag was truly established. Newly promoted and finishing third, Newcastle scored more goals than any other team in the division in their first season in the top flight for five years. That is a fine effort indeed.
Andy Cole was the star, scoring 41 goals in all competitions and winning the PFA Young Player of the Year award, but Peter Beardsley, Rob Lee and Ruel Fox all played their part in a team that looked to counter attack at frightening pace. It may have all ended in heartbreak and a man shouting angrily live on television, but it was at least borne out of sheer beauty.
2) Manchester United, 1999/2000
Arguing over which is Alex Ferguson's greatest ever side is not a business in which I wish to get bogged down, but I'm prepared to raise my head above the parapet and suggest that the 1999/2000 team was the most entertaining.
Ninety-seven goals in the league alone (and another 21 in the Champions League) - this was Ryan Giggs, Paul Scholes, David Beckham and Roy Keane at their pomp, behind any two of Andy Cole, Dwight Yorke and Ole Gunnar Solskjaer. They even had time to give league appearances to Massimo Taibi, Mark Wilson and Michael Clegg.
Any side that wins each of their last 11 league games and scores 37 goals in the process deserves a doff of the cap.
1) Arsenal, 2003/04
Of course the headline statistic of Arsenal's 2003/04 season is that they became the first team in 115 years to go an entire season unbeaten, but this was a campaign in which their sheer magnificence should shine brighter than any statistic.
If you've got Thierry Henry scoring 30 league goals (and many of them sexier than the naughtiest of fantasies), Robert Pires getting 14 of his own and Freddie Ljungberg supplying the ammunition, that's a pretty good basis for splendour.
Football is at its most beautiful when the technically difficult is being made to look simple, and that is the very definition of Arsenal's brilliance that season. They made the impossible possible, and the challenging breathtakingly easy - as close to Premier League perfection as we have seen.
This article first appeared on Football365