World Cup: FIFA in spotlight at first Congress since corruption claims
Sky Sports News' Chief News Reporter Bryan Swanson reports from Sao Paulo ahead of FIFA's annual Congress.
By Bryan Swanson
Last Updated: 05/06/14 1:48pm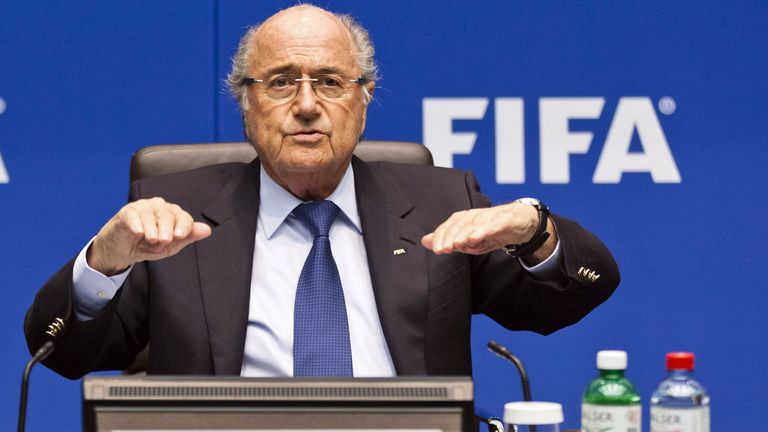 It is a week to go before Brazil kicks off the 2014 FIFA World Cup but, in the city where the hosts face Croatia, the international media will descend on a five-star hotel 20 miles from the Arena de Sao Paulo.
FIFA president Sepp Blatter is scheduled to face television cameras later on Thursday night flanked by Jerome Valcke, his ever-present general secretary.
The most powerful officials in the game will sit alongside Aldo Rebelo, Brazil's sports minister, and top figures from the nation's organising committee.
The news conference has been arranged to provide an update on the country's World Cup preparations.
But even after huge construction delays at some venues - "No time to waste" reminded Valcke only last week - the dark cloud of corruption allegations threatens to overshadow the start of FIFA's showpiece tournament.
Blatter can expect to be asked about allegations in the Sunday Times that Mohamed Bin Hammam, a former FIFA vice-president, paid more than $5m (£2.98m) in bribes to secure support for Qatar's successful 2022 World Cup bid.
Qatar 2022 strenuously deny any wrongdoing and maintain Bin Hammam "played no official or unofficial role in Qatar's 2022 Bid Committee."
Bin Hammam has yet to comment on the latest allegations.
Later on Thursday, in the carefully-controlled environment of an air-conditioned conference room, FIFA media officials will pick from dozens of raised hands before the top table.
Journalists are typically handed a roving microphone which they must hand back to an assistant immediately following their question.
There is often little chance of a follow-up but FIFA usually say time is tight and they want to ensure that as many reporters as possible, speaking different languages, can question the president of world football's governing body.
FIFA control the number of questions put to Blatter and his advisors will be mindful of a heated exchange inside the organisation's Zurich headquarters in October last year.
Blatter became irritated by a perceived lack of respect as one irate journalist continued to ask him about Qatar 2022, without a microphone, at the end of his conference.
We can expect plenty of references to Michael Garcia.
FIFA's chief investigator has been looking into allegations of corruption surrounding the votes for the 2018 and 2022 tournaments.
Garcia is due to complete his investigation by Monday, a day before 209 member associations, including the FA, SFA, FAI, FAW and IFA, gather in Sao Paulo for the annual FIFA Congress at the Transamerica Expo Center.
The former US attorney is expected to present his findings after the World Cup.
Senior figures within FIFA are privately questioning what new evidence, if any, will be published this weekend on the eve of the World Cup's opening game.
FIFA's all-powerful executive committee was already scheduled to meet on Saturday and Sunday in Sao Paulo.
"When and how will this all end?" pondered one high-ranking official earlier this week.
They are questions not even Blatter can answer just yet.
Watch Bryan Swanson's World Cup updates from Brazil on Sky Sports News throughout the tournament.