Alan Mullery believes staying hydrated is vital during England's World Cup campaign
Last Updated: 11/06/14 6:29pm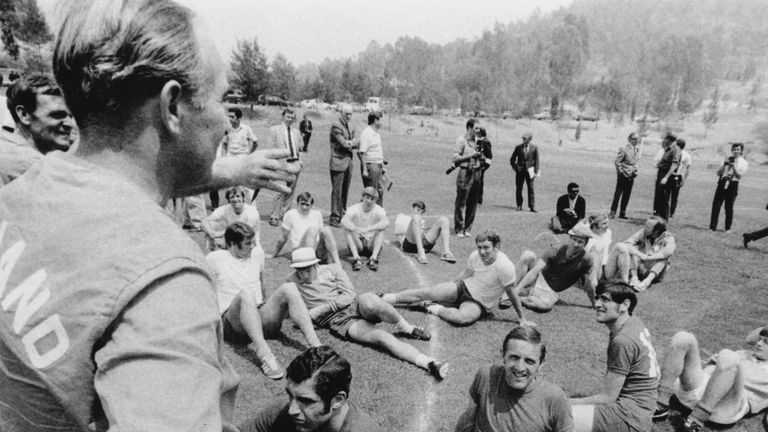 Former England captain Alan Mullery believes the current squad can expect a tough test in their World Cup opener against Italy on Saturday.
Temperatures in Manaus are expected to reach 32C with humidity at 80%, similar conditions to those experienced by the former Tottenham and Fulham midfielder during the 1970 World Cup in Mexico.
"In Manaus it is going to be absolutely boiling and they should be replenishing their bodies as quickly as possible," Mullery told Sky Sports News.
"When we arrived in Mexico and had to carry our own bags up the steps at the hotel, we were absolutely shattered when we got to the top of the steps, that's how bad it was at altitude.
"Then we went onto Colombia which was even higher, and then we went onto Quito and it was even higher still and played games there.
"But it was extremely difficult after games when you were full of aches and pains because you were dehydrated, because we weren't allowed bottles of water in those days, in the matches. That only came in I think in the United States when they hosted the World Cup.
"Do you remember Republic of Ireland boss Jack Charlton kicking the bottle on the pitch and he got fined for it? In Mexico they were throwing bottles on the pitch because it was so hot but the referee wouldn't let them use them. So we never had the water to drink other than half time and then full time.

"Romania was the first game, and that was a tough game, they kicked a few lumps out of us, and the second game we played Brazil."
The famous match between the world's strongest two teams, England and Brazil, was mostly remembered for the moment Gordon Banks defied Pele with an outstanding save, but again the conditions played a major part in the outcome.
"That was the classic football match, the reigning champions playing the future world champions," added Mullery. "It was extremely difficult throughout.
"I walked onto the pitch with the doctor - the temperature and humidity were both 100. I lost a stone in weight. I got Pele's shirt at the end of the game and it later got stolen when I was moving house.
"Years later he signed another for me when I met him - and he showed me the scars on his legs where I was trying to kick him!"