Arsenal must sign a centre forward to cover for the injured Olivier Giroud if they want to win the Premier League title, says Gary Neville.
The France striker has been ruled out for up to four months after breaking his leg against Everton but Gunners boss Arsene Wenger has suggested he hasn't got any plans to sign a replacement before the transfer window closes on September 1.
Whilst Arsenal have already recruited £35m attacker Alexis Sanchez this summer, Sky Sports pundit Neville says the North London outfit need more firepower if they are to compete with the strong squads at title favourites Chelsea and Man City.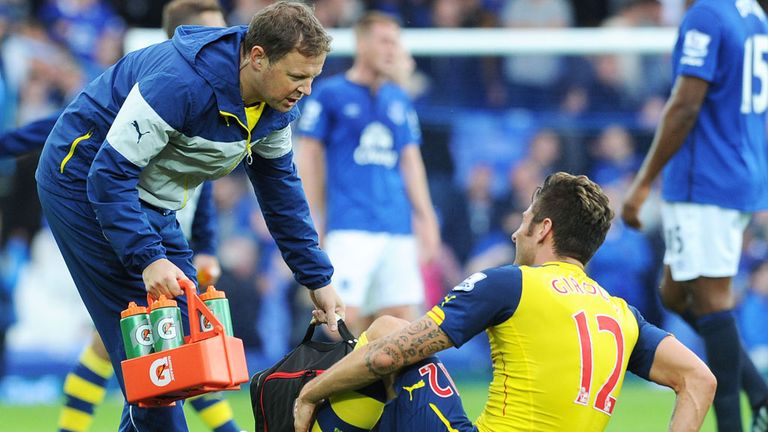 If you're measuring them against Man City, Arsenal start to look very light.
"We thought even before Giroud got injured that Arsene Wenger would want to sign a top centre forward," Neville told skysports.com.
"If we're judging them on getting third or fourth place, then Arsenal might not have a problem. But if we're judging them in terms of targeting a title, which I think is where Arsene Wenger and the Arsenal fans are at, then they're going to have to sign a centre forward – and probably a central midfield player as well.
"We're imagining Alexis as someone who is going to be played as a wide forward but he can play as a centre forward; he is tough and durable. But you think they are going to need somebody, unless he's going to put faith in Yaya Sanogo or Joel Campbell.
"You have to say it's potentially something that could cause them problems – and if you're measuring them against Man City with Sergio Aguero, Alvaro Negredo, Edin Dzeko and Stevan Jovetic, Arsenal start to look very light."
Depth


Neville says all top-flight clubs are struggling with a World Cup hangover, as players involved in the Brazil showpiece are yet to return to peak fitness.
However, he reckons the strength in depth at Chelsea and Man City has already been demonstrated this season and any side hoping to challenge the pair could find their title tilt derailed by injuries.
"You look at Chelsea and Man City's squad and it's not just the strength and physicality of the actual players, it's the strength in depth and the way they cope with injuries," said Neville.
"You look at the Man City team, which doesn't have Aguero, Fernandinho or Negredo starting and they still look like a team that could go and beat anybody else in the league.
"Take the top two or three players out of the Arsenal, Man United or Liverpool team and there's a definite drop in quality, which you don't see at City and Chelsea. That's the sign of a great squad that's able to cope with the demands of the season."
Super Sunday: Leicester v Arsenal, 3.30pm, Sky Sports 1 HD