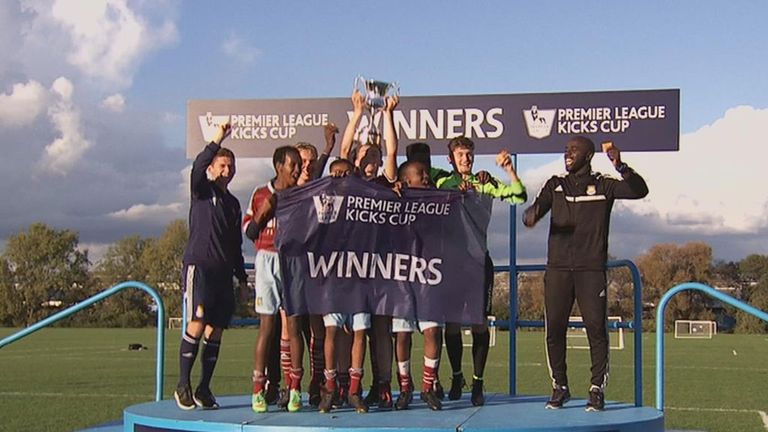 More than 600 children from 47 professional clubs were at Hackney Marshes on Saturday for the Kicks Cup Final.
The Premier League Kicks scheme is aimed at increasing sports participation in deprived areas and has already seen more than 100,000 young people get involved since it was first piloted in 2006.
All clubs in the competition, which is in its fifth year and included Under-18 girls' and Under-16 mixed teams, have been working with Premier League Kicks to use the power of football and value of sports participation to help hard-to-reach youngsters.
Former Fulham midfielder Simon Morgan is head of community development at the Premier League and he is thrilled with the uptake for the scheme.
"Premier League Kicks has been very impactful," Morgan told Sky Sports News HQ.
"Not just over the last year, when we have worked it with Sport England and got over 40,000 young people participating in sport, but across the last seven or so years that we have been running it.
"100,000 people have been engaged over that time and that is a tremendous community programme.
"We've got 47 teams here from all across the country, Premier League and Football League clubs."
Former Bolton, Arsenal and Birmingham midfielder Fabrice Muamba, who grew up in east London, was also at Hackney Marshes and he was delighted at how well the day went.
He told Sky Sports News HQ: "Football played a major role in my life growing up in this area of London and it was so good to see so many kids from different parts of the country coming here to take part in this wonderful day in the Premier League Kicks.
"It was just such a fun day today and I really enjoyed it.
"Today's message was just simple - just go out there and enjoy yourself because football has kept them away from trouble and some of them have made new friends.
"We had teams from all over the country – Blackpool have left home at 5.30 this morning just to get here and Swansea left at 5 – so it was a good way to make friends.
"We had a Manchester United and a Manchester City team coming together in the one coach which we have never seen before. They have travelled here just to play football, so it was great to see kids enjoying themselves." 
West Ham won the boy's tournament, with Millwall picking up the trophy in the girl's competition.