Bristol Academy and England U23 goalkeeper Mary Earps eyes Rio 2016 Olympics
By Dev Trehan
Last Updated: 17/03/15 5:47pm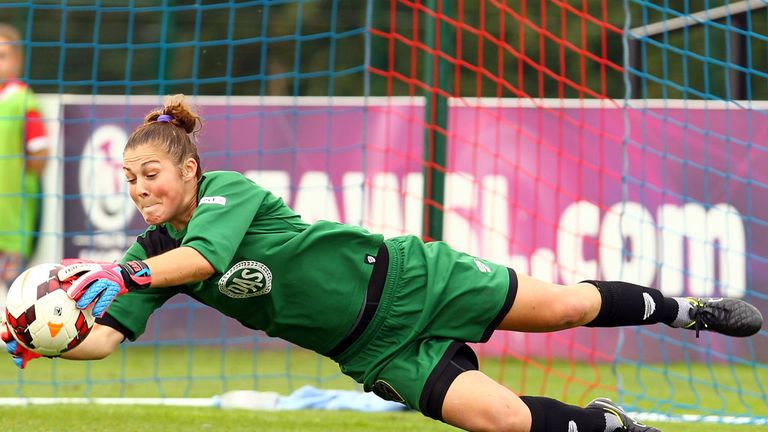 Bristol Academy goalkeeper Mary Earps admits she would love to represent a Team GB women's football side at the Rio 2016 Olympics.
The Football Association's plans to enter a men's Team GB side in Rio have been opposed by the Welsh, Scottish and Irish FA's, who fear they could lose their sovereign status as individual footballing nations.
Talks between the Home Nations are expected to take place at next week's UEFA Annual Congress in Vienna but it is anticipated there will be less opposition to a Team GB women's football side.
"I think as it is our league season is so short, so I'm absolutely in favour of a Team GB side," Earps told Sky Sports.
"Why wouldn't I be? I think any extra games we can get - especially at such a high level - should be welcomed because that is how women's football is going to improve.
"I have my fingers crossed it will happen because it will be a fantastic experience for whichever teams and players are involved. The players will improve (by competing at the Olympics) and I hope they can keep representing England and Team GB.
"To be honest I haven't really looked into the reasons (why there may be opposition from the Home Nations), but from my point of view I'd like one because I love football and I want to see women's football everywhere, because I play it and I believe in it.
"Everyone is entitled to their opinion but hopefully it will happen."
Earps is England's No1 at U23 level and has been part of senior squads under current head coach Mark Sampson but is yet to earn a full international cap.
"I just want to improve as much as I can as a player," the 22-year-old said. "I will work and train hard relentlessly to be the best player and person that I can be on and off the field.
"That is the most important thing for me first and foremost. But in terms of things I'd like to achieve, of course I want to represent England at senior international level as soon as possible.
"I'm known to be a little bit impatient sometimes and I want that as soon as I can, but I've got to focus on playing consistently for my club first and improving in training before that can happen.
"Obviously, there is a World Cup coming up and the squad seems pretty much set but I'm just aiming to get there as soon as possible.
"The Olympics would be fantastic - or the next Euros or the next World Cup - but I just want to be playing and competing regularly in the top league in the country, as well as the Champions League, and hopefully one day soon, I will be able to compete on the international stage in senior competitions."