Cristiano Ronaldo should not change after celebration criticism, says Terry Gibson
Last Updated: 04/05/15 7:00pm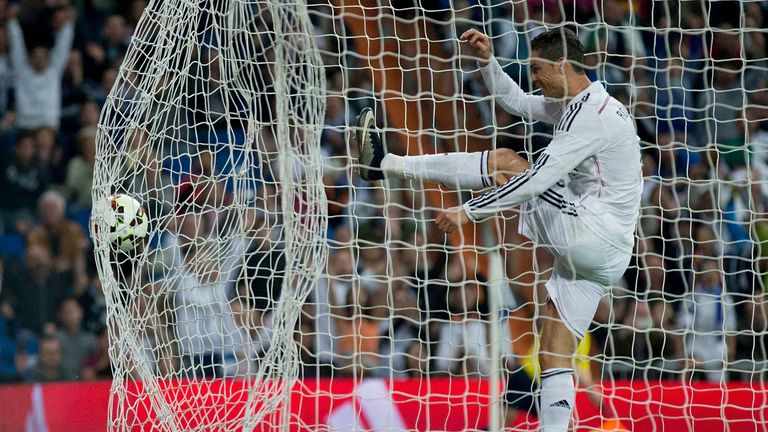 Terry Gibson insists he would not have Cristiano Ronaldo any other way after the Real Madrid forward received criticism for not celebrating a goal in midweek.
Some translated Ronaldo's reaction to Alvaro Arbeloa's 84th-minute goal in the 3-0 win over Almeria on Wednesday as him being disappointed he did not score the goal himself.
After Arbeloa converted from close-range into the empty net, Ronaldo kicked the ball back into the goal with force and was seen shaking his head as the players walked back to the centre circle.
On Saturday, Lionel Messi handed penalty duties to Neymar, despite being on a hat-trick during the 8-0 win over Cordoba, but Gibson says Messi and Ronaldo are two different personalities and, and we should not want that to change.
He told the La Liga Weekly podcast: "They are two different people completely, two different types of players, but they are compared in every single thing they do.
"That's because they're playing in the same league and they are clearly the two best players in the world.
"Ronaldo doesn't even let people take a free-kick from 35 yards so he wouldn't let team-mates take a penalty when he is on a hat-trick, but that's what makes Ronaldo the player he is."
Ronaldo received some criticism in the Spanish press for his reaction, before answering his critics with a hat-trick in the vital 3-2 win at Sevilla on Saturday.
But Gibson was not convinced Ronaldo even showed displeasure at Arbeloa scoring, and says the 30-year-old is never going to change.
"I'm still not convinced that he showed displeasure, there are a couple pictures of him smiling.
"That is what makes him. He's never going to change, and I don't particularly want him to change to be honest.
"It makes for a good contrast with Lionel Messi."