Guillem Balague runs through the talking points in La Liga, including the latest on Cristiano Ronaldo's contract situation at Real Madrid.
Atletico Madrid continued their fine form with a 7-1 victory against Granada at the Vicente Calderon, while Barcelona saw off Deportivo 4-0 and Real Madrid beat Real Betis 6-1.
Goals galore and plenty to talk about, and Guillem also answers some of your transfer-related questions below…
Ronaldo's new contract
Cristiano Ronaldo's contract is all done, all finalised, they're just waiting for the right time to announce it. Remember there are elections at Real Madrid for the presidency in 2017, which means they may time the whole thing to suit Florentino Perez.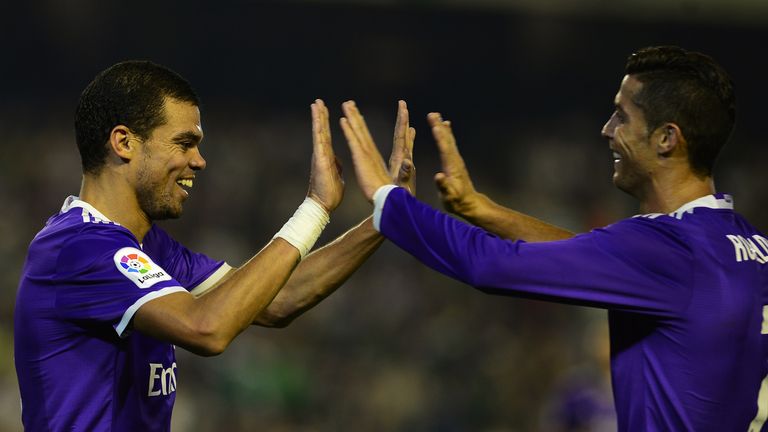 It has been agreed for months. Nobody has come out with an exact number on how many years, but it's either two or three years.
Real Madrid have been forced, in a way, to give him a new contract for different reasons. 1) His contract finishes in 2018. 2) Because of the transfer ban. 3) Even though there was a strategy from both parties to see if they could get end up going separate ways, basically it didn't take off. Paris Saint-Germain were not interested enough, Manchester United were never in the equation, and Cristiano decided it was best to stay put.
Is his future best off at Real? Certainly it provides him with the money he wants, but more importantly with the competitiveness to allow him to win more titles.
His frustration has been that Real Madrid have not built teams to win leagues, and that may have worked against his CV a little bit, but Real have also guaranteed he can fight for the Ballon d'Or, which will always be something important to him.
Are Real Madrid better off with him? What I've been saying for a while is that Ronaldo has peaked physically, and now he's a different type of player now. It's not a criticism, just a description of the situation. He's not changed, he's just reduced his area of influence.
It means he will still be a top goalscorer, he will not beat players, but he will still be a goalscorer. In my eyes, the best ever.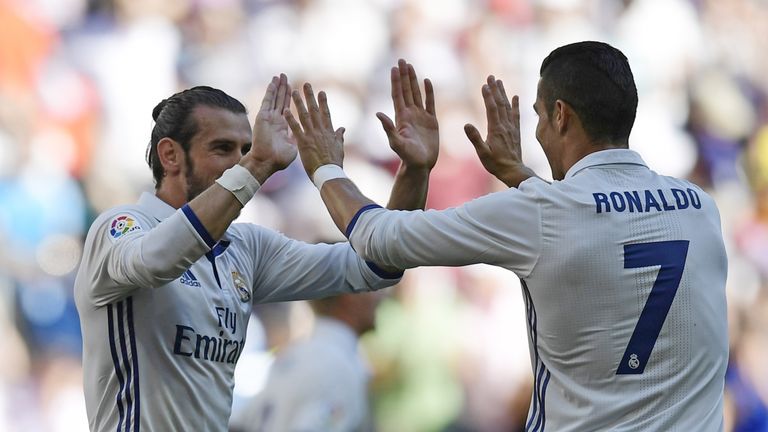 How Zinedine Zidane manages the continued progression of Gareth Bale, and the fact that Ronaldo still wants to start his attacks down the left flank, will define whether Cristiano will be happy or not. He wants to be the most influential player in the team.
I got the impression Bale was growing a lot last season, but this season has perhaps been limited again to a more right-wing role. He doesn't roam as freely at the moment, but the BBC has not played many games together, so we will have to see if it is the latest dynamic or just as a consequence of the three of them not partnering often enough this season yet.
This summer Perez did not see anybody worth the effort of a big signing. Pierre-Emerick Aubameyang wanted to come, Real tried Robert Lewandowski but it didn't happen.
Instead, he decided it was better to strategically place renewals of key players in the calendar with Luka Modric, Bale, Cristiano and Toni Kroos, who has already been announced. It gives the impression of a solid team, and that they've got some of the best players in the world, which is true.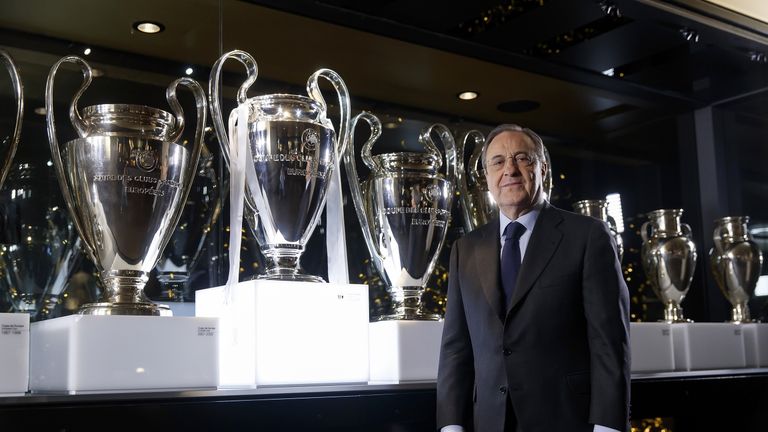 Pepe is a doubt, because he wants two years and Real only want to give him one. So he will be a free agent from January 1.
Florentino will probably not have much competition for the presidency. Florentino has made rules within the club that makes it difficult for anybody to become president. You have to have been a long-time season ticket holder, a huge amount of money to guarantee your presence in the board, and a lot of rules that reduces the number of potential presidents.
Every year he likes to present a big signing, and this time it will be big renewals.
Atletico firing
Atletico Madrid have stepped forward in terms of how they work during games. They're very ambitious, more offensive, and even though the team is full of players who like to go forward, they put in so much work that Simeone gets the balance he wants. Have a look at the piece we did on Atletico in Revista Bitesize for more details.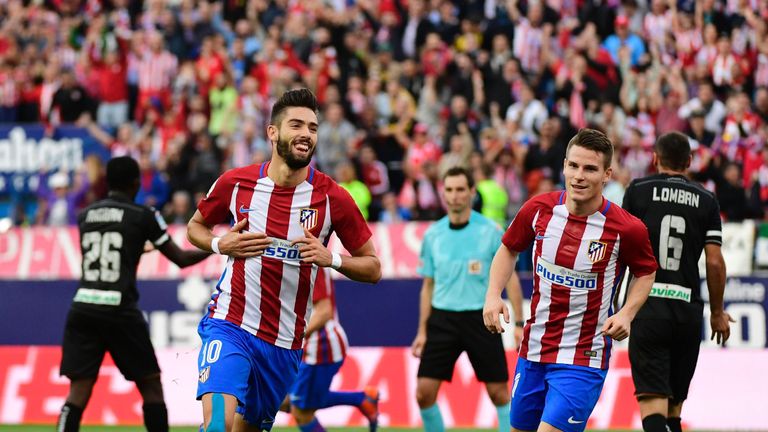 Yannick Carrasco is a case in point. He was a dribbler when he first arrived, and little by little he's turned into an all-powerful forward that scores goals and assists. He scored three goals and made two assists at the weekend.
Koke being moved to centre midfield has also helped the team be more offensive and speculate much, much less.
Barcelona stroll
It was an easy game for Barcelona, which after international week was pleasing to see for Luis Enrique. He changed the shape and went to three at the back because he doesn't feel he can trust Aleix Vidal anymore at right-back.
It's a formation that he won't use against City, but as Enrique said, it gives richness to Barca and surprises rivals.
It worked, and he was even able to give Luis Suarez 45 minutes rest, so a good day at the office.
Real's best display
It was their best display this season, it was very pleasing to see that the front three worked perfectly, and the result was a consequence of the quality they've got up front but also the work put in by the side without the ball.
It was a very good day for Isco, who took advantage of the position he was played in, which in a new formation for Real - 4-2-3-1 - saw him play behind the strikers, perhaps where he is more comfortable.
Betis were very poor, and we'll have to keep an eye on the future of Gus Poyet, even though he feels there's no ultimatum, the next game against Osasuna could be very important.
Any chance Griezmann joining Man Utd in the summer? @IfeanyiDaniel20
GUILLEM SAYS: It's very early to be talking about this because he wants to see how Atletico develop. He's not in a rush, he's got offers from Italy, and some big clubs in England, certainly Chelsea and Manchester United.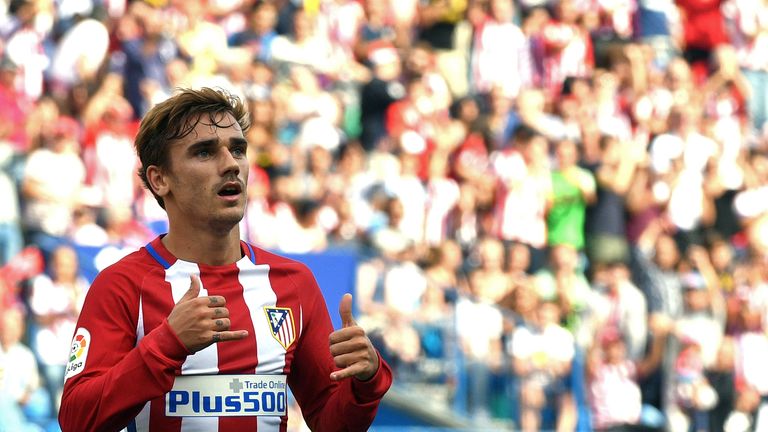 At the moment he wants to see what happens at the end of the season, so it's very, very early to be talking about this. Far too early.
Why isn't Aleix Vidal playing for Barca? Do you think he'll leave in January? @o_kuffour
Because he hasn't got the quality that Barcelona requires, and he doesn't understand what Luis Enrique wants him to do. He's given him chances but he hasn't taken them. I saw him in the friendly against Sampdoria in the summer and he looked lost.
The plan is to let him go in January on loan because he's not going to be used at all. Luis Enrique prefers to change a system than let Vidal play.
Who do you think will win La Liga from what you've seen so far? @MatthewsConal
It's week eight! It's a little bit too early. What's enjoyable is that it's the most competitive league in Europe at the moment; Atletico and Real have 18 points, Sevilla on 17, Villarreal and Barca on 16, Athletic Bilbao on 15.
How have you rated Sampaoli's start at Sevilla? @dee67
He's still trying to find the Sevilla that he wants. Meanwhile, they've got so much quality in both boxes that they are able to win games by quality, not so much by collective work. They made a lot of mistakes against Leganes, and Leganes deserved more, but they got the three points.
It's miles away from the Sevilla he wants, still it's a very interesting experiment, but what we're seeing is a Sevilla that is still very competitive.
You can watch Liverpool v Man Utd, plus England's tour of Bangladesh and the US Grand Prix on Sky Sports. Upgrade now and enjoy six months at half price!