Guillem Balague believes Lionel Messi will renew his Barcelona contract but says Man City, Man Utd and Chelsea are waiting in the wings should he consider leaving the club.
The Spanish champions recently agreed extensions with Luis Suarez and Neymar, but are yet to reach a deal with Messi, whose contract runs until 2018.
On Wednesday, Barcelona's CEO Oscar Grau said the club's hopes of offering the Argentine an improved contract may be limited by spending caps imposed by La Liga.
Grau indicated Barca intend to negotiate "with a cold head and common sense", and Balague reports the statement has piqued the interest of several Premier League teams.
"The club has been saying for a while they would like negotiations to start and finish in the first third of the year but Grau's comments do not help," Balague said.
"All we have at the moment is Messi finishing his contract in 2018 and Barcelona saying they want to sit down but not offering anything on the table. They mentioned they would meet 'in the two months' but that period passed by and no call was not made to Leo. Now they talk about 'the first three months of the year'. Let's see. They are going about it the wrong way.
"It looks like everyone is positioning themselves and that message from the club is very alarming. What they are saying is, 'We are going to have to be very careful with what we spend'.
"It suggests they don't have the financial muscle to renew, not just Messi's contract, but Andres Iniesta's as well, at least at the level they deserve and the level the market is suggesting they deserve.
"You didn't hear those kind of statements when Real Madrid were negotiating with Cristiano Ronaldo.


"The reaction of the Barca players has been to publicly back their team-mate. Luis Suarez has been saying you don't need common sense when it's Messi-related.
"Inside the camp, they are very upset another director has come out with this kind of declaration.
"On the one hand, it is another sign the Barca players feel they can rule the institution when they talk about contract situations and feel strong enough to criticise the CEO.
"But this situation also suggests the board is lacking authority and would like to recover some before sitting down and handing over a huge amount of money.
"The worry is the questions the Barcelona players themselves are starting to ask now. If there is no money to renew Messi and Iniesta at the level they deserve, what is the future of the team? What is the long-term project? Is it going to be competitive enough?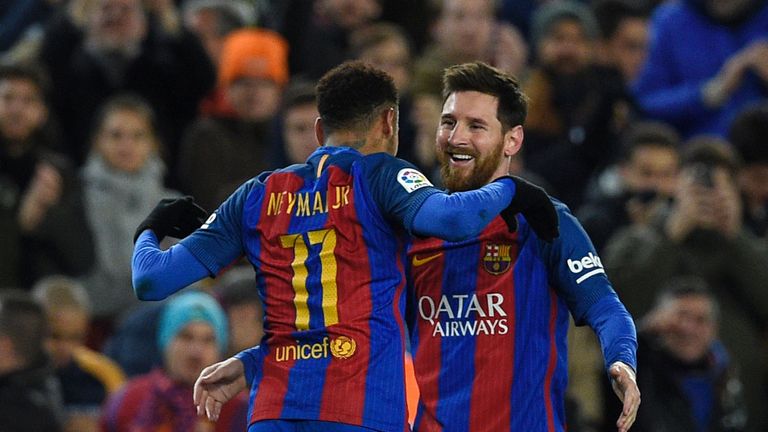 "These are the kind of decisions that will affect the future of Messi. I do think he will renew his contract but a lot of things are leaving the door open for him to think, 'Should I stay or should I go?'
"Of course, that has pricked the ears of all the football powerhouses. Pep Guardiola has kept saying Messi should retire at Barcelona but I know Manchester City, Manchester United and Chelsea are sending messages to Messi saying, 'We are here if you ever think of leaving Barcelona.'"
Upgrade to Sky Sports now and get 9 months half price. Hurry, offer ends January 16th!